Valerie Jarrett suggests Trump shares blame for Roseanne tweet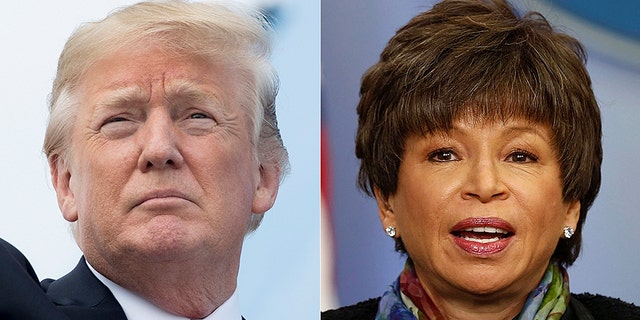 NEWYou can now listen to Fox News articles!
Former Obama official Valerie Jarrett attempted Tuesday to make President Trump share the backlash over Roseanne Barr's racist tweet about her, saying on MSNBC that "tone does start at the top."
ABC cancelled Barr's popular reboot of "Roseanne" shortly after she posted the tweet targeting Jarrett.
The former senior adviser to former President Barack Obama responded Tuesday evening during MSNBC's town hall on "Everyday Racism in America." She said she was "fine" after Barr described Jarrett as like "the muslim brotherhood & planet of the apes had a baby."
But, without mentioning Trump by name, Jarrett suggested "tone" starts with him.
"We like to look up to our president and feel as though he reflects the values of our country, but I also think every individual citizen has a responsibility, too," Jarrett said Tuesday. "And it's up to all of us to push back. Our government is only going to be as good as we make it."
While Barr is a Trump supporter, the president and his aides have avoided commenting on the tweet controversy.
On Tuesday evening, the president held a rally in Nashville, Tenn., but did not mention Jarrett or Barr's comments. When asked what the president's reaction was to Barr's tweets, White House Press Secretary Sarah Sanders said the president has been "focused" on North Korea, trade and the economy.
"The president is focused on North Korea. He's focused on trade deals. And he's focused on rebuilding our military, the economy. And that's what he's spending his time on; not responding to other things," Sanders said Tuesday.
Asked whether the president thought Roseanne's show should have been cancelled, Sanders said: "That's not what he's spending his time on. And I think that we have a lot bigger things going on in the country right now."
Barr apologized following her tweet on Tuesday.
"I apologize to Valerie Jarrett and to all Americans. I am truly sorry for making a bad joke about her politics and her looks. I should have known better. Forgive me—my joke was in bad taste," Barr tweeted, noting she was "now leaving Twitter."
But Barr returned to the social media platform Tuesday night, apologizing again and blaming her tweet on the prescription sleeping pill Ambien.
Fox News' Nicole Darrah and Gregg Re contributed to this report.