US ready to talk any time North Korea wants, Tillerson says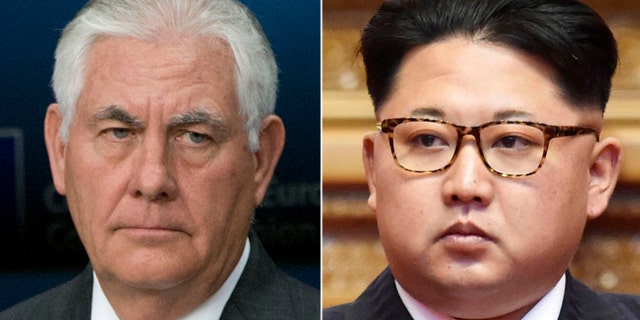 Secretary of State Rex Tillerson said Tuesday that the U.S. would be willing to hold talks with North Korea even if the Communist nation does not do away with its nuclear weapons program.
Although Tillerson said the goal of U.S. policy remained denuclearization of the Korean Peninsula, he added it was "not realistic to say we're only going to talk if you come to the table ready to give up your program. They've too much invested in it. The president is very realistic about that as well."
Tillerson's remarks at the Atlantic Council think tank in Washington came two weeks after North Korea conducted a test with a missile that could potentially carry a nuclear warhead to the U.S. Eastern Seaboard -- a milestone in its decades-long drive to pose an atomic threat to its American adversary that Trump has vowed to prevent, using military force if necessary.
"We are ready to talk any time North Korea would like to talk. We are ready to have the first meeting without preconditions. Let's just meet," Tillerson said. "And then we can begin to lay out a road map."
The secretary of state did say that a "period of quiet," without new nuclear or missile tests, would have to take place before talks could begin. This year, the North has conducted more than 20 ballistic missile launches and one nuclear test explosion, its most powerful yet.
In public, Trump has been less sanguine about the possibilities of diplomacy with Kim Jong Un's authoritarian government, which faces growing international isolation and sanctions as it pursues nuclear weapons in defiance of multiple U.N. Security Council resolutions. In October, Trump appeared to undercut Tillerson when he said he was "wasting his time" trying to negotiate with the North Korea, just as Tillerson said the U.S. had backchannel communications with the North.
Trump, who has traded insults with Kim, kept up his tough talk on Tuesday. As he signed a $700 billion defense authorization bill that includes additional spending on missile defense, he referred to North Korea as a "vile dictatorship."
"We're working very diligently on that -- building up forces. We'll see how it all turns out. It's a very bad situation -- a situation that should have been handled long ago by other administrations," Trump said.
In a statement late Tuesday, White House press secretary Sarah Sanders said, "The President's views on North Korea have not changed. North Korea is acting in an unsafe way not only toward Japan, China, and South Korea, but the entire world. North Korea's actions are not good for anyone and certainly not good for North Korea."
The Associated Press contributed to this report.