US punishing North Korean leader for human rights abuses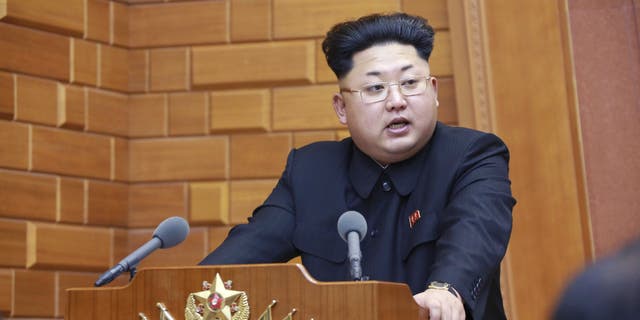 NEWYou can now listen to Fox News articles!
The U.S. imposed sanctions Wednesday on North Korean leader Kim Jong Un and 10 other top officials for human rights abuses in an escalation of Washington's effort to isolate the authoritarian government.
Although North Korea is already sanctioned to the hilt because of its nuclear weapons program, it is the first time that Kim and other top officials implicated in abuses, such as running the nation's notorious gulag, have been personally blacklisted.
"Under Kim Jong Un, North Korea continues to inflict intolerable cruelty and hardship on millions of its own people, including extrajudicial killings, forced labor, and torture," Adam Szubin, acting under secretary for terrorism and financial intelligence, said in a statement.
Szubin said the sanctions demonstrate the United States' "determination to see them stopped." The Obama administration -- with some prodding from Congress, which passed hard-hitting sanctions legislation in February -- has cranked up economic restrictions on Pyongyang since it conducted its latest nuclear test in January.
Wednesday's action coincides with the release of State Department report on human rights abuses in North Korea. Administration officials said it was intended to name and shame responsible officials in North Korea's opaque government, and send a message to lower and mid-ranking officials to think twice before engaging in acts of cruelty and oppression.
In addition to blacklisting Kim for human rights violations by his government and the ruling Communist Party, the Treasury Department also blacklisted officials at the Ministry of State Security -- which administers political prison camps and is engaged in torture and inhumane treatment of detainees -- and the Ministry of People's Security which operates a network of police stations, interrogation centers and labor camps. Those blacklisted include Minister of People's Security Choe Pu Il.
The political prison camps are estimated to hold between 80,000 to 120,000 prisoners, including children and other family members.
The penalties, which also hit North Korean agencies responsible for propaganda, freeze any property that sanctioned individuals have within U.S. jurisdiction and prohibit Americans from doing transactions with them.
In all, Treasury imposed penalties on 11 officials and five government entities. Four of the individuals and three of the entities had already been sanctioned.
North Korea is already excluded from the U.S. financial system, so Wednesday's action is largely symbolic. Last month, the Treasury Department declared North Korea a "primary money laundering concern" -- the toughest action it can take to discourage banks in any jurisdiction dealing with the country.