U.S. 'Gravely Concerned' Over Libya Violence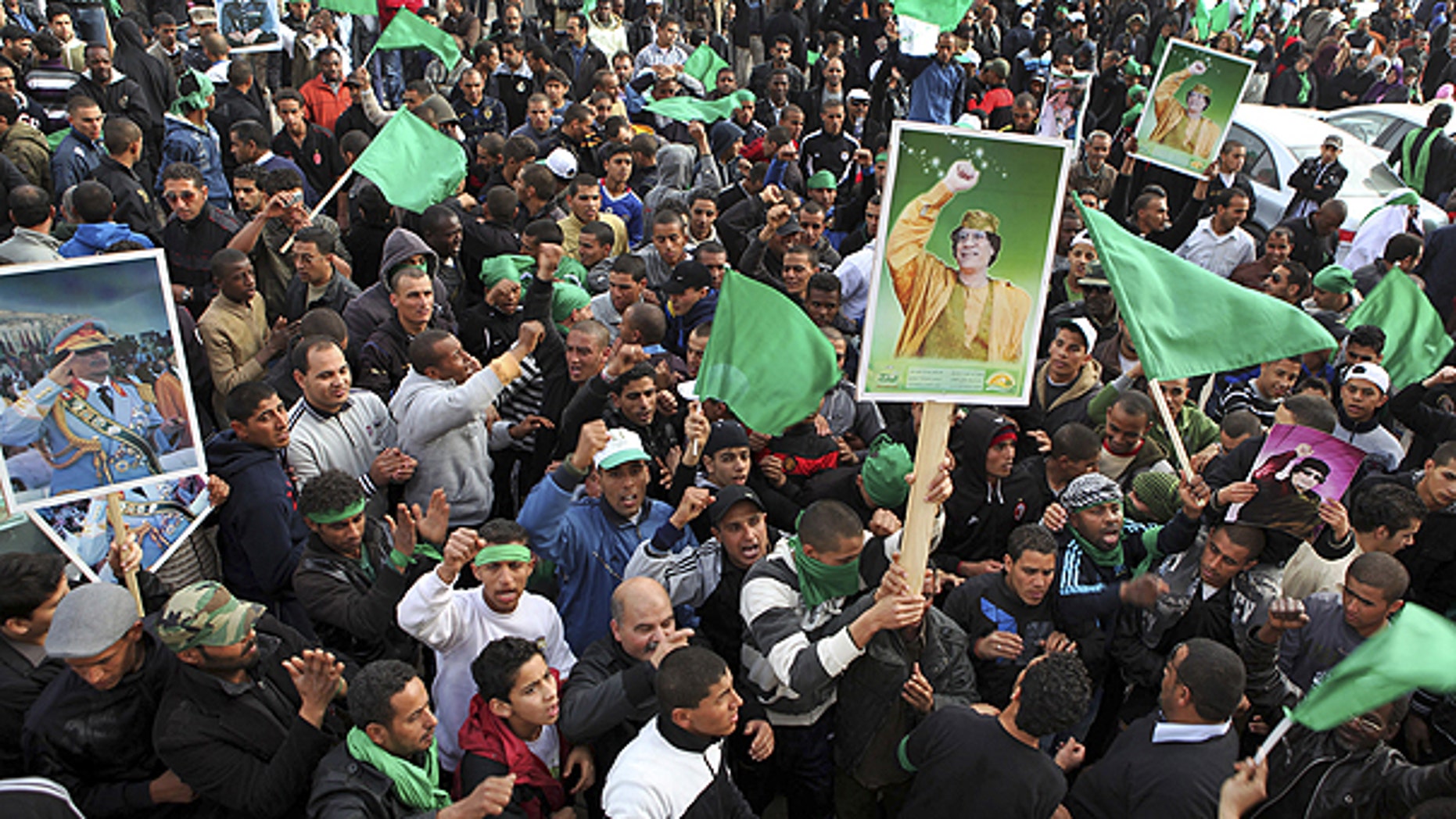 The State Department says the United States is gravely concerned about reports that hundreds of people have been killed or injured during anti-government protests in Libya.
State Department spokesman Philip Crowley says the U.S. has raised strong objections with Libyan officials, including Foreign Minister Musa Kusa, about the use of lethal force against demonstrators.
Crowley says the U.S. reiterated "the importance of universal rights, including freedom of speech and peaceful assembly."
Protests against the longtime rule of Moammar Qadaffi reached the Libyan capital of Tripoli on Sunday, and protesters seized military bases and weapons. Forces loyal to Gadhafi have responded with violence, and medical officials, human rights groups and exiled dissidents say more than 200 have been killed.
U.S. Ambassador to the United Nations Susan Rice said Sunday the U.S. is "very concerned about the reports of violence and attacks on civilians," but has few details after a crackdown on social media and journalists by Libyan government forces.
"From what we can tell -- and as you know, journalists are banned and we are relying on reports from Human Rights Watch and other observers -- there has been less violence, very little so far in Tripoli, although that might be changing," Rice told NBC's "Meet the Press. "In Benghazi and in the coastal areas, we're very concerned about reports of security forces firing on peaceful protesters."
State Department spokesman P.J. Crowley added in a tweet that "Libya continues to restrict outside communications, but it cannot hide the mounting death toll as it cracks down on peaceful protesters."
He later issued a statement acknowledging the limited access, but said U.S. officials have raised to Libyan Foreign Minister Musa Kusa and others "strong objections to the use of lethal force"
"Libyan officials have stated their commitment to protecting and safeguarding the right of peaceful protest. We call upon the Libyan government uphold that commitment, and hold accountable any security officer who does not act in accordance with that commitment," Crowley said.
On Sunday, protests continued in Yemen, Bahrain and Libya, where the security forces of Moammar al-Qaddafi fired mortars at a funeral, leaving 15 people dead. The attacks took place in Benghazi, the country's second largest city, where protesters have been steadily gaining momentum.
As it does in all locations where security is threatened, the U.S. State Department issued an updated travel advisory warning Americans of clashes in several cities in Libya and advising U.S. citizens to register their whereabouts with the U.S. Embassy in Tripoli.
"Spontaneous demonstrations and violence are possible throughout the next several days. In addition, U.S. citizens are advised that there may be unannounced changes to road access in eastern Libya," the State Department wrote in its newest alert.
"While demonstrations have not been directed toward Westerners, U.S. citizens are urged to remain alert to local security developments and to be vigilant regarding their personal security. The U.S. Department of State strongly urges U.S. citizens to avoid all demonstrations, as even peaceful ones can quickly become unruly and a foreigner could become a target of harassment, or worse."
Libya's repression has been far more brutal than in Egypt, where in 18 days, millions of demonstrators led to the overthrow of the three decade-long reign of President Hosni Mubarak.
Qaddafi, the leader of Libya since 1969, has tried to warm relations with the West renouncing its pursuit of weapons of mass destruction and terrorism and compensating victims of the 1986 La Belle disco bombing in Berlin and the 1988 bombing of a Pan Am airliner over Lockerbie, Scotland.
But the Libyan dictator continues to face allegations of human rights violations and with large oil resources has greater latitude to ignore demands from the Europe and the U.S. about domestic actions.
However, Britain is trying to reach out to Qaddafi's son, with British Foreign Secretary William Hague calling Saif al-Islam Qaddafi to implement reforms and begin a dialogue with protesters.
"The foreign secretary made clear the UK's grave concern at the escalation in violence," the Foreign Office said in a statement.
He expressed alarm at reports of large numbers of people being killed or attacked by Libyan security forces. The foreign secretary told Qaddafi that the Libyan government's actions were unacceptable and would result in worldwide condemnation. The foreign secretary strongly encouraged the Libyan government to embark on dialogue and implement reforms," the spokesman added.
Rice said that the U.S. administration has been advising friends and partners throughout the Arab and Muslim world that the process for reform must begin because those nations are "inherently unstable" with high unemployment, a lack of openness and a "youth bulge" of disaffected young populations.
But Rice said that the U.S. is not intervening beyond insisting foreign governments allow individuals to exercise universal rights like freedom of expression and freedom of assembly.
"We will stand up in support of those universal rights everywhere. What we're seeing across the region is a yearning for change, a hunger for political reform, economic reform, economic opportunity greater representation and we support that," she said.
Rice added that the United States is offering the same moral support to freedom-seekers around the Arab and Muslim world as it did to those in Egypt.
Sen. Richard Lugar, R-Ind., chairman of the Senate Foreign Relations Committee, said that he sees most governments "coming to accommodation" with protesters on issues of "representation, democracy, hope for youth all the rest of this."
But "whether they are successful, whether they make it to the finish line, in most cases the armies of each of these countries will be essential, and they have very different relationships to the rulers," Lugar said.
"The question is, will, as in the case of the Libyans, the protesters simply be shot? Thus far, the Libyan police and army have stayed loyal to Moammar Qaddafi. Maybe they will continue to and shoot the protesters. Small country, not many protesters," he added.