Tulsa businessman, political novice Kevin Stitt wins GOP primary for Oklahoma governor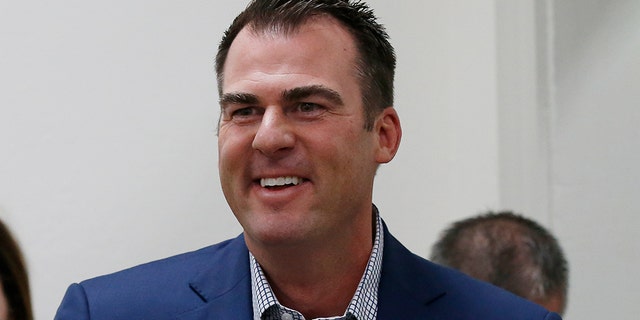 NEWYou can now listen to Fox News articles!
Tulsa mortgage company owner and political newcomer Kevin Stitt has won the Republican nomination in the race to become Oklahoma's next governor.
Stitt defeated former Oklahoma City Mayor Mick Cornett, who helped oversee a revitalization of the state's capital city that included landing an NBA basketball team, in Tuesday's primary runoff.
Stitt touted his experience growing his company, Gateway Mortgage Group, into one of the nation's largest privately held mortgage companies.
He boosted his campaign finances by lending himself nearly $3.3 million, about half of the $6.5 million he received ahead of Tuesday's primary runoff.
He also overcame a barrage of negative advertising in recent weeks that highlighted wrongdoing by his company ahead of the country's mortgage crisis.
The 45-year-old Stitt is set to face Democrat Drew Edmondson and the winner of the Libertarian runoff.
Two-term Republican Gov. Mary Fallin can't run again because of term limits.
The race for the GOP nomination in Oklahoma's race for governor appeared to hinge less on experience and ideology, and more on the state's geography and the candidates' allegiance to President Trump.
Cornett, 60, had come under fire from Stitt, who attacked the former mayor in one ad as not being supportive enough of Trump or his immigration policies.
"The Republican Party is President Trump's party, and any politician that you see across the country who has not been adequately supportive of President Trump has paid a price for that," GOP political consultant Trebor Worthen said.
Both men touted their opposition to abortion and support of Trump, but differed on their support of a tax increase this year to help pay for the first teacher pay hike in a decade. Cornett said he supported Fallin's signing of the bill, while Stitt said he wouldn't have signed it.
In a televised debate last week, Cornett shot back, criticizing Stitt as a Johnny-come-lately to Oklahoma's Republican political scene.
"Where have you been over the last 14 years?" Cornett said during the debate on Oklahoma City's KOCO-TV. "You haven't been on the front lines fighting for conservative principles."
Stitt, though, fully embraced his standing as a businessman and political outsider.
"I've been in the private sector, in the real world creating jobs," Stitt responded. "I haven't been cashing a government check."
Phil Workman, a 66-year-old retiree from Norman, said he liked the fact that Stitt was a political newcomer.
"One thing that led me to Stitt was that he's out of the norm for politics in that he's not an insider, he's an outsider," Workman said.
The performance of the final two GOP opponents in the 10-candidate field in July broke along geographical lines, with Cornett winning big in Oklahoma City and central Oklahoma, and Stitt taking counties in Tulsa and eastern Oklahoma. Lt. Gov. Todd Lamb finished a close third in the race and performed well in many rural counties.
Those geographical differences separate the two candidates more than political ideology, said Republican political consultant Pat McFerron, who worked on Lamb's campaign.
The Associated Press contributed to this report.