Trump reportedly looking to Cohn, Mnuchin to sell tax plan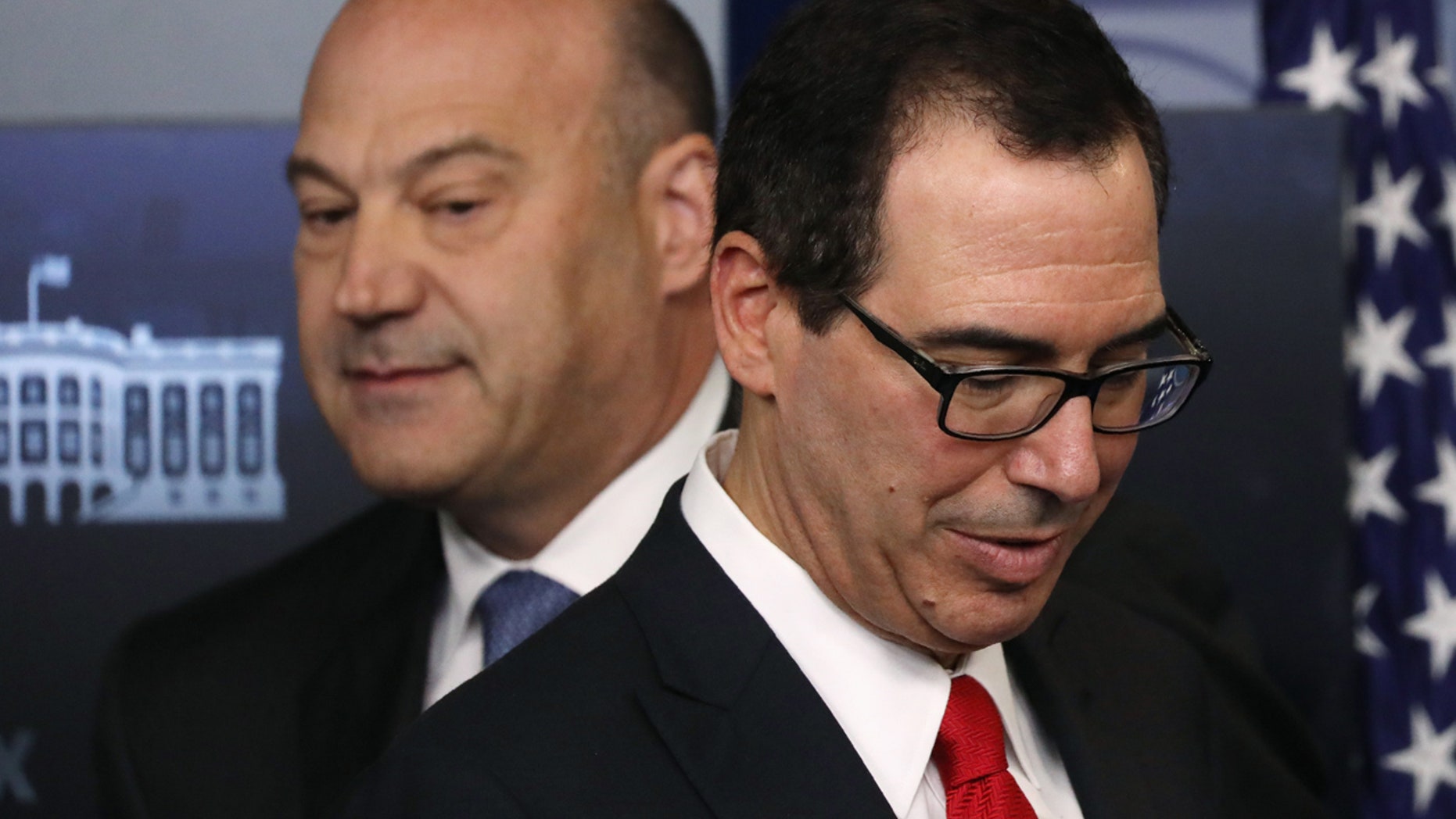 President Trump has reportedly tapped two former Goldman Sachs bankers to sell his tax plan to lawmakers  in what many see as an important political win for an administration that has unsuccessfully grappled with Congress in the past.
Trump set an ambitious tax agenda in April. The White House said it wanted to cut the corporate tax rate to 15 percent from the current 35 percent, eliminate the estate tax, also known as the "death tax," close loopholes for state and local deductions as well as simplify the overall tax code, Fox Business reported.
But The New York Times reported Monday--citing two unnamed sources-- that despite the 15 percent corporate tax rate dream, the proposed rate will likely move to the "20 to 25 percent range."
The administration's hopes of a 35 percent ceiling on personal income tax could be killed outright, the paper reported.
The current cap is at 39.6 percent.
The paper reported that Gary Cohn, the director of the White House Economic Council, and Steven Mnuchin, the Secretary of the Treasury, have worked for months behind the scenes on the plan.
The two reportedly have contrasting styles. Mnuchin is more reserved and Cohn more brash, the report said.
"They complement one another," Rep. Pat Tiberi, a Republican from Ohio, told the paper.
Stephen Moore, a Heritage Foundation economist who once advised Trump, told The Times that they "are facing big frustration among policy makers, the business community and investors that there's been months of inaction, and the perception out there among investors is they don't think this is going to get this done this year."
The White House and congressional Republicans have yet to engage in serious negotiations to address the debt ceiling or stopgap legislation needed to avert a government shutdown when the fiscal year ends on Sept. 30.
Trump is expected to hold meetings with congressional leaders after the Labor Day holiday.
Beyond the challenge of the debt limit, the effort to avoid a government shutdown could be complicated by Trump's long-promised plan to build a wall along the U.S.-Mexico border.
The president threatened last week to force a federal shutdown unless Congress provides money for the project. Sanders told reporters the administration would "continue to push forward and make sure the wall gets built."
The Associated Press contributed to this report