Trump may not need donors, but he still has them – including some fiery Latinos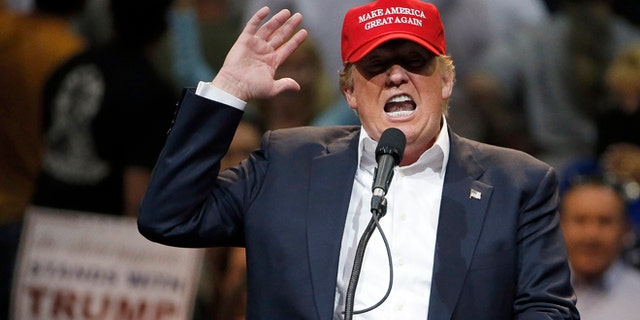 NEWYou can now listen to Fox News articles!
Presidential candidate Donald Trump ridicules donors and insists he is a billionaire who wants to "self-fund." Yet there's a prominent "donate" button on his campaign website, and he has raised more than $9.5 million — including from Daniel Arias, a Salvadoran immigrant in Florida who says Trump will put an end to newcomers "coming here and begging for food stamps."
About 200 people have given the Trump campaign $2,700, the maximum allowed by law for the primary election.
It's a small sample – a tiny sliver compared with Hillary Clinton's nearly 29,000 maxed-out donors – but these are arguably the most loyal of Trump fans. Just like the thousands who attend Trump's massive rallies, these well-off fans want dramatic change and see Trump as the only person capable of making it happen.
For 75-year-old Arias, himself an immigrant, it's all about immigration.
A real estate investor in Coconut Grove, he came to the country legally some 30 years ago thanks to sisters already here and visas that made it easier for family members to emigrate.
"[Trump] is the only one who is going to do something to stop illegal immigration," said Arias, who contends many come here for the government benefits and "to steal and sell drugs."
Trump famously kicked off his campaign by saying some Mexican immigrants who entered the country illegally are "rapists." Far from being embarrassed by his rhetoric, Arias and other donors seem to love converting their friends and associates to the cause.
Al Gamble, a Connecticut restaurant owner, said he gave to Trump in October because he is tired of families like the Bushes and the Clintons, who have "raped this country to assist in the globalist's agenda."
Letantia Bussell, a Beverly Hills dermatologist, said she appreciates Donald Trump's "unique personality." She said she didn't set out to give the candidate money -- she wanted to write him a letter of encouragement in August. But when she saw the donate option on his web page, she decided financial help was a better way to show support.
Phillip Braunstein, a 33-year-old Los Angeles real estate business owner said he felt compelled to do more than just say he likes Trump. He laid down his $2,700 in October.
The Associated Press culled the names of Trump's top donors from his public Federal Election Commission filings, which are complete through the end of February. More contributors will emerge on Wednesday, when he files his March fundraising documents.
The list of maxed-out donors includes some characters. Literally. There's Alice Chapman, a reality television star and the wife of Dog the Bounty Hunter. There's Jim Shore, a well-known artist who sells his figurines on QVC. Kelly Roberts has also chipped in. She's the mother of two "television personalities," wife of a millionaire frozen-burrito king and co-owner of the historic Mission Inn Hotel and Spa in Riverside, California.
Most people who part ways with several thousand dollars are on firm financial footing. Some of Trump's donors are downright rich. John Ferolito, who co-founded AriZona iced tea, gave in July. And Scott Shleifer, head of the multi-billion-dollar New York hedge fund Tiger Global, ponied up $2,700 last year, a few months before he purchased an $18 million Park Avenue condo.
And some of the donors seem to have adopted Trump's tone on his opponents.
"I think Trump has the best chance of winning, and I only back winners," Braunstein said. He liked Marco Rubio and others, but asked himself, "why would I spend my money on a loser?"
Based on reporting by the Associated Press.
Like us on Facebook
Follow us on Twitter & Instagram