President Trump is "highly unlikely" to recognize Russia's forcible 2014 annexation of Crimea at his Monday summit with Russian President Vladimir Putin, U.S. Ambassador to Russia Jon Huntsman told "Fox News Sunday."
But Huntsman stopped short of ruling out the possibility that Trump would drop U.S. objections to Russia's seizure of Crimea from Ukraine, in which Russian troops sparked international outrage by invading Crimea and its parliament.
Trump and Putin are slated to meet one-on-one in Helsinki, Finland, on Monday, and protesters there are already taking to the streets ahead of the long-awaited summit.
"The president's the chief negotiator, not me," Huntsman said. "He has a good sense of what these issues are and has a good sense of where he wants to go."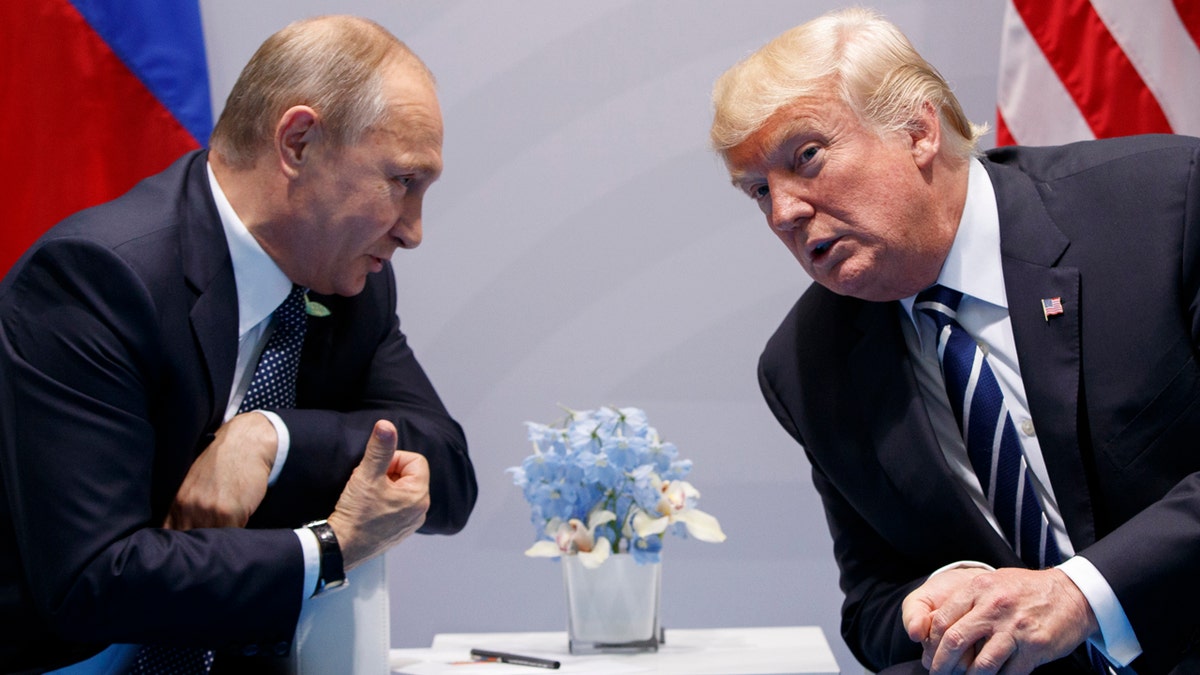 The president this week blamed former President Barack Obama for the Russian invasion of Crimea, saying the episode was an "Obama disaster" that would not have not taken place on his watch.
Trump has largely remained coy on the subject of recognizing the annexation, saying Friday during a press conference with British Prime Minister Teresa May that "we're going to see what happens" on the issue at the Helsinki summit.
And Trump reportedly said during the G-7 summit that he considers Crimea to be Russian because its residents speak Russian -- echoing Putin's arguments that Russia did not, in fact, forcibly annex the country.
Meanwhile, several prominent Democrats, and Arizona Sen. John McCain, have said the summit "should not move forward" at all unless Trump holds Russia accountable for election meddling.
Last week, the Department of Justice announced that 12 intelligence officers had been indicted for allegedly hacking emails from the Clinton campaign and the Democratic Party in the 2016 election.
In response, Huntsman on Sunday signaled that Trump would take a tough line on election meddling by Russian intelligence.
WATCH: 12 RUSSIANS INDICTED FOR ELECTION MEDDLING -- WHAT TO KNOW
"We have an election coming up in November, and if there is meddling in the election this November like we saw in 2016, we are not going to have much of a relationship," Huntsman said.
The ambassador added that he was convinced by the evidence he's seen that Russian state agents conspired to interfere with election.
"There's very little doubt in my mind about what we are seeing," Huntsman said. "The investigation has rolled up almost 30 Russians in total, the process and the investigation are playing out, and that's part of holding Russia accountable and responsible for election meddling and malign activity."
At the same time, Huntsman said that while Russia is going to be put "on notice," the issue of Russian interference should not dominate the summit on Monday.
"We've got to, at some point, quit looking back at the rear-view mirror and be informed by what we have been through, and use that to educate us as we go forward," Huntsman said. "But at some point we have to look forward and around the bend."