Trucking industry asks Obama to 'proceed cautiously' on new fuel, emissions regs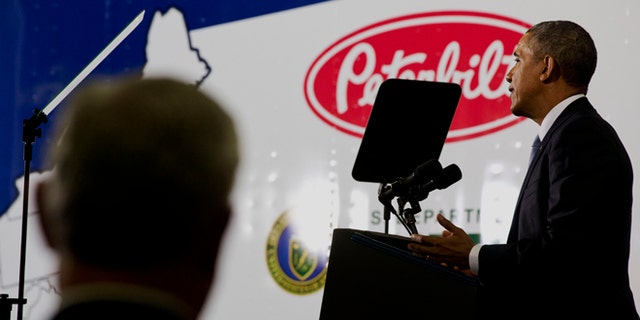 President Obama on Tuesday used executive action to order a new round of fuel-efficiency and greenhouse-gas standards for U.S. automobiles, driving climate control to the front of his second-term agenda and sparking concern from the trucking industry.
The president wants new standards for medium- and heavy-duty vehicles, and has asked the Environmental Protection Agency and the National Highway Traffic Safety Administration to develop and issue them by March 2016.
"Today we're taking the next step," Obama said at a Safeway grocery stores distribution center in suburban Maryland, just several miles from the White House."I said that this would be a year of action, and I meant it. ... I'm eager to work with Congress wherever I can. But whenever I can act on my own to expand opportunity for more Americans and help build our middle class, I'm going to do that.
However, the announcement brought a tepid response from Big Business.
The American Trucking Association -- the largest national trade association for the trucking industry -- urged Obama to "proceed cautiously" in setting new standards.
"Fuel is one of our industry's largest expenses, so it makes sense that as an industry we would support proposals to use less of it," said group president and chief executive Bill Graves. "However, we should make sure that new rules don't conflict with safety or other environmental regulations. Nor should they force specific types of technology onto the market before they are fully tested and ready."
Graves also pointed out his group "stood shoulder to shoulder" with Obama in 2011 when his administration set "historic" fuel efficiency standards for heavy-duty vehicles.
The president framed his call for greater fuel efficiency and a reduction in carbon emissions as part of his "Year of Action" and overall effort to improve the economy for struggling, middle-class Americans.
He said his plan also includes creating new jobs, better employment training and giving every American access to a "world-class education."
"This is another big step toward growing the economy and decreasing our dependency on foreign oil," he said.
Obama said that since vowing in his State of the Union address three weeks ago to use executive action he has acted to require federal contractors to pay employees at least $10.10 an hour; ordered an across-the-board reform of job-training programs and directed the Treasury secretary to create "myRA," which he called "a new way to help working Americans start saving for retirement."