A top House lawmaker accused the Defense Department on Thursday of using material "plagiarized" from Wikipedia in a report submitted to Congress earlier this year.
House Intelligence Committee Chairman Devin Nunes, R-Calif., seemed to surprise Deputy Defense Secretary Bob Work with the allegation during a hearing where other top defense and intelligence officials also testified. He reached back to recall a meeting they had in March about an analysis for a Joint Intelligence Analysis Complex planned for Croughton Airbase in the U.K.
Nunes recalled that Work told lawmakers the Pentagon did not plan to reevaluate "lower-cost alternative sites" and, as justification, "provided the committee with two documents regarding communications infrastructure supporting" a separate site in Portugal's Azores islands.
Nunes then asked: "Secretary Work, are you aware that significant portions of this document that you passed to three committee chairmen to meet public law were plagiarized from Wikipedia?"
Work answered: "No, I did not know that the information in that document came from Wikipedia."
The committee has since posted online side-by-side files showing the Wikipedia entry and the report submitted to Congress. The similar passages mostly concerned background on The Azores and Lajes Field, located in the island chain.
Wikipedia described The Azores as "one of the two autonomous regions of Portugal, an archipelago composed of nine volcanic islands in the North Atlantic Ocean about 1,360 km (850 mi) west of continental Portugal."
The report to Congress described The Azores as "one of the two autonomous regions of Portugal, composed of nine volcanic islands situated in the North Atlantic Ocean about 850 miles west of continental Portugal."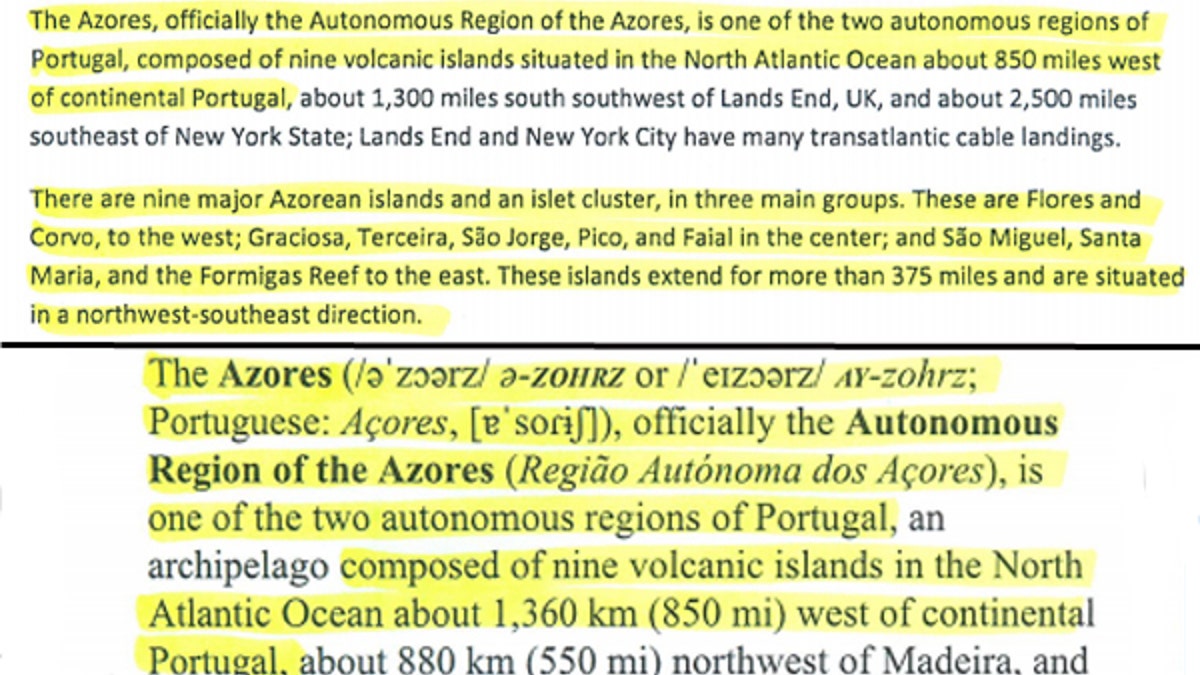 There are several other similar passages.
Nunes noted the document was provided to Congress to fulfill requirements of the National Defense Authorization Act.
As Work continued to defend the selection of Croughton at Thursday's hearing, Nunes said he was "alarmed" that they'd "rely on Wikipedia, a free online encyclopedia that is famously known for … high school students plagiarizing their homework."
Work said this "had no bearing" on his determination but eventually conceded: "I would say that I am surprised that this comes directly from a Wikipedia page." The exchange was first reported by The Hill.
As Fox News' Catherine Herridge reported in May, Nunes and other top GOP lawmakers have raised concerns about whether agencies gave false information about the proposed intelligence center. Their central concern was that agencies may have given Congress misleading information to support the selection of RAF Croughton, while downplaying other options that may have been more cost-efficient.
The lawmakers sought an inspector general probe, which according to Nunes' office was still ongoing as of Thursday.
A separate Government Accountability Office report issued in September said the DOD analysis on Croughton at least partly met most criteria for "best practices." But the report said DOD officials could not explain how other alternative sites were "eliminated from consideration" and cited "shortcomings" in the process.
Nunes suggested earlier this year the Croughton selection was fast-tracked.
Earlier this year, a Defense official told Fox News that RAF Croughton was the "optimal location" for the intelligence center and disputed allegations the required selection process was not followed. The official said DOD "evaluated a number of alternative locations and of those 14 locations, Croughton rated the highest overall," and the field in the Azores was not included in that analysis because it did not meet minimum operational requirements.
FoxNews.com's Judson Berger and Fox News' Catherine Herridge contributed to this report.