Today's Power Play: Dems Dominate on Campaign Cash Despite Complaints About GOP Advantage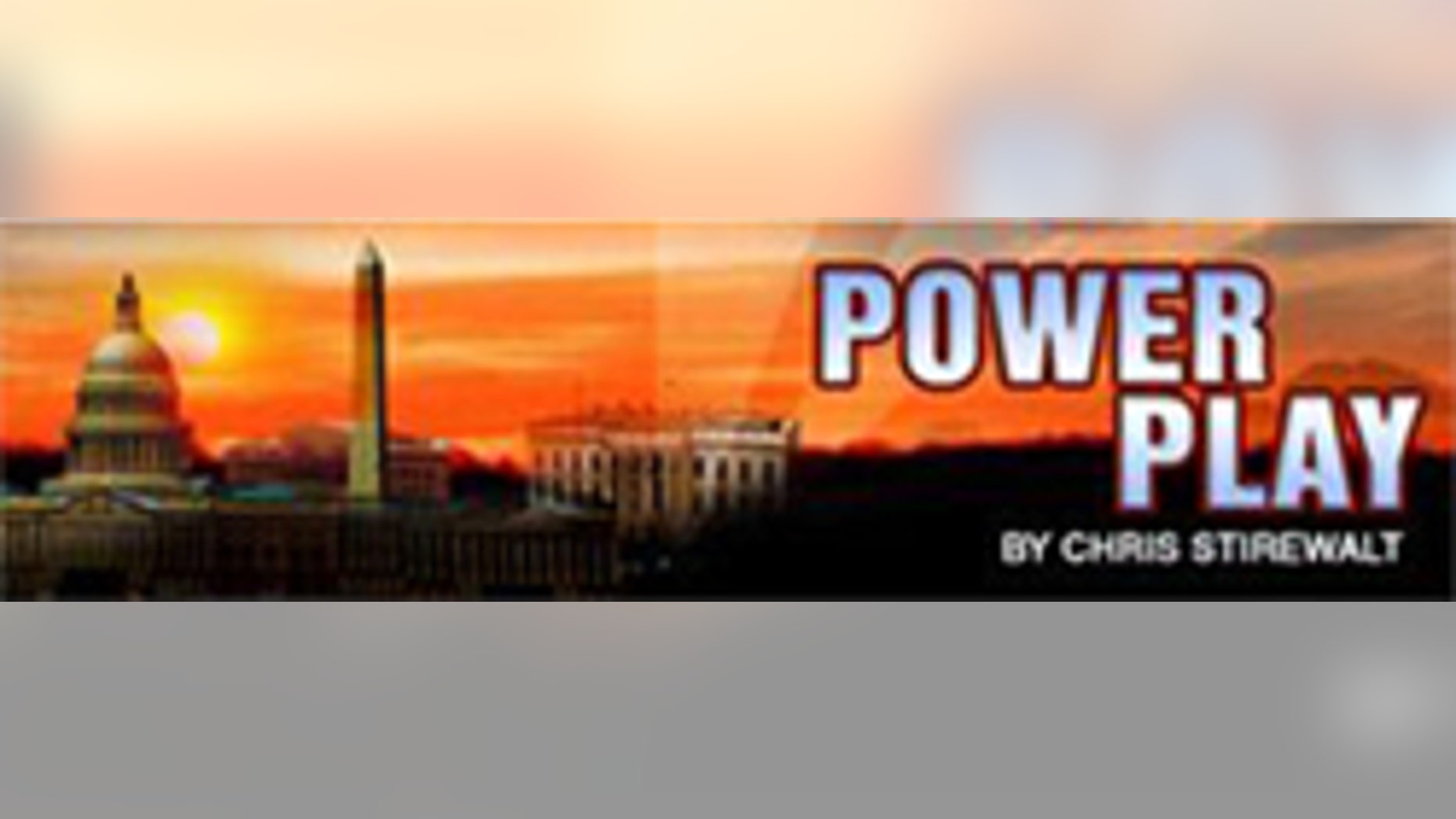 ((Get politically powered up with Fox News' AEHQ iPhone app full of exclusive analysis and content))
There are more and more indications that when it comes to pouring cash into the 2010 midterm elections, it's Democrats who have the bigger funnel.
The American Federation of State, County and Municipal Employees boss Gerald McEntee announced to the New York Times Tuesday that the million-member union's latest batch of political ads will take the group's spending on the midterm elections to $91 million, far and away the most spending by any group this cycle.
Also on Tuesday, an analysis from the Center for Responsive Politics revealed that taken as a whole, Democrats and Democratic allied groups have raised and spent far more than their Republican counterparts -- $856 million to $677 million.
The same day, the AFL-CIO, the umbrella labor group that includes AFSCME and other public-employee groups like the American Federation of Teachers, was in Nevada rallying for Senate Majority Leader Harry Reid, saying that Reid's victory would be key to labor's agenda. Unions are spending millions to defeat Republican Sharron Angle, more than in any race except perhaps for the Colorado Senate contest.
That's why last night, President Obama hosted a conference call for thousands of union supporters from the White House, cheering on their efforts to defeat Republicans.
While the president may have chatting up Jon Stewart today on "The Daily Show" and playing up the ironic rally the host is bringing to Washington on Saturday, sarcasm is not going to do much to limit Democratic losses.
It's the big, big money and ground troops unions provide that will spare some vulnerable Democrats.
Democrats have embraced the narrative that their looming defeat is as a result of being outspent by "special interests" and "foreign money" from "shadowy groups."
As Speaker Nancy Pelosi said last week: "Everything was going great and all of a sudden secret money from God knows where -- because they won't disclose it -- is pouring in."
But things haven't been going great for Democrats since about April of 2009, long before there was such a thing as American Crossroads, back when the Chamber of Commerce was still cooperating with President Obama. Democrats have long known that this election would be a struggle.
That's why the party has not only milked corporate donors, especially those who benefitted from the Obama agenda, like the pharmaceutical industry, but also sent up the alarm to allied groups, like government workers unions, to crack up the spending months in advance.
The moral of the story: In politics, the difference between a "special interest" and a "concerned American" is usually whose name is on the check.
Thanks to today's Power Play crew: Kimberly Schwandt, April Girouard, Meaghan Leister, Heidi Noonan, Jason Donner, Whitney Ksiazek and Molly Mathews.
Scandal Sheets -- West Virginia Dems "Freaking Out" Over Manchin Probe
An ongoing federal probe into the purchasing and contracts of West Virginia Gov. Joe Manchin's administration is proving problematic for Manchin's Senate campaign.
Or, as a veteran West Virginia Democratic lawmaker described it to Power Play: "Everybody is basically freaking out."
Local reports indicate that a federal investigation that includes contracts for renovations to Manchin's office and for contacts on a state road project in Manchin's home county has now expanded to the use of state aircraft.
Manchin, a private pilot, took heat in the past for upgrading the gubernatorial air fleet and for taking personal trips in government planes, like a 2005 jaunt to go pick up his yacht in Mobile, Ala.
Local reporters say that the central figure in the investigation is Larry Puccio, the current chairman of the state Democratic Party who is Manchin's former chief of staff and business partner. One area of inquiry is reportedly a contract awarded to Puccio's firm for appraising land for the state department of highways.
Courthouse whispers in Charleston say that no charges are likely before Election Day in the ever-broadening federal probe, but the possibility is causing tremendous angst among Manchin's supporters and the Democrats planning to move up the line upon his once seemingly certain election to the Senate.
"[Manchin's campaign team] did not think they were going to have a competitive race at all, let alone a competitive race going on during a federal investigation," said the Democratic lawmaker, who suggested that the ever-looming threat of subpoenas has had a chilling effect on some Manchin supporters.
"I think some people are worried about raising their profile right now," he said.A complicating factor is the depth of distrust between Manchin's team and the supporters of the man who would succeed him, Senate President Earl Ray Tomblin, a survivor of the scandal-soaked politics of Southern West Virginia.
"Earl Ray's people aren't used to being real helpful to Joe," said a former Manchin staffer. "And [the investigation] makes it more complicated."
Still, the former Manchin aide was optimistic that Tomblin's troops would turn out coalfield voters in large enough numbers for Manchin to defeat Republican John Raese.
"It's in [Tombin's] interest for Joe to win. He moves up. All of his boys from Logan County get to move up," he said. "They will do what it takes."
With Manchin's support sagging in the more Republican precincts in the north of the state, that coalfield turnout will be the key to victory.
Manchin, who hails from the north-central part of the state, has had electoral troubles. His 1996 gubernatorial primary defeat came at the hands of downstate voters.
The Day in Quotes
"My name may not be on the ballot, but our agenda for moving forward is on the ballot, and I need everybody to turn out."
-- President Obama in an interview on Al Sharpton's radio show.
"The single most important thing we want to achieve is for President Obama to be a one-term president."
-- Senate Minority Leader Mitch McConnell to National Journal on Republican priorities for the next two years.
"We've got big problems and big challenges in this country and big opportunities but we're not going to be able to seize them if we are engaged in partisan warfare day after day after day."
-- Senior White House Adviser David Axelrod on a Whitehouse.gov Web chat urging Republicans to accept the administration's "open hand" after the elections."Look, there's, there's an Obama bumper sticker on the car. We get that."
-- White House Press Secretary Robert Gibbs at the White House press briefing discussing the car in the "car in a ditch" extended metaphor used by President Obama nearly every day.
"I had a front-row seat to what worked and what didn't in 1994-and I like to think I learned a thing or two"
-- House Minority Leader John Boehner, who also said he wouldn't return smoking privileges to the Speaker's Lobby should he have the opportunity, in an interview with National Journal.
"For all the handwringing by Democrats about outside money in these races it's notable that last week it was reported that labor has outspent the combination of American Crossroads and the Chamber of Commerce this cycle. $171.5 million to $140 million... Make no mistake about it, we are being outspent."
-- Fundraising email from Sen. Orrin Hatch (R-UT) on behalf of the National Republican Senatorial Committee.
"The door's not closed."
-- Rudy Guiliani, former New York mayor, to Politico on the prospect of a 2012 presidential candidacy.
"I don't think Sarah would want me to, before she's even able to make a decision."
-- Sen. John McCain demurring when asked on CBS about endorsing a potential Palin 2012 candidacy.
"I'm sorry that it came to that, and I apologize if it appeared overly forceful, but I was concerned about Rand's safety"
-- Tim Profitt, the supporter of Kentucky Republican Senate nominee Rand Paul who placed his foot on a MoveOn activist's head after she was wrestled to the ground, to the Associated Press.
"There was a bit of a crowd control problem and I don't want anybody, though, to be involved in things that aren't civil. I think this should always be about the issues".
-- Kentucky Republican Senatorial Candidate Rand Paul on FOX's "America's Newsroom with Martha MacCallum and Bill Hemmer" when asked about the altercation between a Paul supporter and a protestor from MoveOn.org.
"I stand by my comments. The White House wanted to play politics instead of coming in to Rhode Island and caring about what's going on in the households across Rhode Island."
-- Frank Caprio, Democratic candidate for Rhode Island governor, when asked on NBC about his remarks that President Obama could "shove it" after deciding to not endorse Caprio in deference to independent candidate Lincoln Chaffee.
"The enthusiasm gap is important but the wave comes from independents."
-- Republican pollster Glen Bolger, quoted by Politico.
Trail Riders - Cook-ed?; Bubba Late for Early Voting; Obama Schedules Only Trip South; WWE Clothing Fight Goes to Court
Cook Bumps Up GOP Wins
The Cook Political Report has again revised upward the projected losses for House Democrats. The projected net loss is now 48 to 60 seats, up from 40 to 55 seats. Cook also suggests that Republican gains could exceed 60 under the right circumstances.
Miller Accepts Court Ruling on Records
Alaska Republican Senate candidate Joe Miller has opted not to appeal a court ruling that grants state news outlets access to his employment records as a part-time municipal attorney in Fairbanks.
Much has been made in the race of Miller's censure for having participated in a private political poll about the leadership of the state Republican Party from a government terminal.
Fiorina Recovering
California Republican Senate candidate Carly Fiorina is hoping to return to the campaign trail today after being kept overnight in a Los Angles hospital to treat an infection related to her post breast cancer reconstructive surgery.
Fiorina's campaign has an event scheduled at the Google headquarters. No word on whether she will attend.
Obama Tries to Pull it Out for Perriello
President Obama has added a campaign stop Friday on behalf of Tom Perriello, the freshman House member from Virginia, whose struggling reelection campaign has become a cause for liberals from coast to coast.
Perriello, who faces Republican state Sen. Robert Hurt, won the seat by 727 votes in 2008 thanks to a Democratic wave that swept through the University of Virginia and an outpouring of black voters for President Obama from the districts rural precincts to the south.
While most Democrats from swing districts have distanced themselves from Obama on key issues, Perriello has touted his support for Obama's controversial national health insurance law and plan to charge businesses global warming fees.
CNN Slams Sink for Trying "Kids" Excuse on Debate Cheat
Florida Democratic gubernatorial candidate Alex Sink suggested in an appearance on MSNBC Tuesday that she only looked at a message brought to her on a phone by a makeup artist during her debate with Republican Rick Scott because she was concerned that it might be from her daughter, who is studying abroad.
But CNN's John King, who moderated the Monday debate, contradicted the claim saying on his network that the audio from the cheating incident reveals that the makeup artist approached Sink saying "I have a message from the staff" before showing the candidate a cell phone. The display of the phone had two lines of advice about how to handle the controversy surrounding a class-action investor lawsuit against a telemarketing firm of which she was formerly a director.
Pence Wants Wiggle Room
Those in the orbit of Rep. Mike Pence (R-IN) aren't doing much to discourage talk that Pence, the chairman of the House Republican Caucus, may forgo a leadership role in the next Congress in order to focus on a presidential run.
Politico first reported the idea and Pence backers, including one former key staffer, told Power Play that the idea makes sense because of the huge cost and time involved in launching a presidential campaign.
Stepping out of the leadership would also give Pence, a favorite among social conservatives, the chance to take shots at his own party leadership or at least not have to defend the choices made by a potential new Republican House majority.
Bubba Stumps... And Stumps, And Stumps
After turning up an hour late for an early voting rally for Illinois Democratic Senate candidate Alexi Giannoulias, former President Bill Clinton delivered a one-hour stem-winder. Local reports said dozens of Democrats left during the midday speech.
Southern Governors Head North
A troika of GOP governors - Mississippi's Haley Barbour, Louisiana's Bobby Jindal and Virginia's Bob McDonnell - are the headliners for a Milwaukee rally today for Badger State gubernatorial candidate Scott Walker.
Obama's Day
President Obama remains off the campaign trail for a second day, while Vice President Biden heads to Philadelphia for a fundraiser for imperiled Democratic Rep. Patrick Murphy and a rally for Bryan Lentz, caught in a tough race in the Philadelphia suburbs to replace Rep. Joe Sestak, who quit to run for Senate.
First lady Michelle Obama and Jill Biden remain on the campaign trail, headlining fundraisers for Sen. Barbara Boxer (D-CA) Wrestling Clothes Ban Spurs Lawsuit
Vince McMahon, founder of World Wrestling Entertainment and husband of Connecticut Republican Senate candidate Linda McMahon, has filed suit challenging a decision by Democratic Secretary of State Susan Bysiewicz to ban WWE apparel from polling places.
Bysiewicz on Tuesday looked to walk back her ruling, saying that it had been misconstrued and only applied to voters wearing the "name or photograph of Linda McMahon, U.S. Senate candidate, or the name or logo of Ms. McMahon's campaign" in a memo to staffers.
G.H.W. Bush Backs Perry
Former President George H.W. Bush, who supported Sen. Kay Bailey Hutchison in her bid to unseat Gov. Rick Perry in the Texas primary has mended fences with his son's successor and endorsed Perry for another term.
Chaffee Celebrates Obama Inaction
Republican senator turned Bush-bashing independent Rhode Island gubernatorial candidate Lincoln Chaffee has embraced President Obama's non-endorsement in the race as an endorsement of him. Chaffee is out with an ad that highlights his affection for and endorsement of Obama in an effort to woo Democrats from their nominee Frank Caprio.
Caprio famously said of Obama's non-endorsement that the president could "shove it."
Poll Check
Gallup: Top Three Issues for Midterm Voters - Economy 43, Health Care 23, "Size and Power of the Federal Government" 18
Allentown Morning Call: Pennsylvania Senate - Toomey (R) 46, Sestak (D) 41; Pennsylvania Governor Corbett (R) 52, Onorato (D) 38Rasmussen: Wisconsin Senate - Johnson (R) 53, Feingold (D) 46 Chicago Tribune: Illinois Governor - Brady (R) 49, Quinn (D) 43
Quinnipiac: Ohio Governor - Kasich (R) 49, Strickland (D) 43
Politics Stinks Republican Van Tran, challenging Rep. Loretta Sanchez in California's Orange County, has sent out a skunky scratch-and-sniff mailer that says, "Something smells rotten about Loretta -- it's the stench of Washington."
And Now, A Word From Charles
"I think this is how the great post-partisan, post-racial promise of Obama ends, not with a bang or a whimper but with a display of unbelievable presidential smallness. He isn't only urging Hispanics to punish enemies, he is criticizing Hispanics who don't. And this is the man who told us this is what propelled him into the spotlight to the country -- we are not a blue America, not a red America, not a black America, not a Hispanic America.And now he tells us on the eve of election we actually are a Hispanic America and Anglo America. We are not only separate but in a sense we are enemies. I don't think he uses the word enemy in describing the president of Iran or Hugo Chavez but uses that to describe Anglos who believe in the Arizona law? Good grief."
-- Charles Krauthammer on "Special Report with Bret Baier" discussing President Obama's interview with a Spanish-language radio station in which he urged Latinos to "punish our enemies" who opposed the president's immigration plans.