TikTok CEO tells 'almost half' of US on Chinese app politicians 'could take TikTok away from all 150M of you'
TikTok CEO Shou Zi Chew sends video message to American users ahead of testifying before Congress
TikTok CEO Shou Zi Chew used the Chinese-owned social media platform under fire from U.S. lawmakers and the intelligence community as a potential national security threat to send a video message to American users ahead of his expected testimony before Congress Thursday that, "Some politicians have started talking about banning TikTok."
"Now this could take TikTok away from all 150 million of you," Chew said in the video, which now has more than 8.2 million views and more than 907,500 likes as of Thursday morning.
"Hi everyone, it's Shou here. The CEO of TikTok. I'm here in Washington, D.C., today, and I have some news and updates to share with everyone here," Chew, donning a casual white T-shirt, jeans and a navy blue zip-up sweatshirt, said in a friendly tone. "Today, I'm super excited to announce that more than 150 million Americans are on TikTok."
The on-screen text notes that 150 million represents the number of monthly active users.
HERE'S THE DATA THJAT TIKTOK COLLECTS ON ITS USERS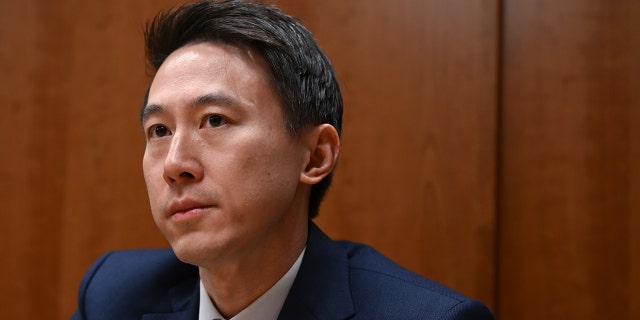 "That's almost half of the U.S. coming to TikTok to connect, to share, to learn or just to have some fun," Chew said. "This includes 5 million businesses that use TikTok to reach their customers, and the majority of these are small or medium businesses. Now these numbers are amazing. And I'm so thankful to all of you, and the 7,000 TikTok employees in the U.S. whop are helping us build this incredible community in America and around the world."
"Now this comes at a pivotal moment for us," Chew continues, sitting in a chair in front of a window overlooking the Capitol building. "Some politicians have started talking about banning TikTok. Now this could take TikTok away from all 150 million of you."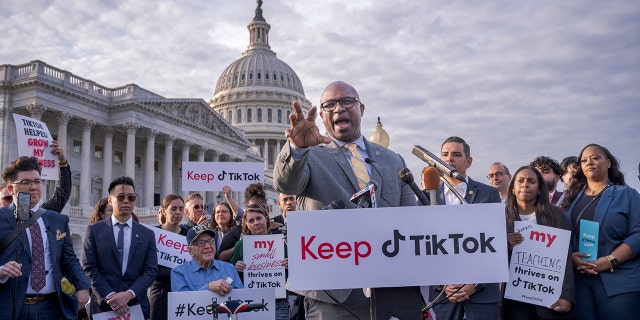 "I'll be testifying before Congress late this week to share all that we're doing to protect Americans using the app. And deliver on a mission to inspire creativity and to bring joy," Chew said in the 1-minute-9-second clip shared earlier this week. "Let me know in the comments what you want your elected representatives to know about what you love about TikTok."
FBI DIRECTOR CHRIS WRAY TESTIFIES CHINESE-OWNED TIKTOK HAS POWER TO 'DRIVE NARRATIVES,' 'DIVIDE AMERICANS'
The Wall Street Journal reported U.S. authorities were considering banning TikTok ban if ByteDance does not sell the company. A Chinese government official warned Thursday that a forced sale "would seriously damage investors from multiple countries including China" and hurt "confidence to invest in the United States."
FBI Director Chris Wray testified before Senate and House intelligence committees earlier this month about TikTok's power to "drive narratives" and "divide Americans against each other."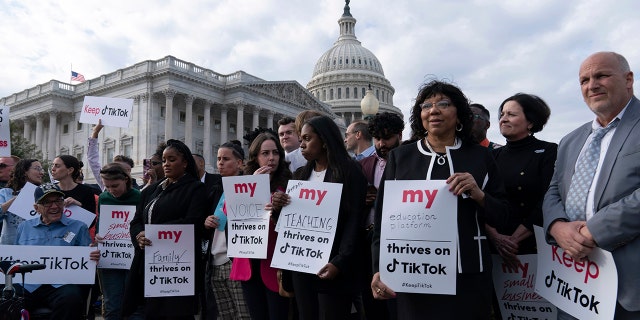 TikTok called on its "creators" to descend on Washington, D.C., to lobby lawmakers and appeal to the media about the positives of the app for small business owners before Thursday.
Chew is set to testify before the House Energy and Commerce Committee, where he is facing lawmakers about the extent to which American's privacy is jeopardized and that their data is manipulated by TikTok's relationship with China as well as the impact of the platform's algorithm on children.
While the Biden administration has reportedly demanded Chinese owners divest their stakes in the app, President Biden himself has called on TikTok creators to help reach younger audiences regarding issues such as the Inflation Reduction Act, the war in Ukraine and the midterm elections.
CLICK HERE TO READ MORE ON FOX BUSINESS
The United States, Britain and New Zealand's parliament have banned the use of TikTok on government-issued phones. India has banned TikTok and dozens of other Chinese apps, including the WeChat message service, on security and privacy grounds.
The Associated Press contributed to this report.