The Democrats try to mock Kavanaugh with 'scary' image of the wrong judge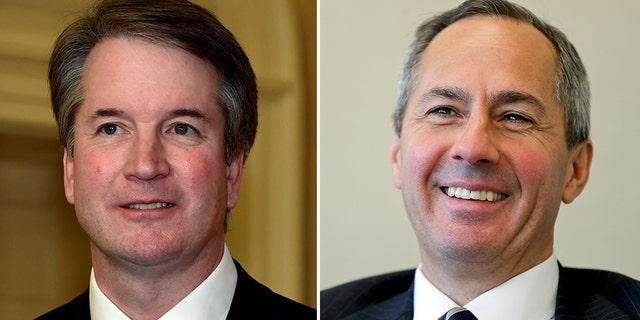 The Democratic Party seemed to be so unhinged over Trump's decision to nominate Brett Kavanaugh to the Supreme Court that its official Twitter account sent out a link with a sinister image on Tuesday. Unfortunately for The Democrats, the photo showed the wrong judge.
"Let's be clear: A vote for #KavanaughSCOTUS would be a vote to rip health care from American families and deny women their rights to make their own health care choices," the tweet said with a darkened image of Judge Thomas Hardiman – who was not selected to fill the vacant seat.
Trump selected Kavanaugh to replace retiring Justice Anthony Kennedy on Monday night, ending a days-long guessing game that began the moment Kennedy announced his retirement. Hardiman was one of a handful of finalists, White House officials said.
The Democrats deleted the message that included the image of the wrong judge, but the embarrassing gaffe was captured and circulated on Twitter.
"The Democrats just put out an article attacking Judge Kavanaugh but they used an image of Judge Hardiman instead and I cannot stop laughing," conservative commentator Jeremiah Dunleavy tweeted.
"That's Thomas Hardiman they photoshopped to look scary, not Brett Kavanaugh," Free Beacon reporter Brent Scher wrote.
Washington Free Beacon managing editor David Rutz wrote a column highlighting examples of far-left critics who planned to protest regardless of who Trump selected. Protestors had signs with blank spots occupying the name of the nominee, and the Women's March initially released a statement referring to the nominee as "XX."
"It will be harder to take arguments against Trump's nominee seriously when so many in opposition decided he would have to be stopped, before they even knew he was a he," Rutz wrote.
The Democrats eventually tweeted the same message, but with an image of the correct judge.
The official Twitter account of the Democratic Party, funded by the Democratic National Committee, has over 1.46 million followers.
The DNC did not immediately respond to a request for comment.
Fox News' Samuel Chamberlain contributed to this report.