Texas Rep. Hinojosa's retirement sets up battle between 2 Latinos to fill his seat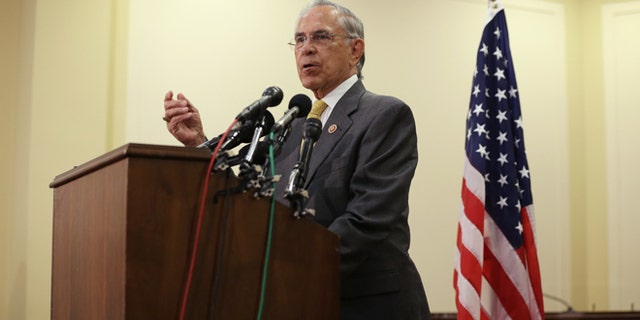 NEWYou can now listen to Fox News articles!
With longtime Texas Rep. Ruben Hinojosa, a Democrat, retiring from his congressional duties at the end of the term, two Hispanic are vying to take his spot.
And while the two candidates look very similar on paper – both liberal lawyers whose platforms prioritize education, health care and immigrant rights – there is one area where Vicente Gonzalez and Sonny Palacios do differ: experience in an elected office.
Gonzalez has never held a political position, while Palacios is a two-term member of the local Edinburg School Board and comes from a family of elected officials.
In past election cycles, an upstart candidate would have trouble defeating someone else with political experience, but with the rise of outsiders like Donald Trump and Bernie Sanders this year, Gonzalez is feeling his lack of experience in politics could be an asset.
"I don't come from a political family, I'm not a politician, I've never run for office," Gonzalez told The Hill. "And I think that's been a huge — one of the biggest — differences between us. And I think people in South Texas are ready for that."
His challenger, however, seems to disagree. He says the practical know-how in politics is a major plus for someone moving to Washington for the first time.
"I actually know what I'm talking about," Palacios said. "[Gonzalez] has never served on a single board or a single office — not even a PTA organization. … All he knows is what his advisers tell him to say. … He has no practical experience," Palacios said. "Can I say with a straight face that he's running on his qualifications? The answer is no. He has no qualifications."
Palacios was also upset by Gonzalez labelling his family a political dynasty.
"He says there's too many Palacioses in politics," he said. "[But] if we're a dynasty, we're a dynasty of farmworkers. … We're getting slapped for living the American dream."
Gonzalez may not have the political connections that Palacios does, but that hasn't kept him from garnering some major endorsements, including support from Reps. Gene Green of Texas, Ruben Gallego of Arizona and Tony Cárdenas of California.
"He pulled himself up by his own bootstraps, is now a successful attorney with his own practice," Cárdenas said this month. "I think he knows what it's like to represent poor people, because he knows what it's like to be poor."
As for Hinojosa, who at 75 years old is retiring at the end of the year after 10 terms, he said he's staying out of the race.
"I'm not involved," he said. "I'm not endorsing anybody."
Texas's 15th District, which is a slender agricultural strip of land that spreads through the Rio Grande Valley and touches the Mexican border, has been a hotspot for the immigration debate as the region has seen tens of thousands of undocumented immigrants come over the border in the last few years. More than 71 percent of eligible voters in the district are Hispanic, giving it the fourth-highest Hispanic density in the nation.