Tea Party's Pledge for Term Limits Takes Backseat to Winning Elections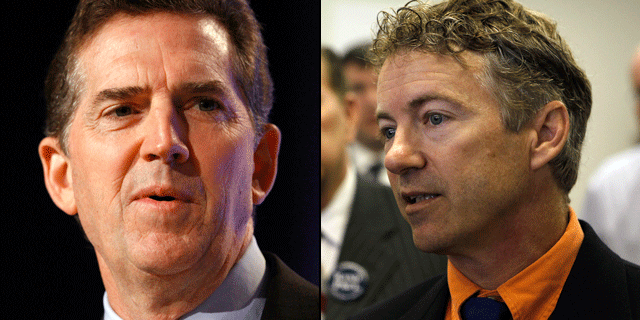 The anti-establishment wave that has fueled the rise of the Tea Party has also quietly revived a call for term-limits in Congress even though one prominent Tea Party group actively involved in a number of key Senate races has not forced candidates to make a pledge in return for support.
The Tea Party Express, a national political committee which has spent hundreds of thousands of dollars to propel underdogs Joe Miller in Alaska and Christine O'Donnell in Delaware to victory, said it is focused on "first things first."
"There's a lot of battles we want to fight. The most important ones are the fiscal ones – cut the spending, stop the encroaching of government," Tea Party Express spokesman Levi Russell told FoxNews.com, adding that the group supports term limits. "It hasn't been a front and center issue because there are so many other issues looming large that seem to be a more immediate threat."
Russell said the focus will shift after the Nov. 2 election from "strictly getting conservatives elected" to "holding them accountable." Russell said term limits aren't as important now because in the last 18 months, "there's been a public awareness of the behavior of individuals in Congress like never before."
"There's no reason to assume that will always be the way," he said. "When the public stops paying as much attention and lawmakers return to overspending and overtaxing, it's term limits that can put an end to their time in office."
The term limits movement has not gained much steam in Congress since a brief flirtation by several lawmakers in the 1990s. Term-limits activists attribute that to incumbents winning elections more than 90 percent of the time.
Four Republican senators – Jim DeMint of South Carolina, Tom Coburn of Oklahoma, Kay Bailey Hutchison of Texas and Sam Brownback of Kansas -- last year introduced a constitutional amendment to limit senators to two six-year terms and representatives to three two-year terms.
No other lawmakers have signed on to the legislation, which would need approval by two-thirds majorities of both chambers and ratification by 75 percent of the states to become a constitutional amendment. Coburn, a freshman, has repeated his pledge to leave after a second term, assuming re-election, regardless of the law.
Emboldened by the toxic environment for incumbents, term-limit activists are again pushing congressional candidates to pledge support for the legislation.
"This is a different time right now," Phillip Bumel, president of U.S. Term Limits, told FoxNews.com. "We have a situation where term limits, always popular, are polling at levels we've never seen. And congressional approval ratings are at historic lows. And there's a good bill in the U.S. Senate. And there's a Tea Party movement out there fed up with politics as usual and wants to see change and loves term limits. So the question is, as a term limits activist, if not now, when?"
A Fox News poll last month found that 78 percent of voters favor term limits for Congress, including 84 percent of Republicans, 74 percent of Democrats and 74 percent of independents.
Bumel has sent a letter to all 996 congressional candidates asking them to support the Senate bill. Coburn was the first to sign the pledge, Bumel announced Monday.
Not all Republican lawmakers support term limits. Several House Republicans in 2006 ran for re-election and won after vowing to leave Congress at the end of their terms, saying they were just getting the hang of the job.
Tea Party candidates for the Senate, including Rand Paul in Kentucky, Ken Buck in Colorado and Christine O'Donnell in Delaware, have expressed support for term limits during their primary battles. But the issue hasn't dominated the general election races.
A spokesman for Buck said "everything is still the same."
"He wants to go and change things, change the way things work. He doesn't think you need to be there forever to do that," said campaign spokesman Owen Loftus, who acknowledged he hasn't heard Buck talk about the issue lately.
"His main issue is the balance the budget issue and creating jobs," he said. "As far as I remember it, we haven't dealt with this in a long, long time."
Paul devotes a section of his campaign website to advocating for term limits.
"Today we are drowning in a sea of debt, teetering on financial ruin if we don't get our house in order. Will this crisis be the one that finally convinces us as a nation to bring these politicians home, to replace them?" Paul says on his website.
"What the movement needs is a leader elected to the U.S. Senate," he added. "I hope you will help both the term limits movement and the country by supporting my campaign for the U.S. Senate."
Bumel said Paul has been helpful in advancing the cause.
"He's going to be a ringleader in the Senate for term limits if he wins," Bumel said.
Russell, the Tea Party Express spokesman, said he expects term limits to pass through Congress once more conservatives are seated after the election.
"The mission of the Tea Party movement is going to transform from getting conservatives elected to holding them accountable and making sure they stay strong and holding them to the promise of their election," he said.