When it comes to touting the successes of his first months in office, President Trump often boasts about the "S.C." in his tweets -- his shorthand for the U.S. Supreme Court and the contentious confirmation of Justice Neil Gorsuch.
But with a shaky conservative majority in place, the justices are poised to give a hard legal look in the coming months to the president and his party's policies -- in a new term that could either fuel or significantly set back the administration's political and legislative momentum.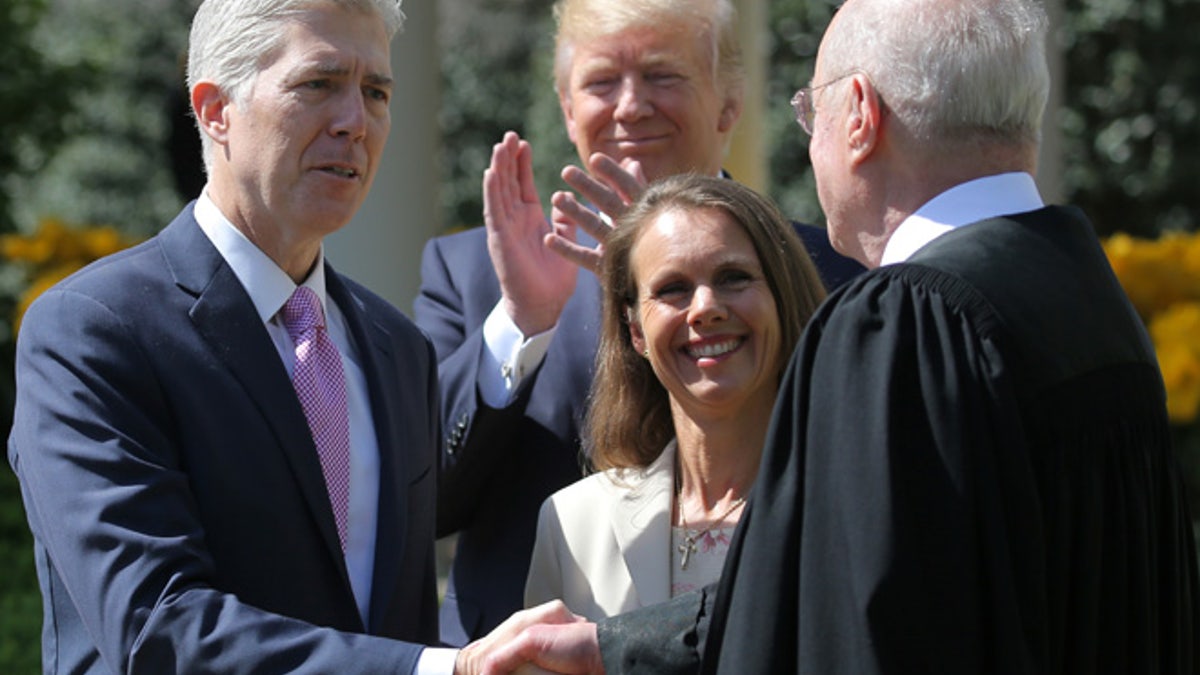 "There's only one prediction that's entirely safe of the upcoming term, and that is it will be momentous," Justice Ruth Bader Ginsburg said at an event last week, with a slight smile.
To boot, the prospect of a resignation or two adds an extra layer of drama and unpredictability surrounding the session that kicks off Monday.
The high court will begin its work with a full bench and a full plate of hot-button cases, including Trump's executive order on an earlier version of his so-called "travel ban."
That case is on hold for the moment, as Trump's initial order for a 90-day pause in travel from six nations has lapsed and the president has issued a new policy restricting travel indefinitely from nine nations. That prompted the high court to cancel scheduled oral arguments and is likely to toss the issue back to the lower courts -- for now.
Other pending disputes include:
-- Religious liberty, and whether a Colorado baker can be sanctioned for refusing to create a wedding cake for a same-sex couple, in violation of his stated Christian beliefs. In the case, Jack Phillips, owner of Masterpiece Cakeshop, had refused to sell a customized cake for a gay couple's union. They subsequently sued under the state's anti-discrimination law.
Phillips says free speech and religious rights under the First Amendment should protect him. Colorado's law, though, protects people on the basis of their sexual orientation, and state courts have ruled against the businessman.
By wading again into the culture wars, the Supreme Court will have to confront recent decisions on both gay rights and religious liberty: a 2015 landmark opinion legalizing same-sex marriage nationwide, and a separate 2014 decision affirming the right of some companies to refuse to provide contraception to workers.
-- Union fees, and whether public employees who choose not to join a labor union have a First Amendment right to avoid paying dues supporting collective bargaining and other union activities. This case involves an Illinois state government worker who challenged the high court's 1979 precedent that concluded public-sector workers could be forced to join a union or financially support one as a condition of employment.
If the Supreme Court rules in his favor, it would strike a blow to union membership. The justices had deadlocked on the "right-to-work" issue last year, following the death of Justice Antonin Scalia.
-- Voter redistricting, and just how much state legislatures can use partisan gerrymandering, maneuvers that have benefitted Republicans in recent years.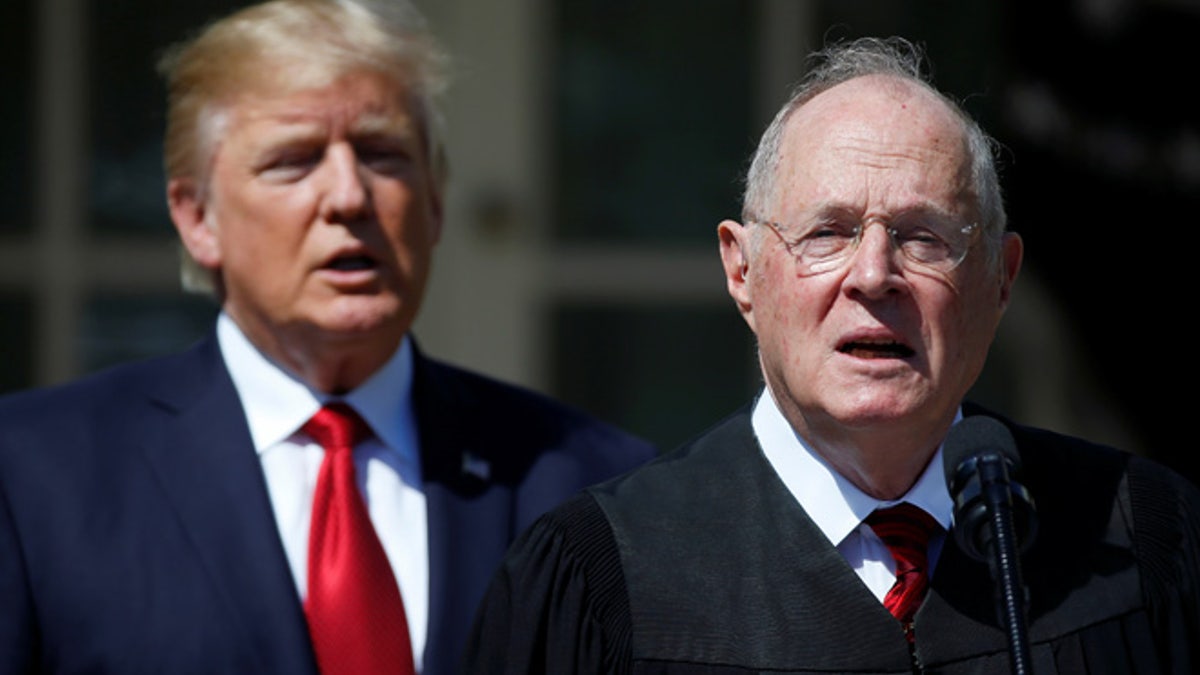 -- Privacy rights, testing the limits of police tracking a suspect from his cell phone digital footprint.
Those on both sides of the political spectrum had hoped for timely consideration of the travel ban in particular. But it appears the justices are reluctant to get involved now, and may let the latest executive order play out first in the lower courts.
"This is a very difficult issue for the Supreme Court," said Thomas Dupree, a former top Bush Justice Department official. "In many ways it's a political judgment -- who is allowed into this country -- and historically, the court has been very reluctant to tread into areas where it could be viewed as making a political judgment that is properly confined to the executive."
High Stakes at the High Court
Trump has a lot riding on what the Supreme Court does – and the possibility of another vacancy.
Sources close to Justice Anthony Kennedy say he has been seriously considering retirement and may not stay on the bench for Trump's entire first term. Rumors were at a blustery pitch that he would step down last June, but the new term begins with the 81-year-old justice on board, his unique power base intact.
His influence as the court's "swing" member -- the deciding vote on a range of high-profile cases from gay marriage to immigration to abortion -- has left his seat coveted by those on the right and left. Replacing him would launch an epic political fight, and could prove aboost to the Trump presidency itself.
"With Justice Gorsuch on the bench, instead of President Obama's pick Merrick Garland, it's a very hospitable environment for conservatives to push their agenda," said Elizabeth Wydra, president of the Constitutional Accountability Center. "But as long as Justice Kennedy stays on the bench, I think there will be a vote that blocks efforts to overturn Roe v. Wade, or seriously undermine the rights of gays and lesbians."
For now, Kennedy's moderating presence could blunt the Trump agenda and that of fellow conservative Republicans. Other court watchers wonder about the plans of the liberal Ginsburg, at 84 the oldest member of the court.
"If we put another two or perhaps three justices on, [overturning the right to abortion in Roe v. Wade] will happen," candidate Trump said during a presidential debate a year ago. "That will happen automatically in my opinion, because I am putting pro-life justices on the court."
It is part of a broader White House strategy to redirect political capital into remaking the 860-member federal judiciary with a more conservative bent. The president is still relying on the same ready list he used when selecting Gorsuch -- the so-called "List of 21" judges then-candidate Trump promised to rely on when choosing a replacement for the late Justice Antonin Scalia.
There are 145 pending vacancies in the federal courts, and 54 pending nominees. That is a faster nomination rate than other recent presidents at this point in their first terms, a sign of how quickly Trump wants to move.
Courting Controversy
The recurring controversies surrounding Trump, meanwhile, have at times extended to sitting Supreme Court justices – adding another dimension to their jobs as they start the new term.
Gorsuch gave a seemingly harmless speech on Thursday promoting "freedom" at an event sponsored by a conservative group. But since it was held at D.C.'s Trump International Hotel, debate raged whether this was an ethical violation, since Gorsuch would hear any oral arguments in the pending travel ban case.
Recent appearances by Justices Stephen Breyer, Sonia Sotomayor, and Ginsburg at the liberal American Constitution Society have prompted similar concerns -- as has the attendance by Justices Clarence Thomas and Samuel Alito at the conservative Federalist Society.
And Chief Justice John Roberts was questioned over a summer speech some interpreted as a subtle slap at Trump's leadership style.
"When you lose, as you will from time to time, I hope every now and then that your opponent will gloat over your failure, as a way to understand the importance of sportsmanship," he told members of his son's 9th grade graduating class. "I hope you'll be ignored, so you understand the importance of listening to others, and I hope you will have just enough pain to learn compassion."
Trump has not been shy going after the head of the federal judiciary. During last year's presidential campaign, he labeled Roberts "disgraceful," a "disappointment," and a "nightmare," for not being reliably conservative in Trump's eyes.