Steyer likens Trump to 'worst tyrants on earth,' in ad condemned by RNC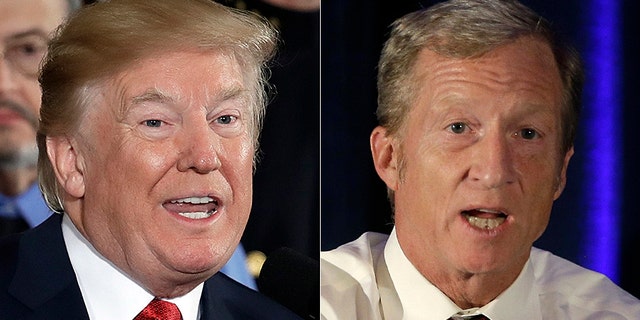 An organization run by left-wing billionaire Tom Steyer launched a new Facebook ad comparing President Trump to the most "ruthless" and "sadistic" dictators in history, including Iraq's former leader Saddam Hussein.
"Need to Impeach," the organization run by Steyer which advocates for Trump's impeachment, posted the three-minute video ad on Facebook last week.
The ad, first reported by The Daily Caller, features clips of some of the world's most notorious leaders, living and dead—including Hussein, Russian President Vladimir Putin, Venezuela's Hugo Chavez and North Korea's Kim Jong Un.
"Dictators have managed to come to power in every part of the world, and many of them rise out of Democracy," the narrator says, though North Korea, for instance, is not such an example. "They are malignant narcissists—which means they're not just self-centered, but their behavior is most often anti-social, volatile, ruthless, paranoid, and most disturbingly, sadistic."
The narrator is accompanied by moody music and news clips of reporters covering the despots.
"These leaders all share certain qualities and follow a certain pattern—a playbook—which enables them to take over a democracy," the narrator says, explaining dictators "fan the flames of nationalism," undermine the media, "perpetuate a systemic misogyny to oppress women," and blame "scapegoats" for the country's problems.
Republican National Committee spokesman Steve Guest blasted Steyer's ad as "disgusting."
"This disgusting ad has no place running on Facebook and the absurd comparison should be condemned by all Americans," Guest said in a statement.
The ad, in a documentary style, explains each dictator's leadership and the state of their respective countries.
It isn't until two minutes into the ad that Trump appears.
"These dictators have an admirer," the video says, showing the president. "Donald Trump, who is following their playbook to a tee."
The narrator says that Trump is "inciting nationalism," as a clip of the president saying "America first!" comes across the screen.
"Antagonizing and discrediting the media," the narrator says, followed by a sound bite of Trump saying "You are fake news." The narrator goes on to accuse Trump of "scapegoating minorities," citing the call to build a wall along the U.S.-Mexico border.
"He even condones violence against anyone who is a threat to his power," the ad continues. "He has a well-known record of sexism and abuse toward women."
The ad cuts to the infamous "Access Hollywood" tape first uncovered in the weeks before the 2016 presidential election.
"President Trump is following the playbook of some of the worst tyrants on earth," the ad continues, calling him a "malignant narcissist."
The ad encourages people to vote to "turn things around and reject all that Trump stands for."
TRUMP MOCKS 'CRAZED & STUMBLING LUNATIC' TOM STEYER, AFTER BILLIONAIRE RIPS PRESIDENT'S RHETORIC
The ad comes as Trump and Steyer already are feuding. Over the weekend, Trump attacked Steyer as a "wacky" and "crazed & stumbling lunatic," after Steyer -- who was among the prominent Democratic figures targeted with a mail bomb last week -- said he "absolutely was blaming" Trump for creating an atmosphere in which "anything can bubble up, and anything is bubbling up."
Steyer fired back quickly, writing that Trump's comment about him was "unthinkable…in the midst of the horrible political violence."
Steyer is rumored to be considering a 2020 presidential run.