Trump mocks 'crazed & stumbling lunatic' Tom Steyer, after billionaire rips president's rhetoric
President Trump derided rival billionaire Tom Steyer as a "wacky" and "crazed & stumbling lunatic" on Sunday, after Steyer -- who was one of the prominent liberals to receive a threatening suspicious package last week -- said he "absolutely was blaming" Trump for creating an atmosphere in which "anything can bubble up, and anything is bubbling up."
Steyer fired back quickly, writing that Trump's comment was "unthinkable ... in the midst of the horrible political violence."
The Twitter conflagration erupted after Steyer's wide-ranging interview with CNN's "State of the Union," in which the hedge fund manager called Trump "corrupt," and accused him of "the most abject dereliction of duty in the history of the country" by "willingly putting Americans in harm's way" because he has dismissed a major United Nations report on global climate change.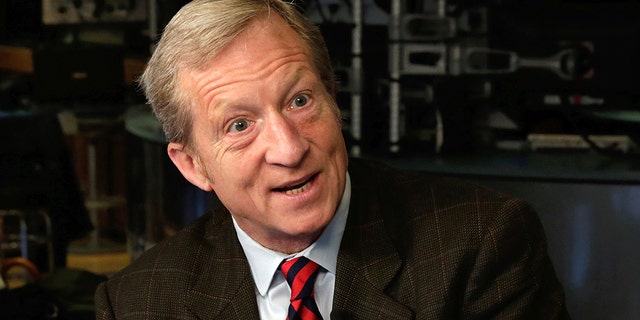 Steyer not only appeared to implicate the president's rhetoric in the suspected explosive devices allegedly mailed by Trump supporter Cesar Sayoc to top liberal figures, including Steyer, but also in the deadly mass shooting by gunman Robert Gregory Bowers at a synagogue on Saturday. Bowers regularly posted anti-Trump and anti-Semitic comments on social media.
"I think his response to the tragedy [Saturday] was appropriate, but there's something much bigger than that going on here, which is the atmosphere that he's created -- and that the Republican Party has created -- in terms of political violence," Steyer said. "If you look across the political scene, what you see is routine, systematic lawlessness. ... We see it in a president who has been breaking the law systematically, as a candidate, as a businessman, and as a president."
Steyer charged that Trump wants to undermine "the laws of the United States" and conduct an "attack on the rule of law," although he stopped short of saying Trump was directly responsible for any physical acts of violence.
ETHICS COMPLAINT FILED AGAINST DEMOCRATIC REP. MAXINE WATERS AFTER SHE ENCOURAGES SUPPORTERS TO 'PUSH' ON REPUBLICANS IN PUBLIC
Tapper pointed out that last year, House Majority Whip Steve Scalise, R-La., was nearly killed when a left-wing gunman shot him and two others with a rifle at a GOP congressional baseball practice. And earlier this month, a Utah man was arrested and accused of attempting to send a crude form of the poison ricin to Trump and to the Pentagon.
"I would say there has been bad behavior on both sides," Steyer conceded, although he went on to characterize Tapper's remarks as a "false equivalence" because, he said, Republicans behaved significantly worse. "You can't find prominent Democrats who are leading chants with violent overtones. ... all the kinds of attempts to play to people's strongest emotions."
TOP DEMOCRATIC SENATOR SLAMS CLINTON'S CALL TO ABANDON CIVILITY WITH GOP: 'RIDICULOUS'
Steyer also told host Jake Tapper it was a "straight-up anti-Semitic move" for Republican House Majority Leader Kevin McCarthy to post a since-deleted warning that prominent liberal donors, including Steyer, Michael Bloomberg, and George Soros, were attempting to "buy" the 2018 elections. (Bloomberg and Soros are Jewish, and Steyer's late father was Jewish.)
McCarthy deleted the tweet before Saturday's shooting, and his spokesman has said the congressman "has and will always condemn in the strongest possible way violence or any acts of attempted violence." The tweet initially attracted criticism because it was posted after an apparent explosive device was found at Soros' suburban New York compound.
But Steyer said the post was a "classic attempt to separate Americans" and constitutes "political violence," even though Steyer added it would be inappropriate to speculate on what was going through McCarthy's mind.
RAND PAUL WARNS OF ASSASSINATION PERIL IN DC: 'I WORRY SOMEONE IS GOING TO GET KILLED'
The wealthy philanthropist has spent tens of millions of dollars on advertisements calling for Trump's impeachment and removal. Hours after the shooting on Saturday, he wrote on Twitter, "Innocent people are dead and the atmosphere is poisonous. We need a change from the top down."
Trump unloaded on Steyer after the interview aired, offering not only a nickname for him, but also a quick assessment of his prospective chances in the upcoming Democratic presidential primary.
"Just watched Wacky Tom Steyer, who I have not seen in action before, be interviewed by @jaketapper," Trump wrote on Twitter. "He comes off as a crazed & stumbling lunatic who should be running out of money pretty soon. As bad as their field is, if he is running for President, the Dems will eat him alive!"
DEMS POISED TO MAKE HISTORIC IMPEACHMENT PUSH AFTER MIDTERMS
Steyer concluded his interview with Tapper by promising to "keep going" in his effort to impeach and remove Trump from office.
"I think it is really important, if we're going to have a more positive 21st century as an American century, that we not only oppose what's wrong, but stand up for what's right," Steyer said.
"If you actually look at what Americans think, almost 80 percent of registered Democrats want this president impeached and removed from office," he added. "If you ask Americans broadly -- Democrats, Republicans and Independents -- more people are in favor of that than aren't. ... What we have is a movement asking for a different America."