Solyndra's Creditors Include California Democratic Party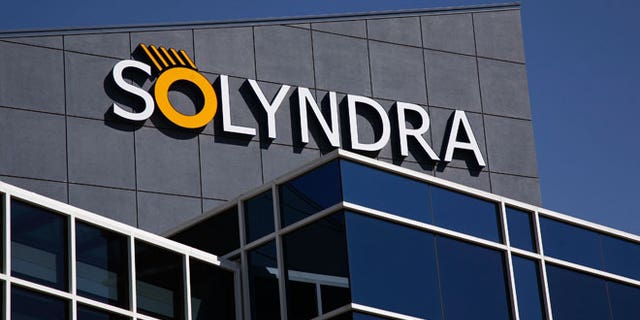 Among the roughly 5,000 creditors named by Solyndra, a bankrupt solar energy company that is under investigation for losing a half billion dollars in federal loans, is the California Democratic Party, which says it doesn't know why.
The bankruptcy filing doesn't say why the organization is listed as one of the creditors or how much money it is owed. The filing contains about 200 pages of creditors listed in alphabetical order with their address but not the amount owed.
Tenoch Flores, the communications director for the California Democratic Party, told FoxNews.com that he wasn't sure why the organization was named a creditor since the California-based company didn't owe it any money.
But he said there's likely a procedural explanation, such as Solyndra providing a list of all potential creditors, including organizations and companies that ever received a payment or contribution for any purpose.
Solyndra did not respond to requests for comment.
Solyndra gave $7,500 to the party last October, according to campaign-finance records reviewed by The Washington Times, which first reported the listing. Solyndra employees also donated $20,800 to federal candidates and committees since 2006, according to the Center for Responsive Politics. Of that amount, 72 percent went to Democrats, 27 percent to Republicans and 1 percent to Libertarians.
President Obama was the top beneficiary of that campaign cash, receiving $2,800, CRP said.
Solyndra has come under investigations by the FBI and Congress since it filed for Chapter 11 bankruptcy protection earlier this month and laid off its 1,100 employees.
Congressional Republicans are investigating the $528 million loan Solyndra received from the Energy Department in 2009. Solyndra's top executives pleaded the Fifth Amendment more than a dozen times Friday in a congressional hearing.
Solyndra was back in bankruptcy court in Delaware Tuesday morning to reportedly seek permission to sell its state-of-the-art factory that was built with the federal loan.
Solyndra was the first renewable energy company to receive a loan guarantee -- before the direct loans -- under a stimulus-law program to encourage green energy and was frequently touted by the Obama administration as a model of success. President Obama visited the company's Silicon Valley headquarters last year, and Vice President Biden spoke by satellite at its groundbreaking ceremony.
Since then, the company's implosion and revelations that the administration rushed Office of Management and Budget officials to finish their review of the loan in time for the September 2009 groundbreaking has become an embarrassment and headache for Obama as he tries to pitch his new $450 billion jobs plan.
The Los Angeles Times reported Tuesday that Treasury Secretary Timothy Geithner and other top economic advisers raised red flags to the president in late October 2010 about the selection process for the federal loan guarantees, arguing that the lack of rigor increased the risk that fund could be going to the wrong companies, including ones that didn't need the help.
Republican National Committee Chairman Reince Priebus said the president needs to explain himself.
"The president's been silent about this debacle so far but with this news, I think that it's time for President Obama to do what he does best, which is to start talking," Priebus said Tuesday on a conference call with reporters.
"He owes the American people an explanation of how he's going to get their money back and how he'll prevent it from happening again in yet another failed Stimulus 2.0 attempt that he's trying to sell in Denver today," he said.