Solyndra Investigation Begins Critical Look at Federally Funded Green Ventures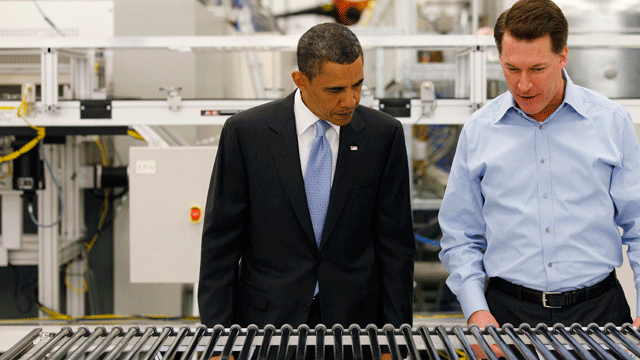 NEWYou can now listen to Fox News articles!
The solar energy firm Solyndra was once the poster child of the Obama administration's efforts to create green jobs. Now, it's the target of both criminal and congressional investigations.
"Because there's so much concern about where the money went, how it was spent, and is there fraud and abuse," said Cliff Stearns, R-Fla., chairman of a House subcommittee investigating Solyndra.
And Ronnie Greene of the Center for Public Integrity notes that Solyndra was key in the Obama administration's efforts to promote alternative energy.
"It really was in a lot of ways the flagship because it was the first energy loan guarantee by the administration and it was announced with great fanfare back in 2009," he said.
Solyndra got a $535 million loan from the federal government, the first in tens of billions of dollars in loans to green companies, which President Obama personally touted in a visit to the company last year.
But earlier this week, the FBI and the inspector general of the Energy Department raided the company's offices.
An outside investigation of the loan to Solyndra found that earlier this year, the company asked the federal government for more time to repay the loan, which resulted in a very unusual arrangement.
"As part of that agreement," Greene said, "the Department of Energy was allowed to sit in on board meetings of Solyndra incorporated."
That suggests to Greene and others that the administration should have had some sense that the company, along with taxpayers' money, was in jeopardy.
"These are the key months in which Solyndra's fortunes really failed," Greene said. "They really fell down, so it's important to hear from DOE on what did you see, what did you hear, did that raise alarm bells with you?"
The founder and other executives of the company contributed and raised large amounts of money for Obama. And they were cozy enough to visit the White House often.
"It appears to be at least 20 times," said Stearns. "So what were they doing at the White House?"
If the White House was objective about the company, he asks, why was it so intimately involved with the company's executives? And why, Stearns and a congressional committee want to know, are hedge funds first in line to get their money back before the taxpayers?
"It's a very unusual arrangement," Stearns said. "I think the Department of Energy has to tell us how they could do this and whether it is, shall we say, breaking the law."
A House committee has subpoenaed the chief executive officer of the company to testify next week. The investigation of Solyndra along with tens of billions of dollars in loans to other green ventures is only beginning.