Socialist group signs up 1st Dem Senate candidate as 'dues-paying member'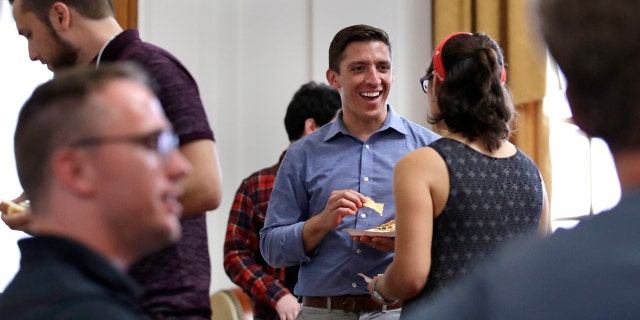 Maine Democratic Senate candidate Zak Ringelstein announced over the weekend he is now a Democratic socialist – making him the first Senate candidate from a major party to formally join the political movement.
Ringelstein, who is challenging incumbent independent Sen. Angus King, had previously declined to say if he was a member of the Democratic Socialists of America, but told the Associated Press over the weekend that he had officially joined the group.
"I stand with the Democratic socialists, and I have decided to become a dues-paying member," Ringelstein said. "It's time to do what's right, even if it's not easy."
Ringelstein, a 32-year-old political newcomer, is expected to face an uphill climb in his campaign to unseat King, an independent who caucuses with Democrats.
He is refusing to accept donations from lobbyists or corporate political action committees, which has made fundraising a grind. At the end of June, King's campaign reported $2.4 million cash on hand while Ringelstein had just $23,000.
Instead, Ringelstein is hoping to tap into the wave of support for the DSA that has arisen after Alexandria Ocasio-Cortez defeated longtime New York Rep. Joe Crowley last month in the state's Democratic primary. Ocasio-Cortez and Sen. Bernie Sanders, I-Vt., are both allied with the group.
There are 42 people across 20 states running for offices at the federal, state and local levels this year with the endorsement of the DSA, and the organization is making a concerted effort to bring their views into the mainstream.
In the spring, the DSA published an animated video titled "Thanks, Capitalism!" in which it argues that capitalism "takes wealth and resources away from the public and puts it on the hands of private capitalists."
The group's push on social media – as well as more traditional campaigning like the tour that Sanders and Ocasio-Cortez made through the Midwest over the weekend – has garnered the DSA a great deal of attention and support. The group's paid membership hovered around 6,000 in the years before President Trump's election, but by last week it rose to 45,000 nationwide.
The DSA, however, is currently working its way into the Democratic Party in part because of its failure to advance its own brand with a voting public reflexively suspicious of socialist policies. So it set a goal of working with groups devoted to a wide range of issues like health care, college debt, immigration, and racism to see socialism – and Democratic socialist political candidates – as the vehicle for policy changes.
"If we don't relate politically to social forces bigger than our own, DSA could devolve into merely a large socialist sect or subculture," Joseph M. Schwartz, vice chairman of the DSA, wrote in Jacobin Magazine.
The common association with the failed Soviet Union has made it difficult for sympathetic liberals to explain their connection to the DSA and has become easy fodder for Republican rivals. Republicans have seized on what they view as a leftward lurch by Democrats they predict will alienate voters this fall and in the 2020 presidential race.
"Embracing socialist policies like government-run health care, a guaranteed jobs program and open borders will only make Democrats more out of touch," RNC Chair Ronna McDaniel said.
Fox News' Elizabeth Llorente and The Associated Press contributed to this report.