Sherrod Refuses Job Offer at Agriculture Department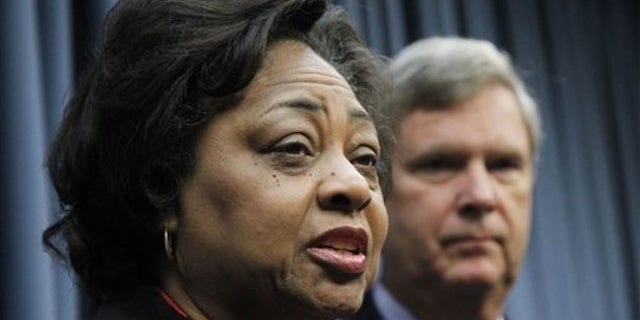 WASHINGTON -- The woman who was forced to quit the Agriculture Department after a video misrepresented her message on discrimination has refused an offer to return to work at the USDA, saying she needs a break.
Shirley Sherrod, who was at the center of a firestorm over a tape that was edited to suggest that she had once declined to assist a farmer because he was white, may take a consulting job with the Agriculture Department when recommendations on how to encourage outreach and advocacy at USDA are complete.
Sherrod said she was tempted to take the offer in the civil rights office but ultimately declined.
"I've enjoyed my work at the USDA. I did enjoy that work and want to see that work continue. I just don't think at this point I can do this," she said.
"It doesn't mean I'm not interested in that work, because I certainly am. I was working on many of those issues before coming to work in government," she said, adding that she hopes to work on many of these issues in the future.
Agriculture Secretary Tom Vilsack said he tried his best to convince Sherrod to stay with the USDA full-time in a position that best suits her "skills." Sherrod had been the Georgia state director for rural development, having been a longtime organizer of a farm cooperative.
"That doesn't fit what she needs, what she wants and what she deserves," Vilsack said.
Noting that she hopes new systems will reduce instances of discrimination, Sherrod said, "I don't want to be the one to test it."
Vilsack said he takes complete responsibility for forcing Sherrod to resign in the hours after a tape of her addressing a Georgia NAACP Freedom Fund banquet was released by conservative blogger Andrew Breitbart. But he denied that he spoke to anyone at the White House before his aide, Deputy Undersecretary Cheryl Cook, told Sherrod to hand in her resignation.
"I disappointed the president, I disappointed this administration, I disappointed the country, I disappointed Shirley. I have to live with that," Vilsack said.
"Her comments were taken totally and completely out of context ... and the main message was entirely consistent with what we're trying to do," he said.