Senators call for VA secretary's resignation amid mounting scandals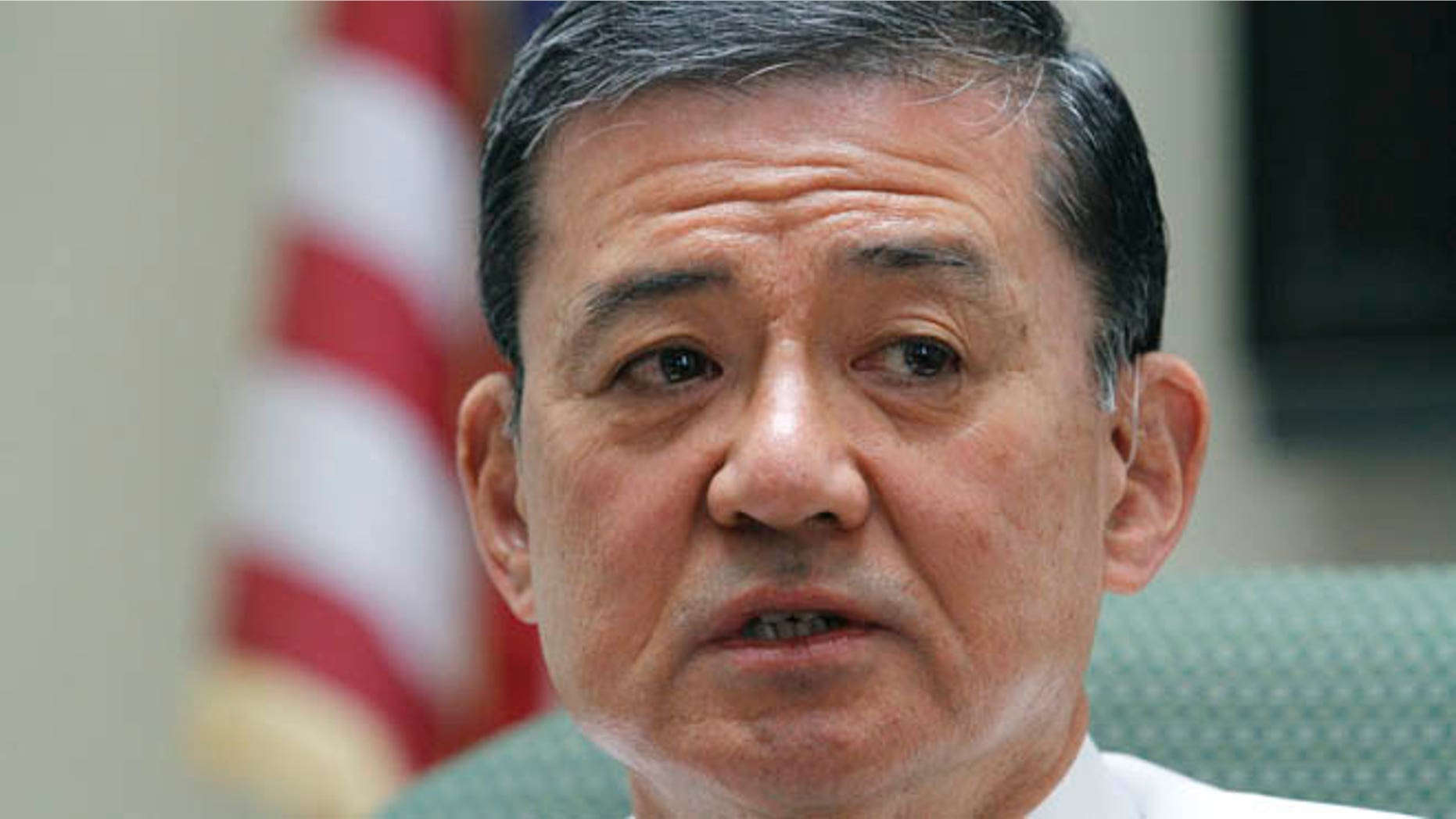 Two U.S. senators called Tuesday for VA Secretary Eric Shinseki to resign over a string of scandals involving the treatment of U.S. servicemembers, with one demanding an overhaul "from top to bottom" at the agency.
Sen. Jerry Moran, R-Kan., issued a call Tuesday morning for Shinseki to resign on the Senate floor, a day after the American Legion demanded Shinseki's resignation, along with that of other top VA officials. Some influential lawmakers and groups, including the Veterans of Foreign Wars, have been reluctant to go that far, but Moran echoed the American Legion in saying VA leadership needs to change.
"It's clear that accountability at VA is absent, oversight doesn't mean much," Moran, a member of the Veterans Affairs Committee, said on the floor. "There's a difference in wanting change and leading it to happen. Today I am demanding accountability and true transformation within the VA system in its culture from top to bottom and all across the country. Secretary Shinseki seemingly is unwilling or unable to do so, and change must be made at the top.
"I ask the secretary to submit his resignation, and I ask President Obama to accept that resignation," he said.
He was followed later in the day by Sen. John Cornyn, R-Texas, who said in a statement the White House needs to get to the bottom of what happened and Shinseki's time as secretary "has come to an end."
"The president needs to find a new leader to lead this organization out of the wilderness, and back to providing the service our veterans deserve," Cornyn said.
The White House released a statement on Monday, in response to the growing controversy, standing by Shinseki and saying the president "remains confident in Secretary Shinseki's ability to lead the department."
Other lawmakers have pushed back on the calls for resignations at the top.
Sen. Bernie Sanders, I-Vt., chairman of the Veterans Affairs Committee, said: "While it might be temporarily satisfying to call for firing someone, it doesn't get us any closer to the truth or solve problems that may exist."
On the Republican side of the aisle, House Veterans Affairs Committee Chairman Rep. Jeff Miller, R-Fla., said he would wait until the results of an inspector general investigation on a scandal in Phoenix "before deciding to call for any personnel changes."
"This much is clear: for nearly a year, we have been pleading with top department leaders and President Obama to take immediate steps to stop the growing pattern of preventable veteran deaths and hold accountable any and all VA employees who have allowed patients to slip through the cracks," he said.
VA officials at a Phoenix facility have been accused of keeping a secret list of patients waiting for appointments to hide treatment delays. In that case, up to 40 patients allegedly may have died because of delays.
In light of those accusations, three executives at the veterans hospital in Phoenix were placed last week on administrative leave amid an investigation.
Phoenix VA officials have denied any knowledge of a secret list and said they had found no evidence of patient deaths due to delayed care.
In response to the American Legion's call for resignations, VA spokesman Drew Brookie said the department takes allegations about misconduct seriously, and "swift and appropriate action will be taken" if the probe backs up the allegations.
Brookie said the department has made "strong progress" under Shinseki toward enrolling more veterans in high-quality health care and providing educational benefits, among other areas. "As the secretary says, providing veterans the quality care and benefits they have earned through their service is our only mission at VA," Brookie said.
The most recent blow to the VA was a report that a Colorado clinic allegedly falsified documents to make it seem like patients were being seen in a timely fashion.
The findings were contained in a report by the VA Office of Medical Inspector. The report found that staff who did not go along with this were placed on a "bad boy list."
A VA spokesman, in response to the findings, said that in every area where the investigation substantiated allegations, "a plan with clearly defined objectives was developed with set deadlines for compliance, and corrective actions are ongoing."
The spokesman noted that "there is no indication that health outcomes were affected."
The Associated Press contributed to this report.