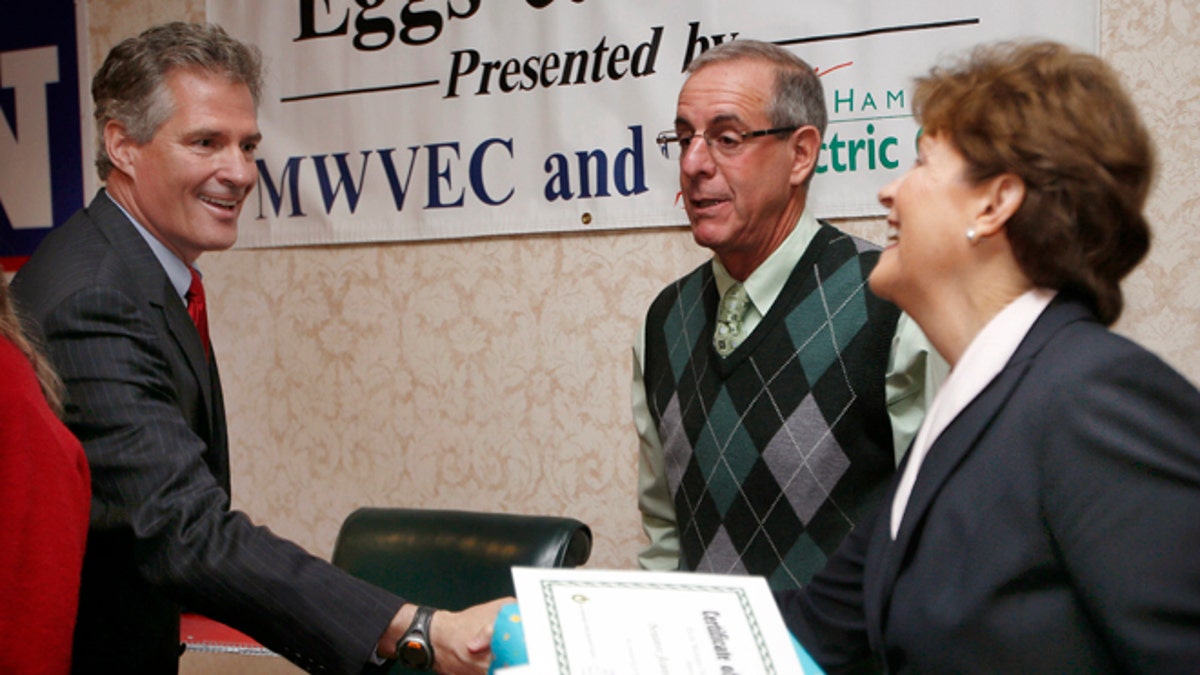 They've already agreed to disagree.
Now, in the closing weeks of their campaigns, Senate candidates across the country are furiously disagreeing face to face, in debates that could swing their tight races and perhaps control of the upper chamber.
Just this week, senators and their challengers squared off in five states -- Georgia, North Carolina, Virginia, West Virginia and Colorado.
Some of the debates so far this season have been surprisingly polite while others have been predictably testy.
On Tuesday, Colorado incumbent Democratic Sen. Mark Udall and Republican challenger Rep. Corey Gardner clashed over women's rights and reproductive issues, in their battle for the key female vote.
"Representative Gardner has a long history of trying to limit women's reproductive rights," said Udall in a state where female voters have helped Democrats win every top-of-the-ticket election in the past decade.
Gardner laughed off Udall's repeated jabs on women's rights, saying that when his wife saw a TV ad accusing him of trying to limit birth control, she said, "Didn't you used to pick up my prescription?"
Gardner and Udall debated three times this week.
Republicans must win a net total of six races on Nov. 4 to take control of the Senate, with the Colorado contest among a handful that will likely decide the outcome.
Last week in Iowa, Democratic nominee Rep. Bruce Braley and GOP challenger Joni Ernst engaged in sharp exchange on issues ranging from ObamaCare to a neighborhood squabble over stray chickens.
"I'm a bridge-builder, you're a bridge burner," said Braley, referring to Ernst once suggesting President Obama is a "dictator" and saying she supported congressional Republicans' efforts last year to shut down the federal government during budget negotiations.
Ernst fired back by criticizing Braley for voting in favor of ObamaCare and for his handling of a neighborhood dispute.
"You threatened to sue a neighbor over chickens that came onto your property," said Ernst, who is neck-and-neck with Braley. "You're talking about bipartisanship. How do we expect as Iowans to believe that you will work across the aisle when you can't walk across your yard."
Then there are the debates about the debates, in which candidates who don't agree to a full slate are being accused by the rival campaign of running scared.
In North Carolina, where the tight race between Democratic incumbent Sen. Kay Hagan and GOP challenger Thom Tillis will also decide Senate control, Hagan has agreed to three televised debates.
That much is clear.
But the list of proposes dates and venues and accusations about who's ducking who is long and complicated.
Tillis proposed 10 debates, then purportedly said six would be a good compromise. The Hagan campaign agreed to three, essentially citing prior commitments.
Tillis campaign press secretary Daniel Keylin said Hagan's debut performance makes "pretty clear" that she doesn't like going face to face.
"She'd rather hide behind her attack ads than talk about her record," Keylin told The News & Record newspaper.
The Hagan campaign has responded to such attacks in part by arguing that Tillis failed to attend several primary debates.
Senate Minority Leader Mitch McConnell has agreed to just one debate with Democratic challenger Alison Lundergan Grimes in their Kentucky Senate race.
Andy Barth, a campaign press secretary for former Maryland GOP Gov. Robert Ehrlich, says each race is unique but generally "no candidate is wise to refuse a debate."
"Any candidates who are not locks to win have a responsibility to keep competing to persuade voters they are the best alternative," says Barth, now press secretary for Maryland GOP state Sen. Allan Kittleman's campaign for Howard County executive.
He also said voters "want to see and hear a candidate," arguing they care more about a candidate's vision and less about whether he or she is a great orator.
In New Hampshire, GOP challenger Scott Brown proposed seven debates, with Democratic incumbent Sen. Jeanne Shaheen agreeing to just four.
Brown still showed up at a proposed Sept. 23 debate on which Shaheen passed.
"I am disappointed," Brown said afterward, while his campaign said Shaheen also "refused" an Oct. 13 radio debate.
"Since Sen. Shaheen has refused to hold a single town hall meeting this election, it's even more important for there to be a series of debates sufficient in number to give the people of New Hampshire the opportunity to understand the differences between Scott Brown and Senator Shaheen," said Brown campaign manager Colin Reed.
Their first debate, on Monday, was described by The Conway Daily Sun, 16,100-circulation daily, as "predictable" with "few surprises and no knockdowns."
The Associated Press contributed to this report.