Sen. Bob Menendez Evokes Martin Luther King to Defend Himself from Accusations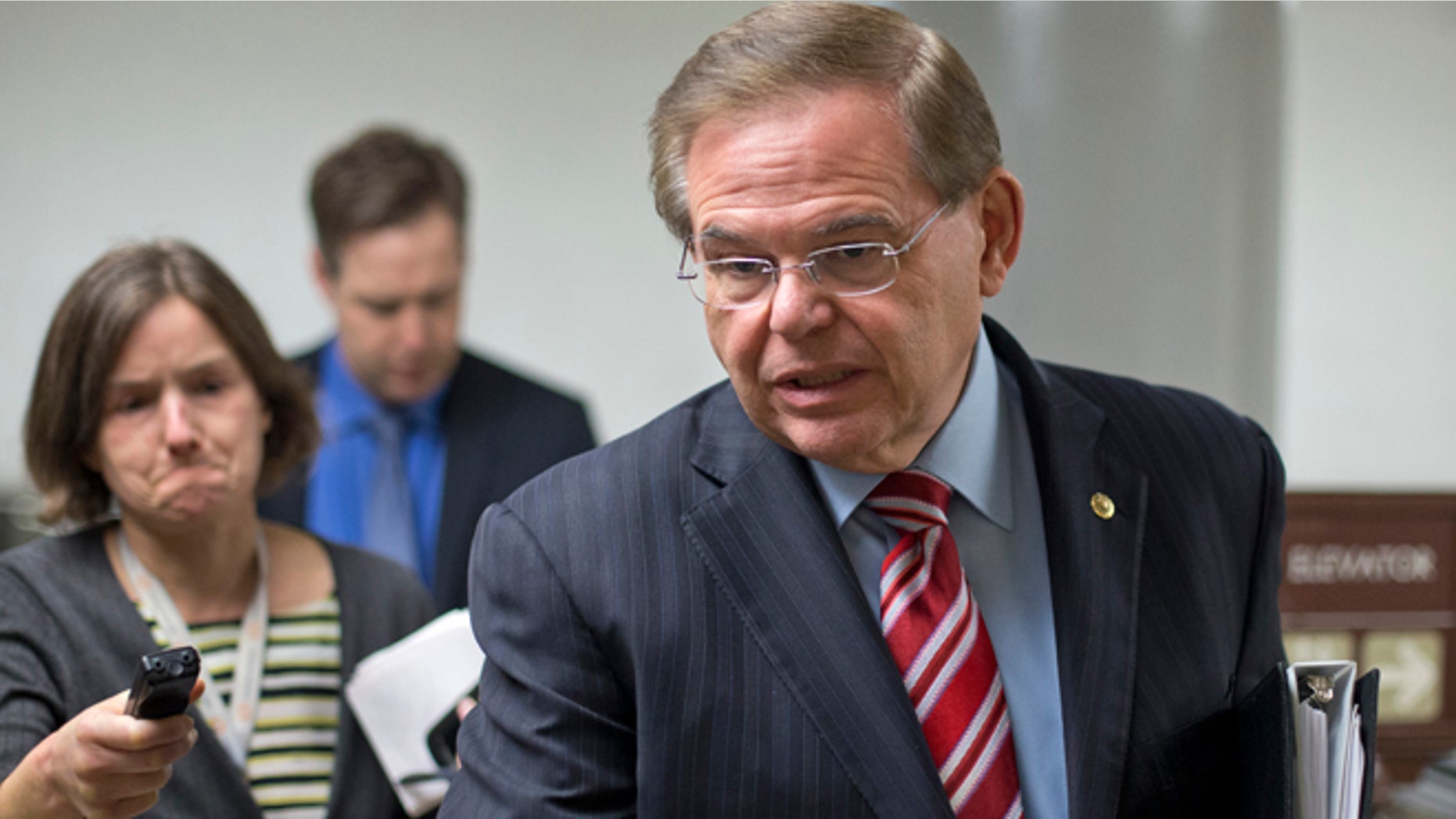 Sen. Robert Menendez evoked the Rev. Martin Luther King Jr. at a Baptist Church on Sunday in New Jersey to confront accusations that he had an inappropriate relationship with a wealthy donor and had sex with underage prostitutes in Dominican Republic.
"Dr. King said that 'the arc of the moral universe is long, but it bends toward justice,'" Menendez said, according to the (Newark, N.J.) Star Ledger.  "In the end, I believe that justice will overcome the forces of darkness. Scriptures — scriptures tell us that he who 'puts his hand to the plough and looks back is not fit for the Kingdom of God.'
Menendez, a New Jersey Democrat, spoke to a crowd of about 300 at the Shiloh Baptish Church in Trenton.
"I have felt the sting of discrimination," the Cuban-American senator said to cheers from the crowd, according to The (Bergen County, N.J.) Record. "It has never been easy."
Menendez went on to blame conservatives for the attacks in the last few weeks.
"Now we face anonymous, faceless, nameless individuals from right-wing sources seeking to destroy a lifetime of work," Menendez said. "And their scares are false. I have worked too hard and too long in the vineyards to allow, at my hands, for the harvest to be soured."
The Senator's approval rating has plummeted 15 points in the last month since the scandal broke, according to a poll released last week by Quinnipiac University. Menendez has 31 percent of the public supporting him and 41 percent giving their disapproval, down from a poll in January that gave him a 51 percent approval rating with 33 percent disapproving.
Menendez, 59, was re-elected in November and has been a New Jersey senator since 2006.
Menendez has been dogged the past few weeks by allegations that he urged American authorities to intervene and help secure a lucrative port security contract in favor of his friend, Dr. Salomon Melgen, whose offices were raided by the FBI.
Dr. Melgen co-founded Voxxi, an English-language site that targets Latinos.
Menendez's office has said that advocating for U.S. business abroad is a normal thing, especially on the Foreign Relations Committee that Menendez chairs.
The senator has also faced rumors that he hired underage prostitutes while vacationing in the Dominican Republic. The senators has adamantly denied those rumors.
Follow us on twitter.com/foxnewslatino
Like us at facebook.com/foxnewslatino