San Diego Mayoral Candidates Alvarez And Faulconer Neck And Neck In The Polls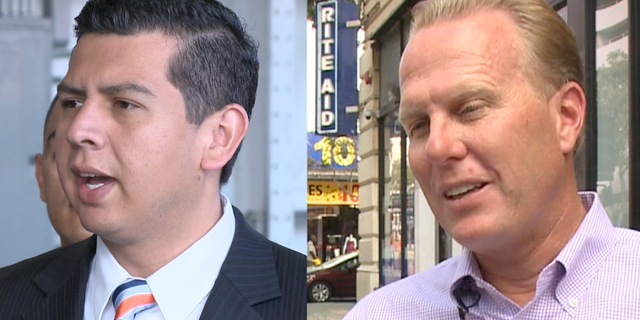 David Alvarez and Kevin Faulconer can finally see the finish line of what's been a very long race to become the next San Diego mayor.
With both candidates entering the final week of their campaigns (election will be held on February 11), polls are saying it's still a pick'em race — who'll get to the tape first is still not for certain.
The men behind the candidates, the campaign managers, are not easily persuaded to give up details about their plans for the final push toward election night. You can count on mailers, television and radio ads… that you know, but specifics about strategy? It's a closely guarded secret.
While both men won't give us much insight into their strategy, both say their candidates are the best person for the job.
"He is the candidate with experience to move our city forward to continue reforms that we can invest in neighborhoods," said Steve Puetz, Faulconer's campaign manager. "A lot of it just comes down to what people know, there's such a gap in experience and commitment to reforms, I believe at the end of day that's what's going to sway undecided voters to Kevin."
Alvarez's chief strategist has different take on things.
"David's priorities have always been the neighborhoods, really ensuring that we increase access to library hours and parks," said Sid Voorakkara, Alvarez's campaign manager. "He's making sure we have firefighters, first responders on streets doing their jobs. David means a fresh start, an opportunity for someone with new ideas."
Voorakkara said Alvarez plans on being on the campaign trail from six in the morning till about midnight until election night. Faulconer's schedule appears to be just as hectic and filled with campaign commitments.
For more stories go to fox5sandiego.com
Follow us on twitter.com/foxnewslatino
Like us at facebook.com/foxnewslatino