Ruling Party Gets Four More Years In Honduras, Competitor Challenges Results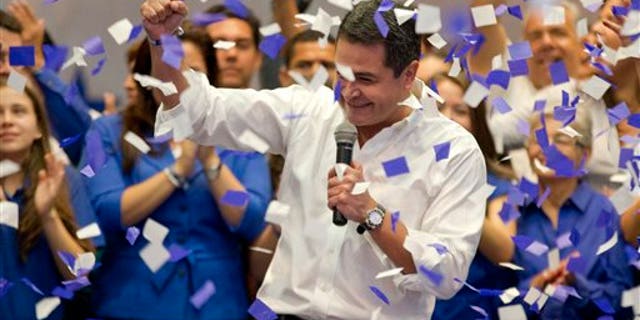 TEGUCIGALPA, Honduras (AP) – Honduran voters have given the ruling National Party four more years in the presidency even though crime worsened and poverty and unemployment increased in this poor nation under outgoing President Porfirio Lobo.
Juan Orlando Hernández, 45, the party's candidate who campaigned on a law-and-order platform, has all but won the hotly contested presidential race, electoral authorities said late Monday in declaring his lead "irreversible."
Even before the announcement, his main competitor, Xiomara Castro, had challenged the official returns and claimed victory for herself. Her husband, former President Manuel Zelaya, who was ousted in a 2009 coup, said earlier they wouldn't accept the results, but the campaign hasn't spoken since the court all but declared Hernández the winner.
Both the streets and the campaigns remained quiet on Tuesday, as Hernández issued a press release naming his transition team.
With about 68 percent of the votes counted from Sunday's election, Hernández had 34 percent to 29 percent for Castro in an eight-candidate field.
"It's not the final result, but it's an irreversible trend," tribunal spokeswoman Lourdes Rosales said.
Hernández and Castro had entered the election neck-and-neck in opinion polls, and there were fears a disputed vote could bring protests and more instability. International observers, including U.S. Ambassador Lisa Kubiske, had congratulated Hondurans on a peaceful vote with high turnout and said the vote and the count appeared to transparent. Election observers for both the European Union and Organization of American States issued statements Tuesday confirming the findings.
Hernández will likely face a divided Congress, whose 128 members were also elected Sunday. As a result, the political situation is unlikely to change dramatically in this failing state of 8.5 million people, which is home to the world's highest homicide rate. It has been a focal point for U.S. drug enforcement efforts as the transit point for much of the South American cocaine heading to the U.S.
More than half of the country lives in poverty, and the number working for less than the minimum wage of $350 a month has grown from 28 percent in 2008 to 43 percent today.
Castro's candidacy was viewed as an attempt by Zelaya to make a comeback after his term was cut short by a coup that continues to contribute to Honduras' politically instability.
After the electoral court's declaration, neither Castro nor Zelaya had immediate comment, and the streets were calm.
Castro, 54, led the race for months, portraying herself as the candidate for change and promising constitutional reform that would make the country more equitable.
In the closing weeks, however, Hernández, 45, wiped out her lead as he promised to do "whatever I have to" in fighting crime in a country where much of the cities are controlled by gangs and the outlying remote areas are held by drug runners.
As president of Congress, Hernández pushed through legislation creating a military police force to patrol the most difficult areas of the major cities instead of the National Police, a force penetrated by corruption and often accused of extrajudicial killings.
Hernández, a lawyer and reserve army lieutenant who studied law at New York University, was first elected to congress in 1997 and became the body's president in 2010. Opponents accuse him of using the position to consolidate his power over other branches, including the judiciary.
He said that Honduras needs an anti-drug strategy with the U.S. that is more effective.
"For them it's a problem of public health, but for us it's a problem of blood and death," he said during the campaign "We expect that the stage that's about to begin will be more effective than the one in the past."
Zelaya, a wealthy rancher, was deposed by his own Liberal party after he aligned himself with the late Venezuelan President Hugo Chavez. He was taken out of the country at gunpoint as he was attempting to hold a referendum on whether to rewrite the constitution, something Honduras' Supreme Court called illegal.
The National Party won regularly scheduled elections later that year, but Lobo's tenure as president was seen as weak because he failed to bring change in a divided country. He accused his opponents several times of trying to oust him as well.
Follow us on twitter.com/foxnewslatino
Like us at facebook.com/foxnewslatino