Roy Moore's sexual assault allegations have Republicans looking at options to replace him
Embattled Alabama Senate candidate Roy Moore continues to face fallout after allegations that he had inappropriate sexual contact with teenage girls surfaced last week.
The Republican National Committee pulled its funding from the candidate Tuesday after multiple women went on record to accuse Moore of sexual misconduct when he was in his 30s and they were teenagers. One woman who claimed Moore inappropriately touched her said she was 14 at the time of the alleged assault.
Moore has repeatedly denied the allegations. So far, seven women have come forward to accuse the former judge of sexual misconduct.
Democrat Doug Jones leads Moore by 8 points, according to a Fox News poll released Thursday.
Still, prominent Republican lawmakers have been scrambling to come up with a plan, as Alabama election law says it's too late to remove Moore from the ballot. From launching a last minute write-in campaign to a White House intervention, here are some possible outcomes for the Dec. 12 election.
The party can revoke its nomination
The Alabama state GOP could revoke Moore's nomination, but party chairwoman Terry Lathan told AL.com that idea is "far-fetched."
"The ALGOP Steering Committee supports Judge Roy Moore as our nominee and trusts the voters as they make the ultimate decision in this crucial race," the party said in a statement Wednesday. "Judge Moore has vehemently denied the allegations made against him. He deserves to be presumed innocent of the accusations unless proven otherwise. He will continue to take his case straight to the people of Alabama."
Yanking the nomination would be a blow to members of the party who backed Moore and could cause a rift within the state GOP.
Steven Taylor, a political science professor and Dean of the College of Arts and Sciences at Alabama's Troy University, noted to Fox News that stripping Moore of the nomination could also present legal issues and speculated that the party isn't willing to go that route.
"It's unclear what effect that [option] would have. Would there be another election? Would she [Alabama Gov. Kay Ivey] appoint someone? Would the second place winner automatically win? That's an issue the courts would have to deal with," he said.
A write-in candidacy is launched
Republicans could launch a write-in campaign. Senate Majority Leader Mitch McConnell, R-Ky., said Tuesday that his party is "in discussion here about how to salvage this seat, if possible. And it appears as if the only option would be a write-in."
But a write-in candidacy presents two problems: finding a likable candidate who would garner enough support and the possibility that such a candidate could split the vote, paving the way to victory for the Democrats' nominee, Doug Jones.
Sen. Luther Strange, the Republican incumbent, wouldn't be popular enough to cumulate enough support, some Alabamans warn. Strange, who was backed by establishment Republicans and President Trump, lost the special election primary to Moore in September.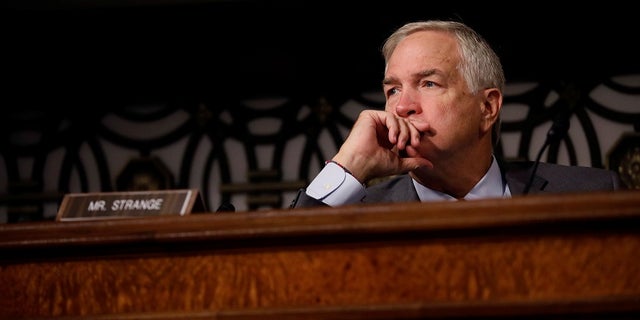 "If he was popular enough [to launch a successful write-in], he would already be the nominee," Taylor said.
Another contender for a write-in candidate is Attorney General Jeff Sessions – whose old seat Moore hopes to snag.
"That obviously would be a big move for him and for the president," McConnell said at the Wall Street Journal's CEO Council meeting.
Richard Fording, a University of Alabama political science professor, argued that because McConnell is such an unpopular politician in Alabama, his support for a write-in candidate might not matter to voters.
"I would be skeptical that enough of Roy Moore's supporters would show up and vote for a write-in," he said to Fox News.
Moore drops out of the race
Despite multiple Republicans calling for Moore to step aside, this option seems the most unlikely, according to multiple Alabama politicos.
"It's not in his DNA to back down," Fording said. He noted that Moore was removed from the Alabama Supreme Court twice for defying federal law – once when he refused to remove a boulder-sized Ten Commandments monument from the statehouse and again when he instructed probate judges to deny marriage licenses to gay couples.
"It's not in his DNA to back down."
"He's already been twice removed from a job because he wouldn't follow the rules," Taylor said. "I cannot see him not fighting to stay the nominee no matter what."
Moore wins, but the Senate votes to expel him
This would be one of the most unprecedented options Moore's opposition has since the last sitting senator to be expelled was in 1862 for supporting the Confederate rebellion.
According to the U.S. Constitution, the House and Senate has the authority to expel a member with a two-thirds vote. Only 15 senators have been expelled since 1789.
Expelling him would also set a major precedent, said Derek Muller, an election law expert and associate law professor at Pepperdine University School of Law.
"It would be a rather unusual beginning."
IF ROY MOORE IS EXPELLED FROM SENATE, HE'D BE THE FIRST SINCE CIVIL WAR-ERA
"Expel him, but not others accused of wrongdoing over the course of their lives? Why him? What makes it different?" Muller said.
But McConnell said Tuesday that "it's safe to say" the process for expulsion in the Senate ethics committee would immediately begin if Moore is sworn in.
"It would be a rather unusual beginning," McConnell said.
Moore wins, but he's shunned
Senators don't necessarily have to be promoted to a committee, so his colleagues could essentially shun him when he's there, Taylor said.
Moore wins, and becomes an active senator
Moore winning the election and becoming seated as a U.S. senator is the most "straightforward option at this point," Muller said. He added that the question is whether this scandal can fade away over the next month or if it will continue to plague him.
With the upcoming Thanksgiving holiday and big Alabama college football games on the horizon, the prospect of Alabama voters losing attention in the scandal is possible, Taylor said.
"He would really be disruptive in the Senate," Taylor said. "I really do wonder, if he's going to be a pain in the rear end most of his time there, would Republicans just as soon have Jones and live with it. Jones is far more liberal than Roy Moore and would probably have a liberal voting record, but being from Alabama, you'd think he'd at least sometimes vote with Republicans."
Alabama's governor intervenes in the race
Despite rumors that Alabama's Republican governor, Kay Ivey, could step in and change the election date, her communications director said no.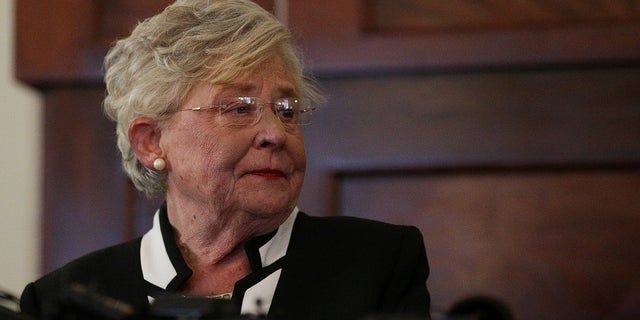 "The governor is not considering and has no plans to move the special election for U.S. Senate," he told AL.com.
Rescheduling the election would present due process challenges, Muller said.
"There's potential constitutional concerns there to delaying an election just because you don't like what's happening with a candidate – from both a practical and legal standpoint," Muller said.
Secretary of State John Merrill noted that absentee and overseas voters have cast ballots already in the election since Oct. 18, according to AL.com.
Luther Strange resigns 
Some have speculated that Ivey could call on Strange to resign from his Senate seat early and appoint a new special election to take place. But experts and lawyers have said this option is highly unlikely and would almost certainly be a legal headache.
"We're still looking into whether she would even be allowed to do this," a source in the Alabama secretary of state's office told Fox News.
But Ivey put a pin in that idea and said she has no plans to push for this option.
Trump intervenes in race
Some Republicans have asked Trump to involve himself in the special election as he returned to the U.S. from a 12-day trip across Asia.
"President Trump should intervene in Alabama immediately," Scott Jennings, a Kentucky Republican who worked as an adviser to former President George W. Bush, said on Twitter. "Moore is embarrassing the president and puts his agenda in jeopardy."
While Trump has not publicly commented on the Moore kerfuffle yet, he did reportedly speak to McConnell while he was in Asia. McConnell implored him to help push out Moore, Politico reported.