Romney's Mormon Faith Is Thrust Back Into Campaign Spotlight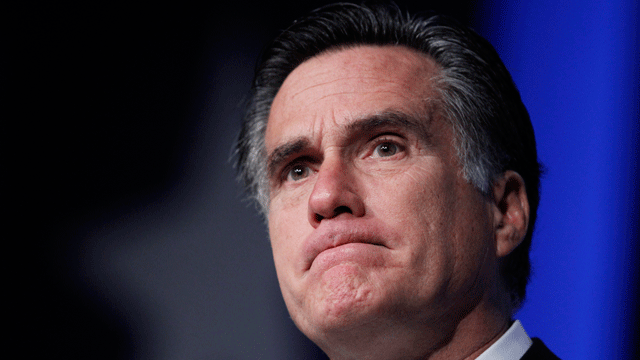 It was bound to happen sooner or later.
Former Massachusetts Gov. Mitt Romney, who was questioned repeatedly about his Mormon faith during his 2008 presidential bid, finds his religion under attack again in the 2012 GOP race.
On Friday, Robert Jeffress, a senior pastor at First Baptist Church in Dallas who supports Texas Gov. Rick Perry and introduced him at the Values Voters Summit, called Mormonism a "cult" in remarks to reporters.
When Perry took the stage, he said Jeffress "hit it out of the ballpark" with his introductory remarks in which he called the Texas governor a "proven leader, a true conservative and a committed follower of Christ."
But Perry's camp said later that Perry disagreed with Jeffress description of Mormonism as a "cult" and that the Values Voters Summit organizers chose the pastor to introduce the Texas governor.
"The governor doesn't agree with every single issue with everyone he knows or supports his candidacy," Perry campaign spokesman Mark Miner said in an email to Fox News. "He is running for president to get our economy back on track and create jobs. Those are the real issues that matter to people."
On Saturday, conservative talk show host Bill Bennett condemned Jeffress' comments when he introduced Romney at the summit.
"I would say to Pastor Jeffress…you did Rick Perry no good sir in what you had to say," he said to raucous applause, calling the pastor's remarks "bigotry."
In his remarks, Romney said, "Speaking of hitting it out of the ball park, how about that Bill Bennett." He went on to urge Republicans not to let religious differences to divide them and to pick a nominee who is most qualified to boost the economy.
"We should remember that decency and civility are values too," he said. "Poisonous language doesn't advance our cause. It's never softened a single heart or changed a single mind. The blessings of faith carry the responsibility of civil and respectful debate."
Jeffress fired back at Bennett Saturday, saying it's wrong to call him a bigot because he prefers Christians to non-Christians.
"I wonder if that makes Bennett a bigot because he prefers Republicans to Democrats," he told MSNBC. "We ought to be able to say a Christian in office is better than a non-Christian in office."
Texas Rep. Ron Paul, who is also running for president, told Fox News that he disagrees with Jeffress and said his comment was "unnecessary."
"This whole idea that the most important thing between two candidates right now is the definition of cult, trying to make it sound negative for one person to get the edge over the other – and they are encouraged by others to keep this thing going," he said.
"But I don't think that's the issue of the day," he added. "I think liberty is the issue of the day. Our Constitution is the issue of the day. And too much government – that is the issue of the day. It's not the definition of a cult."
The dust-up over Romney's faith comes as Perry seeks to regain momentum after stumbling in the last GOP debate and losing his frontrunner status in the polls. Hitting Romney, who remains atop the polls, on his faith could be one way.
When Romney ran for president in 2008, he faced so many questions and attacks on his faith – including from Jeffress -- that he eventually declared in a speech that if he were elected, he would not allow Mormon leaders to "ever exert influence on presidential decisions."
Scott McLean, a political scientist at Quinnipiac University and presidential election analyst, told FoxNews.com that he believes the Perry campaign orchestrated Jeffress' attack on Romney's faith "to test the waters."
"Rick Perry cut his teeth with Karl Rove," he said, referring to the former senior adviser to President Bush who is now a Fox News analyst. "Rove knows when you go on the attack, make sure a surrogate does it for you. Rick Perry followed that script to the letter."
McLean said he expects Perry surrogates to launch more under-the-radar attacks on Romney's faith to make Romney look less attractive.
"Romney's campaign is premised on 'I'm the most electable,'" he said. "What they have to do is show that isn't so."
Fox News' Doug McKelway, Lexi Stemple and Jessica Stone contributed to this report.