Road to the Nomination -- Republican Presidential Primary Guide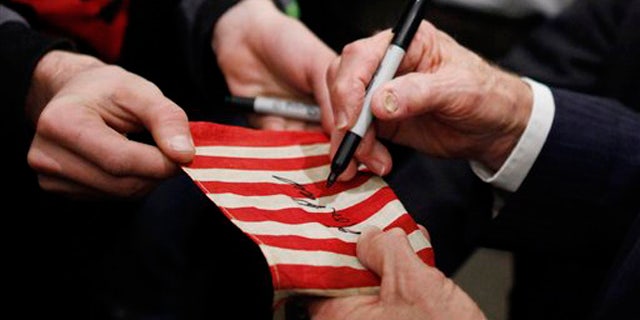 NEWYou can now listen to Fox News articles!
The candidates have debated more than a dozen times. There have been hundreds of polls taken and no fewer than four frontrunners. But now, it's time for the voters to have their say.
Republicans will start picking a presidential nominee with the Jan. 3 Iowa caucuses. The final contest is scheduled for June 26 in Utah, and the Republican National Convention is set to begin on Aug. 27 in Tampa. What happens in between is still anyone's guess.
In a party with a history of orderly nominations and inevitable nominees, this election cycle has been something altogether different.
The drama starts in Iowa, where caucus-goers will gather in school gymnasiums, fire halls and community centers to stand up for the candidate of their choice. In this two-hour process, participants get to hear speeches from candidates' supporters, mull their options and form coalitions before time runs out.
Iowa matters so much this year because the biggest unanswered question for Republicans is who will be the standard bearer for the conservative wing of the party. Moderate Republicans have mostly coalesced around former Massachusetts Gov. Mitt Romney, but the remainder of the party has been divided over who should carry their banner. And Iowa, home to a famously conservative electorate, will provide the first test of strength.
But with the right divided, there may not be a clear winner in Iowa, or Romney may be able to carry his share of the vote, about a quarter in most polls, on to a win in a divided field.
Several candidates have placed heavy emphasis on Iowa. Texas Rep. Ron Paul is counting on a strong showing in Iowa to answer doubts about his electability and encourage supporters in other states. Former Pennsylvania Sen. Rick Santorum and Minnesota Rep. Michele Bachmann are both "all in" on Iowa, hoping that a surprise showing there will vault them forward. Texas Gov. Rick Perry is hoping that a credible showing in Iowa will start to build some momentum for his campaign.
But the big test is for former House Speaker Newt Gingrich, who zoomed to the top of the polls nationally and in Iowa after the demise of former frontrunner Herman Cain's campaign. Gingrich watched his support erode in the final weeks of the year and needs a good showing in Iowa to prove that he was not a flash in the pan.
Gingrich's biggest weakness in Iowa could be a lack of organization. While Paul, Santorum, Bachmann and Perry can be assured that there will be supporters at nearly every caucus location to help rally others and show strength, Gingrich's campaign, which suffered a total meltdown in the spring, has been scrambling to muster an organization.
A poor showing in Iowa for any of the conservative candidates could mean the end of their presidential bid, particularly for Bachmann and Santorum.
One week later, it's New Hampshire's turn, as the Granite State hosts the first primary election in the nation.
That contest is less about the conservative struggle and more of a test for Romney among moderates. Romney, who governed a neighboring state and has a vacation home in New Hampshire, has been heavily favored to win the state since the start of the cycle. But former Utah Gov. Jon Huntsman has made the state his top priority. Huntsman, also a moderate and, like Romney, a member of the Church of Jesus Christ of the Latter Day Saints, has tapped his family's fortune to make a stand in New Hampshire despite a lackluster showing in national polls.
Huntsman, who served President Obama as ambassador to China, is a favorite of many moderate Democrats, which poses a risk for Romney in New Hampshire. With no Democratic contest this year and an open primary system in which voters may cast their ballots in either party's contest, Huntsman may cause trouble for Romney.
Race watchers will also be paying attention to the second- and third-place finishers for signs of momentum coming out of Iowa. Expectations are low for Gingrich, Perry and the rest of the right, but their showings will speak volumes about their appeal to voters.
As soon as the ballots are counted in New Hampshire, the action shifts immediately to South Carolina, which has proved the crucial test in many Republican nominating contests. It's a conservative, southern state in a party dominated by conservative, southern voters. South Carolina Republicans have picked their party's eventual nominee in every presidential election since 1980.
On Jan. 16, Fox News, The Wall Street Journal and the South Carolina Republican Party will host the remaining contenders in a crucial debate in Myrtle Beach, S.C., just five days before voters go to the polls.
While Romney may surprise in South Carolina, and certainly is expected to improve on his fourth-place finish there in 2008, this year's Palmetto State primary is all about sorting out the battle among the conservative contenders. It would be hard for Perry, an evangelical and governor of a Southern state, or Gingrich, who hails from neighboring Georgia, to make the case for their continued candidacy if South Carolinians give them the cold shoulder. If Paul, Bachmann or Santorum have performed well in Iowa, they would need a win, or second-place finish behind Romney, to make it stick.
But after South Carolina, the biggest, most difficult test yet for the GOP contenders will still lie 10 days ahead: The Florida primary on Jan. 31.
Florida is a big state with a tremendously diverse population, from rural conservatives in the Panhandle to urban moderates in Miami. Candidates not only have to have the resources to compete in five major media markets, but also the retail political skills to connect with crucial voter blocs, like residents of the large retirement communities and the Cuban-American community in South Florida.
If Romney hopes to put the nomination away without a protracted fight, Florida is his best chance to do it. He's well funded, well organized and has been paying close attention to the state since his last run for the White House. Florida is also the place, though, where his rival for a longer battle could finally emerge.
A win by one of the conservative contenders would be an earthquake in the party, but perhaps more important is what a poor showing in Florida would mean. With so many delegates to the national convention, Florida could be the end of the road for several aspirants.
Whatever happens, the race will be reset after Florida. There is almost a month until the next primaries, the Feb. 28 contests in Michigan and Arizona. In between there will be a smattering of caucuses and conventions, but it will be a chance for the remaining contenders to raise money and set their sights on the national battle ahead.
If the battle is still raging when the voting begins again, the next big test will be on March 6, when Republicans in 10 states will go to the polls. That contest includes several low-delegate states, like Romney's home state of Massachusetts, but big prizes like Georgia, Ohio, Tennessee and Virginia.
Delegate-rich Virginia is a swing state led by a popular conservative Republican governor, Bob McDonnell. It, like Florida, is large, diverse, expensive to campaign in and electorally important in the general election. Several candidates did not qualify for the Old Dominion's steep requirements for appearing on the commonwealth's primary ballot, leaving open a lane for Romney to win in a big, southern state.
That day, a remnant of what was once known as Super Tuesday, is also crucial because it is the last chance for candidates to score big one-day wins. Republicans have arranged their primary calendar this cycle to be more drawn out and provide drama in the same way that the Democratic clashes of 2008 did. Almost every week until the end of June will see one, two or three states voting.
There are big, multi-state primaries set for April 3, including the great delegate prize, Texas, April 24 and June 5, but there are few opportunities for candidates in a pitched battle to deliver knockout blows. While Romney is betting that he has the resources to go the distance, the drawn-out calendar offers hope to others who believe they can unite the right.