Report: McCain fears Trump could cost him Latino support in Senate re-election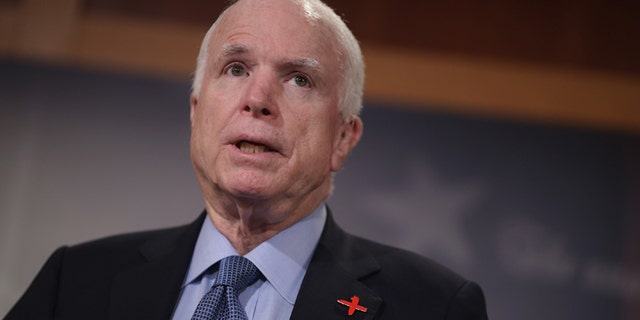 NEWYou can now listen to Fox News articles!
Sen. John McCain says this may be his toughest senatorial race yet.
The reason?
Donald Trump, the presumptive Republican nominee, and his pointed remarks about Mexico and undocumented immigrants as well as his high unfavorability rating among Latinos.
In a speech at a private fundraiser in Arizona last month, McCain, a Republican, said that the real estate tycoon's alienating rhetoric toward Hispanics could be detrimental to his own re-election, according to Politico, which reports that it obtained a recording of the speech.
"If Donald Trump is at the top of the ticket, here in Arizona, with over 30 percent of the vote being the Hispanic vote, no doubt that this may be the race of my life," McCain said, according to Politico. "If you listen or watch Hispanic media in the state and in the country, you will see that it is all anti-Trump. The Hispanic community is roused and angry in a way that I've never seen in 30 years."
McCain is seeking his sixth term in the U.S. Senate. He's facing a challenge from former state senator Kelli Ward in the Aug. 30 GOP primary, and his likely opponent in the general election is Democratic U.S. Rep. Ann Kirkpatrick.
McCain is one of several Republicans running for the Senate in states with large Latino electorates who are concerned that their party's likely presidential nominee's negative image among that voting bloc will have repercussions on their own races.
Politico noted that Republicans are defending about 25 seats this year. Many of the seats in contention are in Democratic or swing states.
McCain did say he'd support whomever the GOP nominee ends up being – including Trump, whom Republican National Committee chairman Reince Priebus called the presumptive presidential nominee following his decisive victory in the Indiana primary, which forced his two remaining GOP rivals, Sen. Ted Cruz of Texas and Ohio Gov. John Kasich, to withdraw from the race.
The race with Kirkpatrick will be a tight one, if polls are any indication. A Real Clear Politics polling average taken from March 7 through April 11 showed McCain leading by less than 1 point.
Among Latinos, McCain boasts 50 percent of their vote, according to a Behavior Research Center poll. Kirkpatrick lags, with only 37 percent.
Trump handily won the state's GOP presidential primary last month, scooping up the state's 58 winner-take-all delegates.
Like us on Facebook