Rep. Paul Defends Steele Amid GOP Criticism Over Afghanistan Remarks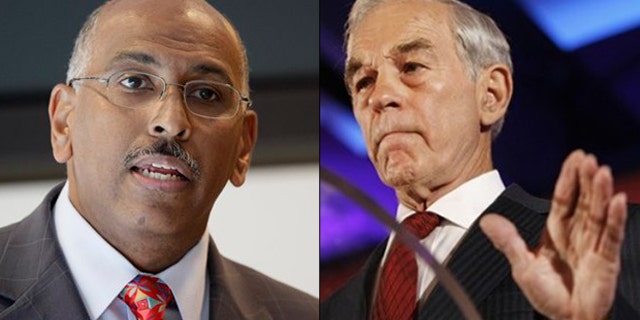 Known for going against the party grain, Rep. Ron Paul has emerged as just about the only elected Republican sticking up for Michael Steele after the GOP chairman made controversial comments about Afghanistan last week.
The Texas Republican and former presidential candidate, who opposes the Afghanistan war, issued a statement congratulating Steele as hordes of Paul's colleagues condemned the chairman for calling Afghanistan a "war of Obama's choosing" and suggesting it was not winnable.
"He is absolutely right -- Afghanistan is now Obama's war," Paul said in a written statement. "During the 2008 campaign, Obama was out in front in insisting that more troops be sent to Afghanistan. Obama called for expanding the war even as he pretended to be a peace candidate.
"Michael Steele should not resign. Smart policies make smart politics. ... Michael Steele has it right and Republicans should stick by him," Paul said.
He urged Steele not to "back off" as he "speaks truth about this war."
Unfortunately for Steele, Paul -- the consummate party outsider -- may not have a lot of sway with the Republican brass on the issue. Paul spokesman Jesse Benton said Paul has not spoken personally with Steele about his remarks.
Steele has been busy on other fronts, trying to quell concerns from top Republicans that he's not on the same page when it comes to the war in Afghanistan.
Sen. John McCain, R-Ariz., said Sunday that Steele had e-mailed him to say his remarks were "misconstrued." But McCain left open the door as to what comes next for the embattled party leader.
"I think those statements are wildly inaccurate, and there's no excuse for them," McCain said on ABC's "This Week." "The fact is that I think that Mr. Steele is going to have to assess as to whether he can still lead the Republican Party as chairman of the Republican National Committee and make an appropriate decision."
McCain's GOP primary opponent J.D. Hayworth agreed.
"A chairman needs to build the fortunes of the party, both politically and financially, and not become the center of controversy," he told Fox News on Monday. "When the chairman becomes the center of controversy, it's a very tough uphill battle to regain the equilibrium needed to lead the party."
Despite the chorus of criticism, most elected Republicans were stopping short of calling for Steele to resign.
Ron Bonjean, spokesman for former House Speaker Dennis Hastert, said he thinks Steele will ultimately survive and that stepping down would be the wrong decision.
"I do think he'll overcome it," he said. "If we create a circular firing squad and keep talking about this issue for the next week or two, that doesn't do us any good."
But Democratic strategist Richard Goodstein said that while Democrats like having Steele in the spotlight, it would raise questions about Republicans' priorities if they were to "look the other way" on this.
"This is so off the mark, even for somebody who has such a buffoonish way of communicating," he said.
Steele's comments were captured on camera last Thursday at a fundraiser in Connecticut.
"Keep in mind again, federal candidates, this was a war of Obama's choosing. This is not something the United States had actively prosecuted or wanted to engage in," Steele said. "If he's such a student of history, has he not understood that you know that's the one thing you don't do, is engage in a land war in Afghanistan? All right, because everyone who has tried, over a thousand years of history, has failed. And there are reasons for that."
Steele put out a public statement afterward saying that while the approach in Afghanistan represents Obama's strategy, "our country must give our troops the support necessary to win this war" and that victory is critical. He said in an e-mail to members that he hoped the statement would "clear up any confusion" from his remarks.