Steele Scrambles to Contain Fallout From War Remark as GOP Criticism Mounts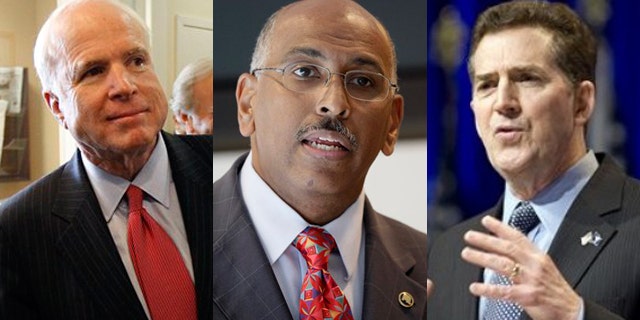 Republican National Committee Chairman Michael Steele was scrambling to contain the fallout over the holiday weekend from his remarks claiming Afghanistan is a "war of Obama's choosing," which the United States never really "wanted to engage in."
Conservative commentators and GOP lawmakers were virtually unanimous in condemning the party chairman for the remarks, voicing their support for the escalating U.S. military campaign in the country while scolding Steele for his "uninformed" statement. Some called for his resignation, one senator demanded he apologize to the military and at least one local GOP official is considering challenging Steele for his post.
It was the most public thrashing the chairman, who has a reputation for ad-libbing on delicate issues, has endured during his controversial tenure -- and while Steele downplayed the backlash in a public statement Friday, behind the scenes he was actively seeking support from insiders.
Weekly Standard Editor Bill Kristol, one of the earliest to call for Steele to step down, said on "Fox News Sunday" that the GOP chairman called him on Saturday to "persuade me that the remarks were taken out of context." Kristol was not moved, though he said they had a "long conversation" on the topic.
"He's a good guy. He should be ... a pundit on a million TV shows and he should give speeches. But he shouldn't express the views he expressed as Republican chairman," Kristol said. "One thing as a Republican I think Republicans can be proud of is that we don't politicize foreign wars. ... And unfortunately, Michael Steele politicized this in a way that doesn't reflect the view of the huge majority of Republicans. I think it would be better if he went."
Sen. John McCain, R-Ariz., said Sunday that Steele had e-mailed him to say his remarks were "misconstrued." But he left open the door as to what comes next for the embattled party leader.
"I think those statements are wildly inaccurate, and there's no excuse for them," McCain said on ABC's "This Week." "The fact is that I think that Mr. Steele is going to have to assess as to whether he can still lead the Republican Party as chairman of the Republican National Committee and make an appropriate decision."
At least one Republican is considering trying to force Steele out - though that wouldn't come for months. North Dakota Republican Party Chairman Gary Emineth told Fox News that he is "seriously considering" challenging Steele for the chairmanship after the November elections.
"The 2012 elections are critical, and I feel there needs to be a new approach to the RNC," he said. Though Emineth is stepping down from his current post, he said the potential Steele challenge had nothing to do with that decision.
Kristol wasn't alone in calling for Steele to step aside. Rep. Tom Cole, R-Okla., said Steele should "apologize and resign" in a statement to Politico.com. Liz Cheney, daughter of former Vice President Dick Cheney, also said Steele should go.
But some prominent Republicans expressed tentative hope that Steele could recover from the stumble. Sen. Lindsey Graham, R-S.C., who called Steele's comments "uninformed" and "unwise," noted that he was trying to make things right.
"The good news is Michael Steele is backtracking so fast he's going to be in Kabul fighting here pretty soon," he said on CBS' "Face the Nation." "It's up to him to see if he can lead the Republican Party after this comment. ... I hope he can get it behind him. We will see if he can get it behind him."
Graham said he doesn't want "to do to the Obama administration what happened to the Bush administration during Iraq."
On "Fox News Sunday," Sen. Jim DeMint, R-S.C., said Steele must apologize to the military fighting in Afghanistan and focus on his party responsibilities.
"He needs to refocus on electing candidates who can stop this rampage of spending and debt in Washington -- whether or not he resigns is up to other people than me, but I need to see him focus on this November election," he said.
DeMint and other GOP officials sought to correct Steele's assertion that the war belongs to Obama.
"This is America's war. It's not Obama's war," DeMint said.
Steele's comments came at a critical time in Afghanistan. Gen. David Petraeus just assumed command in the country after Stanley McChrystal tendered his resignation last month following controversial comments in a Rolling Stone article. The planned summer offensive in the southern Taliban stronghold of Kandahar has been delayed and U.S.-led forces are still trying to win vital political support at the local level in Afghanistan. As the war becomes the longest in U.S. history, many lawmakers are pushing for flexibility still on a withdrawal timeline that is set to begin in July 2011.
Steele's comments were captured on camera last Thursday at a fundraiser in Connecticut.
"Keep in mind again, federal candidates, this was a war of Obama's choosing. This is not something the United States had actively prosecuted or wanted to engage in," Steele said. "If he's such a student of history, has he not understood that you know that's the one thing you don't do, is engage in a land war in Afghanistan? All right, because everyone who has tried, over a thousand years of history, has failed. And there are reasons for that."
Steele put out a public statement afterward saying that while the approach in Afghanistan represents Obama's strategy, "our country must give our troops the support necessary to win this war" and that victory is critical. He said in an e-mail to members that he hoped the statement would "clear up any confusion" from his remarks.
Sen. Joe Lieberman, I-Conn., said Steele's comments, on the plus side, did serve to clear up any confusion about where Republicans stood.
"I think we had a kind of very positive boomerang effect here," he said on "Fox News Sunday." "There was such a strong reaction from Republican leaders to Michael Steele's comments. ... I think the Republican Party gives me encouragement to believe that they're going to take the high road and not make a partisan political fight out of the war in Afghanistan or try to take advantage politically of a war that will get tough and will test our steadfastness."