Reid's Kochstitutional issue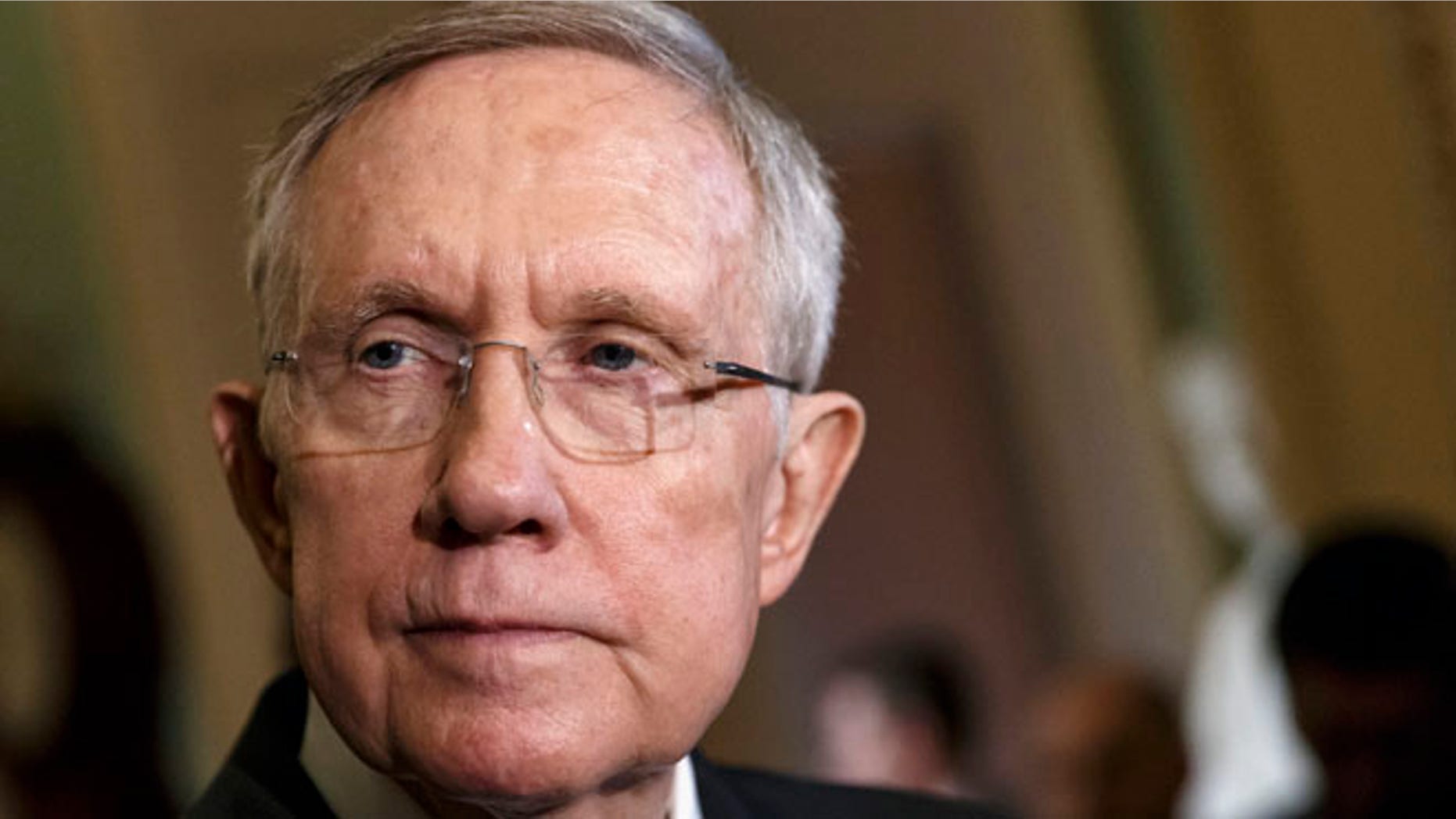 **Want FOX News First in your inbox every day? Sign up here.**
Buzz Cut:
• Reid's Kochstitutional problem
• Jarrett claims Boehner lying about immigration vote
• Study from ObamaCare partner says drug costs to skyrocket
• Power Play: Peach of a primary in Georgia
• Something about her always made Sheldon nervous
REID'S KOCHSTITUTIONAL PROBLEM
Harry Reid saying that he is going to pass a constitutional amendment should sound about as credible as Donald Sterling saying that he was going to buy the New York Yankees. The Senate Majority leader can't pass a tax bill that has major bipartisan support. He can't pass a warm and fuzzy energy conservation bill his endangered members want. He can't even deliver a vote on the Keystone Pipeline. More astonishing: Reid can't muster the nominations of the president's picks for two key judgeships and senior administration posts despite having changed the Senate rules so that that a simple majority is all that is required to confirm nominees. So who is Reid kidding when he talks about passing a constitutional amendment to limit campaign spending with a two thirds majority of the whole of the house and approval of two thirds of the states? Nobody, really. But Reid still mostly skates by with spouting such inanities because his members and the political press know that it's all a gag designed to hurt Republican electoral chances.
[Watch Fox: Chief Congressional Correspondent Mike Emanuel will dive into latest of the Michael Boggs nomination controversy.]
Reid will certainly go down as the Senate leader who broke the old rules of decorum and comity. His defenders will say that he had no choice, given the obstructionism of Republicans and that his feverish, near-constant denunciations of two billionaire conservative activists, Charles and David Koch, is a patriotic act. But whatever one thinks of the "why" of Reid's antics, the "how" looks pretty darned dim. If Reid's fellow Democrats are willing to let him hold a succession of show votes on a dead-meat Constitutional amendment even as the basic functions of the upper chamber wither and die, he may endure in his gambit. After all, Reid has shown a willingness to expound on nearly anything and has little regard for the truth in making his allegations and paid little price in the part. But…
[Grab your popcorn - Politico: "The Koch brothers are headed to the big screen — and Nancy Pelosi and Harry Reid are coming along for the ride. The two congressional Democratic leaders will appear at a screening in the Capitol of 'Koch Brothers Exposed: 2014 Edition' — a documentary that Senate Majority Leader Reid (D-Nev.) participated in."]
Not wild about Harry - Senate Democrats might decide, as Mark Tapscott argues, that the time has come to tell their longtime leader to cool it on the stunts and GOP trolling. If Reid continues to go down this path, he is liable to become too famous a face for the party. And like the other three party leaders on the Hill, his face is not a popular one.
[Watch Fox: Rep. Mike Pompeo, R-Kansas, will appear in the 11 a.m. ET hour]
But is it really all about him? - Bloomberg: "The effort to tie this year's Democratic Senate candidates to Reid may have repercussions for Reid's bid for a sixth Senate term in two years. The shrewd senator said in an interview at the Capitol that he anticipates the Koch brothers will help fund his eventual 2016 Republican opponent. 'I'm told they're going to spend against me,' he said, adding that for now he's 'just focusing on' his job as majority leader. Still, Reid stressed that he's not taking anything for granted in his race two years from now. He said, 'Over the years, I do the best I can and realize I only need one more than 50 -- my elections are normally quite close.'"
[You're cool, Shel - One prominent friend of Harry Reid, conservative mega-donor Sheldon Adelson, is being recognized for his role in promoting Jewish Values this Sunday at the Champions of Jewish Values International awards gala. Delivering the keynote address: Gov., Chris Christie, R-N.J., who is reportedly sharing a table with fellow potential 2016 contender Gov. Rick Perry, R-Texas. Jewish Political News & Updates has the deets.]
JARRETT CLAIMS BOEHNER LYING ABOUT IMMIGRATION VOTE
House Speaker John Boehner has repeatedly said that there is no chance for a comprehensive immigration overhaul this year, mostly blaming President Obama's penchant for creative interpretations of other laws, like the myriad executive alterations to ObamaCare. But the woman who is considered the president's most powerful adviser told an audience of hedge fund managers and other investment tycoons in Las Vegas that Boehner has actually promised a vote to Obama against the wishes of his fellow Republicans.  "I think we have a window this summer, between now and August, to get something done," said Senior White House Adviser Valerie Jarrett, according to the Las Vegas Review-Journal. "We have a commitment from Speaker Boehner, who's very frustrated with his caucus."
STUDY FROM OBAMACARE PARTNER SAYS DRUG COSTS TO SKYROCKET
PhRMA, the drug industry lobbying group that worked closely with the White House to get ObamaCare passed and reportedly earned huge concessions in return has a new study out that says many Americans could end up paying more than double in out-of-pocket costs for drugs.  The Hill: "The report for the nation's top drug lobby was conducted by actuarial firm Milliman, which found that people on the Silver Plan, the most popular ObamaCare plan, would likely pay 130 percent more for out-of-pocket prescription drugs compared to people on similar employer-sponsored plans. One reason why out-of-pocket costs are likely to be higher is because employer plans are more generous than typical Silver Plans, according to the report. However, the numbers don't account for government subsidies to purchase insurance, which could have a significant impact on overall patient health costs." PhRMA's cozy relationship with the Obama administration is well known. Emails uncovered by a House panel in 2012 show PhRMA worked with the White House on a multi-million dollar advertising campaign to sell the law, including a remake of the "Harry and Louise" ads that helped sink Hillary Clinton's 1993 effort at a health system overhaul.
Covered California confusion means another delay– LAT: "California's health exchange said an estimated 300,000 people in the state with COBRA insurance coverage can switch to an Obamacare policy through July 15. The Covered California exchange announced the special two-month enrollment period, starting Thursday, to address confusion about the sign-up rules. We think many people on COBRA are confused," said Peter Lee, the exchange's executive director. The state exchange said the information on its coveredca.com website wasn't clear for people who have lost a job and held on to their employer health plan through COBRA, a federal law known as the Consolidated Omnibus Budget Reconciliation Act."
[A gun shop in Texas takes shots at ObamaCare with a new street side sign that reads: "Guns are cheap compared to ObamaCare and have better coverage"]
WITH YOUR SECOND CUP OF COFFEE...
Life Magazine takes a look back at the human side of the landmark Supreme Court decision striking down school segregation that was handed down 60 years ago on Saturday. While the case is remembered as "Brown v. Board of Education" for the first school system listed in court documents, the second case listed was from Prince Edward County, Va. But it would be another five years before Virginia public schools dropped their resistance. Two Life photographers travelled to the Old Dominion to record the moment in 1959 when then-Gov. J. Lindsay Almond, D-Va., abandoned his strategy shutting down schools to prevent integration and fewer than two-dozen black students began attending classes in previously all-white schools in Norfolk and Arlington. You've got to see it.
Got a TIP from the RIGHT or LEFT? Email FoxNewsFirst@FOXNEWS.COM
POLL CHECK
Real Clear Politics Averages
Obama Job Approval: Approve –  44.3 percent//Disapprove – 51.4 percent
Direction of Country: Right Direction – 28 percent//Wrong Track – 63.3 percent
Generic Congressional Ballot:  Democrats – 43.2 percent// Republicans 43 percent
POWER PLAY: PEACH OF A PRIMARY IN GEORGIA
Tuesday's Georgia Republican Senate primary will be quite a contest, with three candidates seemingly in a dead heat for two slots for a runoff vote this summer. Sounds like a good time for the Power Play Political Pros to do their thing. Watch  Chris Stirewalt get to the pit with Republican strategist Matt Schlapp and Democratic strategist Arley Johnson. But wait, there's more! The three also talk about the wild House race and staid Senate contests in West Virginia's primary this week. It's so good, you might say it's Almost Heaven. Watch here.
WEHBY'S PRO-CHOICE STANCE MAY SCUTTLE GOP CHANCES
Pediatric neurosurgeon Monica Wehby heads into Oregon's Republican Senate primary Tuesday as the frontrunner in the race to take on incumbent Democratic Sen. Jeff Merkley in the deep-blue state. Republicans are enthused about her chances to make the race competitive, but pro-life groups are stepping up their effort to block her candidacy. Pro-life stalwart Rick Santorum joined the fight on Thursday, lending his support to Wehby's primary rival, pro-life state Rep. Jason Conger. Wehby's position, as described in an Oregonian article posted on her Web site, is "personally pro-life but supports a woman's right to choose." That's an echo of several Democrats, including the party's 2004 nominee, John Kerry, who said "I am actually personally opposed to abortion. But I don't believe that I have a right to take what is an article of faith to me and legislate it to other people." According to the Sunlight Foundation, anti-abortion groups have spent nearly $600,000 against Wehby or supporting her opponent.

Helps Handel, though - The Hill: "Former Sen. Rick Santorum (R-Pa.) is endorsing former Georgia Secretary of State Karen Handel (R) in her bid for the Republican Senate nomination.… Handel is battling it out with businessman David Perdue (R) and Rep. Jack Kingston (R-Ga.) for two spots in the runoff following Tuesday's primary. Reps. Paul Broun (R-Ga.) and Phil Gingrey (R-Ga.) are also in the race."
POLL: ERNST LEADING IN IOWA RACE
Des Moines Register: "Joni Ernst has captured momentum and opened up a substantial lead in the Republican U.S. Senate race in Iowa, according to a new survey. A Loras College Poll released today shows Ernst is 12 percentage points up over her closest competitor, Mark Jacobs, in the five-way battle for the nomination for the rare open seat. Ernst, a hog-castrating, Harley-riding markswoman, leads among likely Republican primary voters in Iowa, 31 percent to Jacobs' 19 percent. The survey of 600 Iowans was taken May 12-13. It has a margin of error of plus or minus 4 percentage points…. About 29 percent are undecided less than three weeks until the vote, the poll found."
SHAHEEN AVOIDS BOKO HARAM QUESTIONS
Daily Caller: "New Hampshire Democratic Sen. Jeanne Shaheen on Thursday avoided questions in the hallway of a Senate office building about why the committee she sits on failed to take up legislation calling for Boko Haram to be named a terrorist organization in 2012. Shaheen was approached in the Dirksen building by a tracker after a hearing titled, 'Addressing The Threat of Boko Haram.'…Boko Haram, an Islamic terrorist group, has been in the news because of its kidnapping of 300 girls in Nigeria. The group was officially designated a terrorist organization by the United States at the end of last year…. Republican Scott Brown is challenging Shaheen for her seat this year."
NORTH MISSISSIPPI KEY FOR COCHRAN
Washington Examiner's David Drucker went down to Mississippi to check in on what promises to be the ugliest Republican primary of the 2016 cycle, a fight between Sen. Thad Cochran and state Sen. Chris McDaniel. Drucker keys in on the county to watch and talks to voters there who believe Cochran has not been confrontational enough in the Senate: "How widespread that sentiment is in DeSoto County could determine the outcome of Mississippi's first competitive primary in decades to feature an incumbent candidate. The region is a fast-growing Memphis suburb, covered by the western Tennessee media market, where voters are more likely to be younger and more new to Mississippi -- and therefore less tied to the state's 76 year-old senior senator."
PICK SIX: HANDS UP FOR MICHIGAN?
Republicans have their sights set on six seats to win control of the Senate from Democrats. So which seats are most likely to flip from blue to red? The current consensus among Fox News First readers: Arkansas, Montana, Louisiana, South Dakota, North Carolina and West Virginia. Fox News First reader Tim Farley says to look out for Michigan because, "Terry Land is really running a great campaign so far.  State is fed up with Dems….see Detroit!"
Share your top six picks. Email them – just your top six, please – to FOXNEWSFIRST@FOXNEWS.COM or tweet @cstirewalt.
FOX NEWS SUNDAY: DICK AND LYNNE CHENEY
Host Chris Wallace sits down with Former Vice President Dick Cheney and wife Lynne Cheney in the first joint interview since the couple left the White House. Then Chris will turn to the 2014 midterm elections with Scott Reed, the senior political strategists at the U.S. Chamber of Commerce. "Fox News Sunday with Chris Wallace" airs at 2 p.m. and 6 p.m. ET on Fox News. Check local listings for air times in your area.
RAND PAUL HEADLINES OHIO GOP DINNER WITH PORTMAN
AP: "U.S. senator from Kentucky who's testing the waters for a presidential bid will venture across the Ohio River for appearances in neighboring swing state Ohio. Rand Paul will speak Friday evening for the Hamilton County Republican Party's annual Lincoln-Reagan dinner. Before that, he'll participate in a school choice discussion at a Cincinnati charter school. Paul has had a high public profile, speaking out against the National Security Agency on privacy issues and demanding information from President Barack Obama's administration about its drone strike policy. The tea party favorite also has been courting establishment Republicans. He'll be joined in Cincinnati by Republican Sen. Rob Portman of Ohio, a strong 2012 supporter of Mitt Romney."
McConnell touts - Bloomberg: "Senate Minority Leader Mitch McConnell, making his closing case to Kentucky Republican voters, is invoking home-state colleague Rand Paul in two television ads that began running today.
'On Tuesday, join with Rand Paul and vote for Mitch McConnell,' a narrator says in one of the spots, which begins with footage of Paul saying in a Kentucky television interview last October that the state 'ought to be proud of having Senator McConnell' and that he 'defended our state when our state needed defending.'"
#mediabuzz: WILBON TALKS STERLING COVERAGE
What's the fallout from the latest comments from LA Clippers owner Donald Sterling? ESPN host and Washington Post columnist Michael Wilbon joins Howie to discuss. Howie will also talk to Hollywood Reporter's Marisa Guthrie to discuss Barbara Walters' career and legacy. Plus, panelists talk about Karl Rove's comments on Hillary Clinton's health. Watch "#mediabuzz" Sunday at 11 a.m. ET, with a second airing at 5 p.m.
SOMETHING ABOUT HER ALWAYS MADE SHELDON NERVOUS
They brought home the bacon, but now he's got to go. Officials in Somers Point, N.J. are forcing a mother and her 5-year-old son to give up Sheldon, a 32-pound pigmy pig they have had for more than a year. Local station WCAU has the heart-rending details, but perhaps Sheldon is secretly relieved. His mistress' name: Morgan Slaughter
AND NOW A WORD FROM CHARLES…
"There's so much pressure on any politician to protect the veterans, as they should,  that they will not allow the usual stonewall where the guys says: 'I'm mad as hell, I'm very upset, how can this be happening under my command' and then what they say is 'well, this is all under investigation, so I can't really answer your questions,'… After all that, you say…  'Hey dude, it happened two years ago, so who cares?' But in this issue they're not going to get away with it. Democrats are on this and that's the reason it's going to go very far." – Charles Krauthammer on "Special Report with Bret Baier" Watch video here.
Chris Stirewalt is digital politics editor for Fox News. Want FOX News First in your inbox every day? Sign up here.