Red-light reversal? Lawmakers push to rein in traffic cameras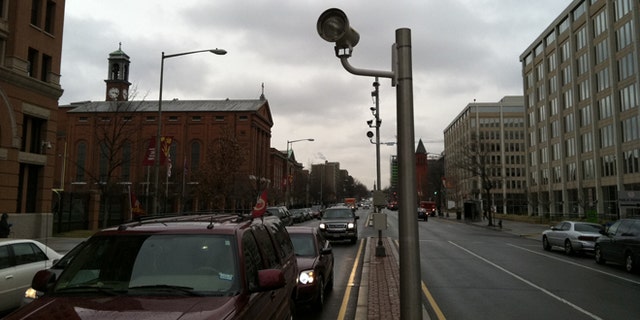 It's the technology that, for years, local officials embraced and drivers loathed.
Red-light cameras have steadily popped up across the country, snagging supposed scofflaws and generating untold numbers of traffic tickets. But despite the revenue boost, some state and local lawmakers are beginning to fall out of love with these electronic tattle-tales.
In Florida, a push to force the state to ditch its red-light cameras is gaining momentum in the legislature. The bill banning the recording devices comes just two years after lawmakers legalized their use on Florida streets. Last week, a House committee advanced the ban in a 10-8 vote, kicking it to the full chamber for a verdict.
Across the country, several states and cities are considering similar moves.
Ticked off by the red-light hall monitor, critics have questioned the motives behind the cameras and claim they were put in place to unjustly milk motorists and help cash-strapped local governments rake in revenue. They also argue the cameras don't cut down on accidents or illegal behavior and say alternatives – like lengthening the yellow-light duration – should be implemented instead. Major cities like Los Angeles and Houston in late 2011 abandoned their red-light camera programs, and some states are taking up the effort.
"Putting cameras on poles and taking pictures will not stop accidents," said John Bowman, communications director of the National Motorists Association.
Supporters, though, say the cameras help local law enforcement officials and are a safe and reliable way to monitor speed and other traffic violations.
Once a rarity, red-light cameras have popped up in 24 states and the District of Columbia.
[pullquote]
The cameras have brought in millions of dollars in profits which some say is part of the problem. In one New Jersey town, the police department issued 2,500 tickets at a single intersection in the first two months after a camera was put in place, according to Edmunds.com.
The statistics on whether the cameras help or hinder vary.
A 2012 Insurance Institute for Highway Safety study in Arlington County, Va., found significant reductions in red light violations at camera intersections one year after ticketing began. Violations occurring at least 0.5 seconds after the light turned red were 39 percent less likely than would have been expected without cameras. Violations occurring at least 1 second after were 48 percent less likely, and the odds of a violation occurring at least 1.5 seconds into the red phase fell 86 percent.
In 2011, the nonprofit group, which is funded by the insurance industry, found red-light cameras decreased fatal accidents by an estimated 24 percent in large cities that use them.
Bowman told FoxNews.com that despite the claims of companies that sell ticket cameras or studies backed by the insurance industry, there is no independent verification that red-light cameras improve highway safety.
Opponents also argue that the red-light cameras, which generate much-needed funds for communities, can open the door to corruption.
City officials in Chicago recently cancelled their contract with Redflex Traffic Systems after an investigation by The Chicago Tribune revealed that the Phoenix-based camera company spent thousands of dollars showering a former city official with gifts to score the lucrative account. The findings led Mayor Rahm Emanuel to ban the company from competing for a new camera program contract.
Redflex is one of the largest red light operators in the country. In 2011, it had 2,000 cameras operating in the U.S. and brought in more than $92 million in revenue, according to its annual report.
On Wednesday, the company announced it had fired its executive vice president and accused him of misconduct involving the Chicago scandal.
"This company has pledged to take corrective action regarding unethical employee conduct in Chicago," Robert DeVincenzi, CEO of parent company Redflex Holdings Ltd., said in a written statement to The Chicago Tribune.
Redflex's contract with Chicago is set to expire this summer.
New Jersey Assemblyman Declan O'Scanton says the Chicago scandal is just one more reason why the Garden State should ditch its program. Redflex and American Traffic Solutions are the two biggest vendors operating in the state.
New Jersey State Sen. Michael Doherty agrees.
"While it's easy for mayors and council members to be blinded by the flow of easy money into town budgets, red light cameras' money truly is blood money," Doherty said in a statement.
Earlier this week, the New Jersey legislature delayed a vote that would have barred the traffic cameras from issuing tickets for rolling right turns on red.
"The public knows that they're getting ripped off at these things every day," O'Scanton said
Calls to Reflex for comment were not immediately returned.