Rand Paul attack: Neighbors now casting doubt on 'landscaping dispute' story
NEWYou can now listen to Fox News articles!
More of Sen. Rand Paul's neighbors are speaking out and casting doubt on reports that a mere 'landscaping dispute' led to the attack a week ago that left the Republican lawmaker hospitalized with six broken ribs.
As the suspect -- 59-year-old neighbor and anesthesiologist Rene Boucher -- pleads not guilty to a single misemeanor assault charge, the motive for what Paul's office describes as a "blindside" remains a total mystery.
The New York Times initially reported neighborhood chatter suggesting a long-running landscaping disagreement led to last Friday's attack in Kentucky.
Boucher's attorney, Matt Baker, has insisted the incident had "nothing to do" with politics.
But neighbors now say the notion of a yard dispute gone wrong doesn't add up.
In an interview with Fox News, Paul's neighbor of 17 years, Dan Renshaw, a local car dealer in Bowling Green, was dismissive of reports that the incident stemmed from anything having to do with "lawn clippings," given the severity of the attack. He said U.S. Capitol Police have been to the neighborhood, signaling an intensifying local and federal investigation into last week's incident.
Further, Renshaw said his son-in-law -- who sits on a neighborhood board -- told him there's never been any reports of conflicts between the two men or any report of trouble from the alleged attacker.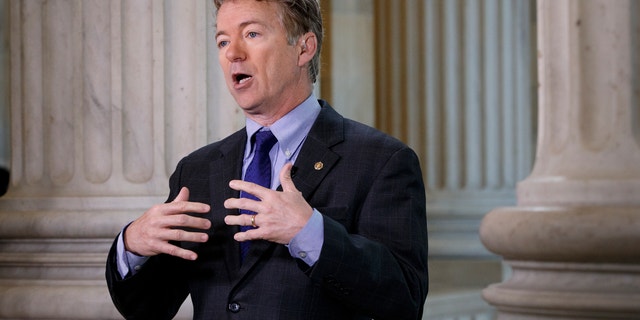 RAND PAUL'S OFFICE CALLS 'VIOLENT' ATTACK A 'BLINDSIDE,' KNOCKS DOWN REPORTS OF YARD DISPUTE
Paul's senior adviser Doug Stafford also disputed claims of a neighbors' quarrel on Thursday, issuing the senator's most detailed statement yet on the nature of the attack.
"Last week Senator Paul was vigorously assaulted by someone in his neighborhood. This is a serious criminal matter involving serious injury, and is being handled by local and federal authorities," Stafford said in a statement to Fox News. "As to reports of a longstanding dispute with the attacker, the Pauls have had no conversations with him in many years."
Stafford said the first so-called "conversation" with the attacker "came after Sen. Paul's ribs were broken."
"This was not a 'fight,' it was a blindside, violent attack by a disturbed person," Stafford said. "Anyone claiming otherwise is simply uninformed or seeking media attention."
Boucher's attorney told Fox News on Monday that Boucher and Paul have been neighbors for 17 years and were "prominent members of the local medical community and worked together when they were both practicing physicians." He said only that the dispute grew out of "a matter that most people would regard as trivial."
Neighbor Alicia Stivers told WKU Public Radio earlier this week she saw Paul after the attack, and he was having trouble breathing and talking and had lacerations on his face.
She said Boucher apparently mentioned something about Paul's trees being in the way when he's tried to sell his house. At the same time, she said she had never known the two men to complain about anything -- calling the attack out of the blue.
Shawn Parker, an HOA board member in the community, told the same station he doesn't know of any history of property disputes between the men.
Another neighbor, who requested to remain anonymous, disputed the buzz over landscaping in an interview with Fox News on Friday. The source said Paul and Boucher have not spoken for years, while expressing surprise over what happened.
"Dr. Boucher is a kind and gentle fella, I'm shocked," the neighbor told Fox News. "He's a caring person—really caring, and gentle."
The neighbor suggested the senator's "attitude" could have led to the attack last week.
"Rand is like—big me, little you—it's what we used to say when we were growing up," the neighbor said Friday, adding: "Rand may not even know why, but he had a reason. I'd say there was something brewing."
But what?
Yet another purported neighbor told the Courier Journal reports of a landscaping dispute are wrong.
Two neighbors in Paul's community told Fox News on Friday that Boucher was divorced from his wife, and lived alone at home.
On Thursday, Boucher and his attorney entered a not guilty plea in Warren County Circuit Court before Judge Brent Potter. Boucher currently faces a charge of misdemeanor fourth-degree assault, stemming from last week's attack.
Boucher and his lawyer agreed to a pre-trial conference scheduled for Nov. 30 to review the charges. The defendant is free on a $7,500 bond.
Meanwhile, the senator's injuries are worse than initially thought.
Paul shared a medical update on Wednesday saying he had six broken ribs and a "pleural effusion." A pleural effusion "is the build-up of excess fluid between the layers of the pleura outside the lungs," according to the Cleveland Clinic.
Paul's office initially said the senator broke five ribs after the incident.
As for the single misdemeanor charge, State Police told Fox News on Monday that in Kentucky, there is a statute that considers an assault a felony only if there is serious physical injury. Sources in Paul's office told Fox News' senior judicial analyst Judge Andrew Napolitano that the senator has been told to expect federal charges to be filed against his attacker.
Though the State Police was unable to provide Fox News a timeline for when their investigation will be complete, a spokesman said "it is up to Commonwealth prosecutors" whether Boucher's charges could change from misdemeanor to felony based on the severity of those injuries.
Fox News' Doug McKelway contributed to this report.