Professor Bernanke? Fed Chief Starts Lecture Series on Fed's Role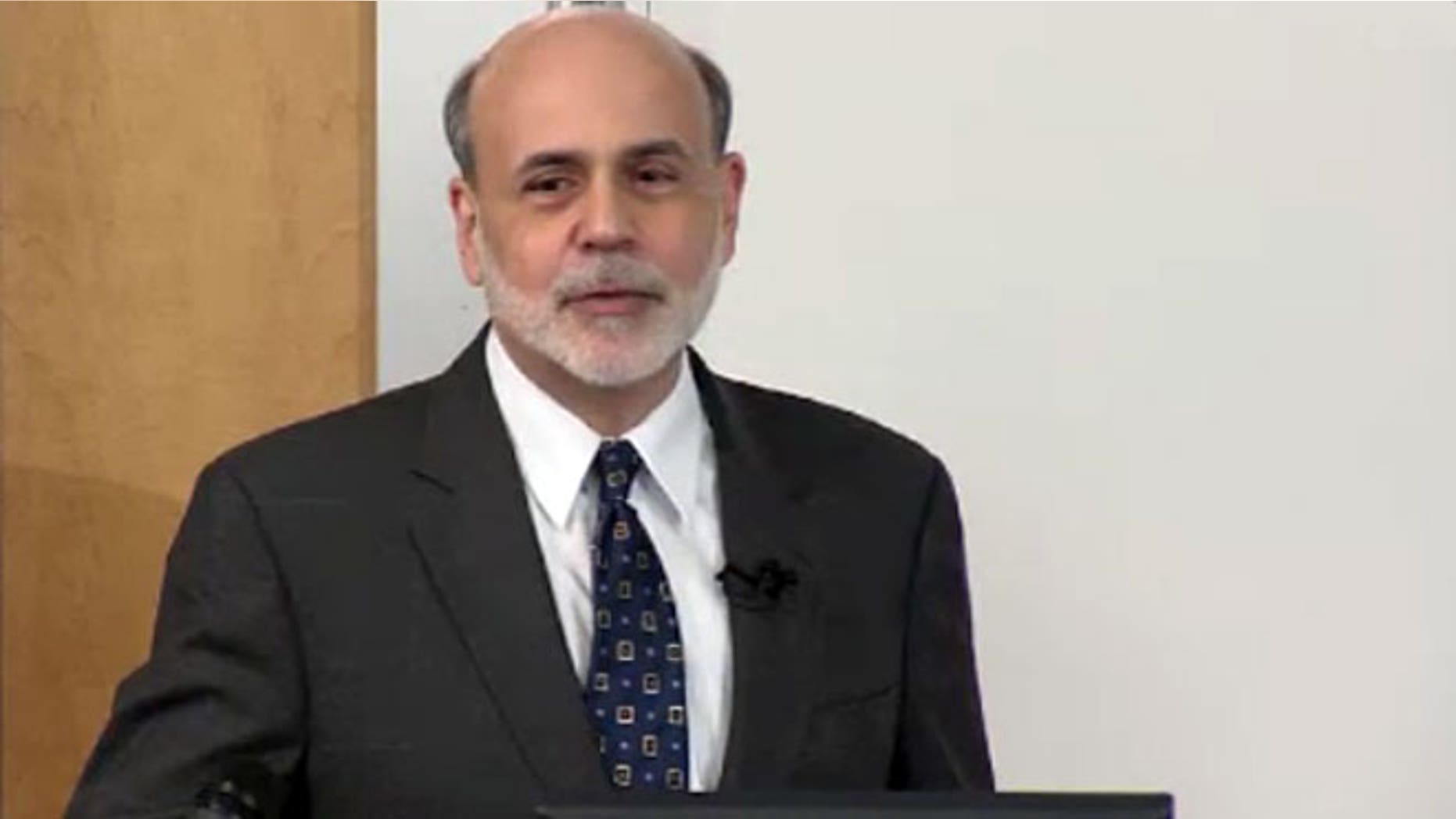 Well, he certainly looks the part.
Federal Reserve Chairman Ben Bernanke is guest lecturing for four days at a George Washington University undergraduate School of Business class called "The Federal Reserve and Its Role in Today's Economy."
Who better to bring in than the man who leads the central bank?
Bernanke, who has served as chairman since 2006, covered the origins and missions of the Federal Reserve in his first class Tuesday, and will move on to the central bank's role after World War II on Thursday, March 22. Bernanke referenced a PowerPoint presentation for about 50 minutes, and student questions filled the rest of the hour.
He started the lecture detailing the two major functions of central banks: macroeconomic stability and financial stability, along with what tools the Fed has at its disposal to tackle any instability.
He referenced the Christmas classic "It's a Wonderful Life" to explain runs on banks and how they can lead to widespread panic that can spread into other markets.
"Panics can be a serious problem, if one bank is having a serious problem, the bank next door can get worried, and a bank run can lead to a widespread panic,"  he said to the class of about 30 students.
Sticking with the movie theme, he explained how the Fed can help Jimmy Stewart by providing a short-term loan to calm any panic.
Bernanke moved on to explain the history and practice of the gold standard, and got a chuckle out of the crowd when he called the practice an "awful big waste of resources…moving gold from one hole to another."
Being a scholar of the Great Depression, the chairman spent the bulk of the lecture on the causes, failed policies and consequences of the era.  "The Federal Reserve failed in both parts of its mission," he said. "It did not use monetary policy to prevent deflation and the collapse in output and employment, and it did not adequately perform its function as lender of last resort, allowing many bank failures and a resulting contraction in credit."
In response to a student's question, Bernanke said one lesson of the Great Depression is not to reverse too quickly monetary and fiscal policies that help economic recovery.
More Visible Fed
The historically tight-lipped Fed has been ramping up its transparency and PR efforts recently by adding quarterly press conferences after its two-day policy meetings, and even added a new Twitter account (@federalreserve). As the economy continues to sputter and attacks against the central bank and its role grow louder, experts say this lecture series is more of a defensive play.
"There have been a lot of negative things being said about the Fed from all parties -- this is another way of making people more aware of what the Fed actually says and does and what it can and can't do," said Charles Geisst, financial historian and professor at Manhattan College. He added that a college setting is the appropriate environment to do so.
Of course, Bernanke is not new to the role of professor. He taught economics and public affairs at Princeton University from 1994 to 1996. His teaching career also included stints at Stanford University, New York University and the Massachusetts Institute of Technology. The chairman might also be able to relate to his audience on a more personal level: He recently testified on Capitol Hill that his son will graduate from medical school with about $400,000 of student loan debt.
The final two classes in the lecture series, March 27 and 29, will cover the 2008 financial crisis and the aftermath.