Pro-Trump firebrand Corey Stewart wins Virginia Senate primary, as crucial Nevada, North Dakota races take shape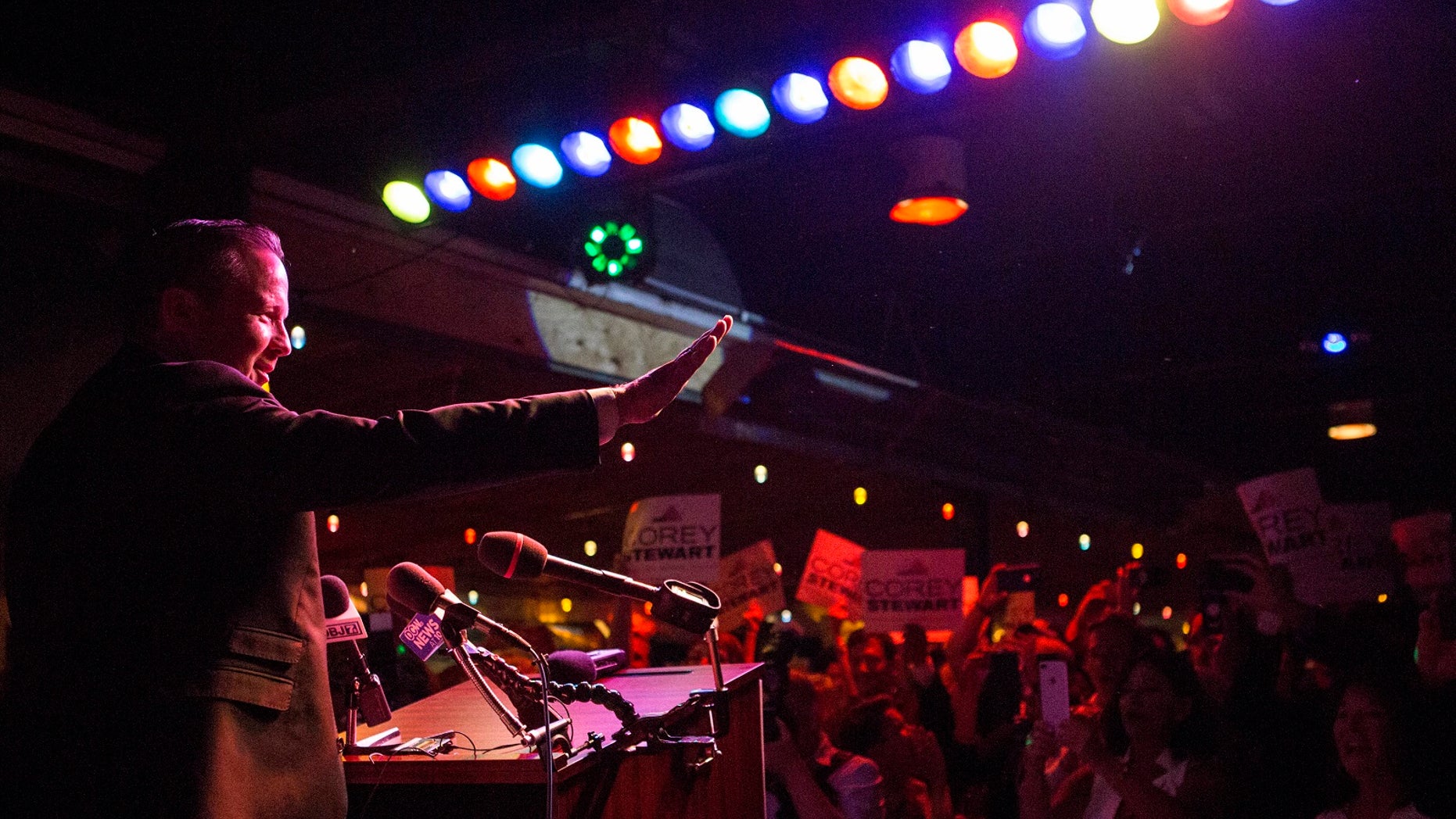 Corey Stewart, a pro-Trump firebrand and former state campaign chairman for Trump's presidential bid, on Tuesday won the Republican Senate nomination and will take on incumbent Democratic Sen. Tim Kaine in the November general election.
Stewart said he plans to campaign in a Trump-like way that appeals to blue collar voters across the political spectrum. He's also pledged to run a "ruthless" and "vicious" campaign against Kaine.
"We're going to have a lot of fun between now and November, folks," Stewart told a raucous crowd at his victory party Tuesday evening, amid chants of "lock her up."
Kaine, Hillary Clinton's running mate in 2016, has a significant fundraising advantage over Stewart.
Stewart's win was the second of the night for pro-Trump backers, after Mark Sanford, a persistent Trump critic who often sparred with the president, was unceremoniously unseated in the GOP primary in South Carolina.
ALSO ON TUESDAY: TRUMP-BASHER MARK SANFORD SUFFERS MAJOR PRIMARY DEFEAT IN S.C.
Meanwhile, the battle lines have been drawn in Nevada's pivotal Senate race, with incumbent Nevada Sen. Dean Heller set to face off in a highly competitive battle against Democratic Rep. Jacky Rosen in November.
"We're going to have a lot of fun between now and November, folks."
Heller, the only Republican seeking re-election in a state that Hillary Clinton carried in 2016, has been aggressively targeted by Democrats because his Senate seat is one of the handful that Democrats hope to flip later this year.
He sailed through to an easy primary victory only because of the President Trump's intervention. In March, Trump convinced GOP challenger Danny Tarkanian to drop his bid against Heller in return for a Trump endorsement in a House race.
In announcing her bid, Rosen, who beat out several Democratic challengers as polls predicted, has long highlighted the GOP's narrow majority in the Senate to emphasize the heightened national relevance of the race.
"This Senate seat couldn't be more important — already this year, Senator Heller has been a deciding vote to confirm Trump's deeply unqualified Education Secretary Betsy DeVos, to allow states to defund Planned Parenthood clinics, and to let internet providers sell your data to the highest bidder without your consent," Rosen told voters.
Heller was a past critic of the president but has become closer to him in recent months and helped deliver the overhaul of the U.S. tax codes to Trump's desk in December.
There was some vote-counting drama as the night unfolded in Nevada. Election officials in two counties said there were a small number of display problems in which some voters didn't initially see a complete list of candidates. Fewer than 30 voters were affected.
In North Dakota, meanwhile, former state Republican Party chairman U.S. Rep. Kevin Cramer has defeated a little-known opponent to win North Dakota's Republican primary for U.S. Senate.
He now faces a tougher campaign to unseat Democratic Sen. Heidi Heitkamp in a race seen as critical for control of the closely divided Senate.
The Associated Press contributed to this report.