Only 3% of State Supreme Court Justices in U.S. Are Latino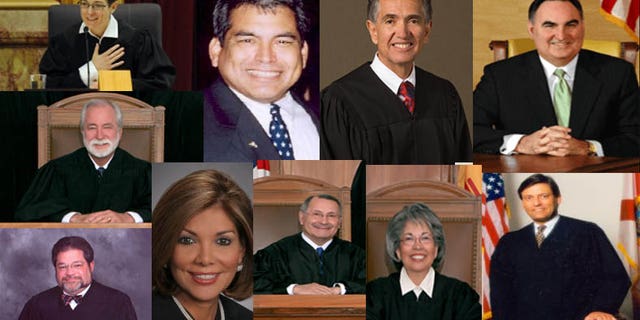 While Latinos make up 16 percent of the population of the United States, Latino judges make up only 3 percent of state supreme court justices across the country.
According to an analysis by Fox News Latino, only 10 out of a total of 326 state supreme court justices are Latino.
That number includes last month's retirement of California judge Carlos R. Moreno, but not that of New Jersey Supreme Court Justice Roberto Rivera-Soto, the first and only Hispanic justice on the state's highest court, who has announced that he will not seek re-nomination when his term ends in September.
The low number seems all the more significant now, on the heels of the newly released 2010 Census data that shows the Hispanic population at 50 million.
Latino leaders, including former Latino state Supreme Court justices, worry about the dearth.
"It is really important that the court ought to look like New Mexico," said former New Mexico Supreme Court Justice Joseph Baca, "or wherever the court is located."
According to the 2010 Census, Hispanics accounted for more than half of the U.S. population growth in the last decade. Despite such growth, the number of Hispanic justices on state supreme courts has not changed much. Back in 1990, the number of Hispanics on state supreme courts was six, only a few less than the current number of ten.
The lack of Hispanics on state supreme courts is especially a problem in the south. Despite significant Hispanic population growth since 2000 in states like Alabama, Arkansas, and Tennessee, these states still have no sitting Hispanic supreme court justices.
The current justices are concentrated in only six out of 50 states, with two in Colorado, two in Texas, and three in New Mexico. The three others come from New Jersey, Florida, and Oregon.
The justices are, in Colorado, Alex J. Martinez and Monica M. Marquez; in Florida, Jorge Labarga; in New Jersey, Rivera-Soto; in New Mexico, justices Patricio M. Serna, Petra Jimenez Maes, and Edward L. Chavez; in Texas, David Medina and Eva Guzman; and in Oregon, Chief Justice Paul De Muñiz.
The lack of diversity on state supreme courts worries many who say that diversity matters when it comes to judicial decisions.
"Diversity on the court is essential to ensuring that all perspectives and viewpoints are fully represented and considered during the deliberative process," the Hispanic Bar Association of New Jersey said in a statement.
Angelo Falcón, president and founder of the National Institute for Latino Policy, argues that having Latinos on state supreme courts is crucial because increasingly important decisions affecting Latinos are being made at the state level.
For instance, Wisconsin's bitter battle over the new law regarding collective bargaining power by unions is expected to be reviewed by the state Supreme Court.
"The states have become much more important in determining policy," Falcón said. "With all the contention about budget cuts, right-wing movements, anti-immigrant issues being dealt with at the state level – as in Arizona – the first line of defense could be the state Supreme Court."
What's more, he said, the state Supreme Court often serves as "the training ground, the feeder, for federal judgeships."
"People should not think that because a Latina, Sonia Sotomayor, reached the United States Supreme Court, that Latinos have reached parity," Falcón said. "There's a big gap in Latino representation in courts beneath the U.S. Supreme Court."
Former Justice Cruz Reynoso, the first Hispanic justice of the California Supreme Court, believes having a bench that reflects different experiences and perspectives is important to judicial decisions.
"Experience means a whole deal," Reynoso said. "Issues come up dealing with life and experiences. If you're Latino, you may or may not have different experiences than others. That is why it is important to have a representative judiciary."
Baca agreed.
"Law is law and that isn't going to change because you are Latino," Baca said.
However, he said if the court is not representative to the society it presides over, then decisions may be suspect and less likely to be embraced by the public.
"It's not a different decision" that necessarily would result from diversity, he said, "it's a wiser decision."
Some states use an appointment process to place justices on the state supreme court, while others use elections.
Reynoso suggested the reason the number of Hispanic justices in California is not proportional to the Hispanic population is that governors appoint Latino justices in proportion to the percentage of Latino attorneys, not the population as a whole.
"The reality is that is has to do with politics more than anything," Reynoso said.
Reynoso believes the low percentage of Hispanic attorneys in comparison to the population may be related to the relatively small number of Hispanic law students throughout the country. He speculates that the number of Hispanic law students may be low because Hispanics and African Americans tend to do less well on the Law School Admission Test, or LSAT, which he believes is a serious impediment.
Both Reynoso and Baca say some law schools are more concerned with pecking order and rankings, which are based on LSAT scores, than admitting a diverse group of students, which puts Hispanic students at a disadvantage.
But some Latinos challenge the assertion that a dearth of qualified candidates has contributed to the underrepresentation of Latinos on state supreme courts.
The New Jersey Hispanic Bar Association said it often sends names and resumes of highly qualified Latino attorneys to state agencies that are looking to fill positions. The association said it has done so for the seat on the New Jersey Supreme Court that will be left vacant when Rivera-Soto departs.
"There are plenty of people who are very highly qualified," Falcón said. "We have plenty of very good attorneys. The [pool] of qualified candidates has hardly dried up."
Follow us on twitter.com/foxnewslatino
Like us at facebook.com/foxnewslatino