Obamas under fire from the left for never ending, sizzling ultra-luxury vacations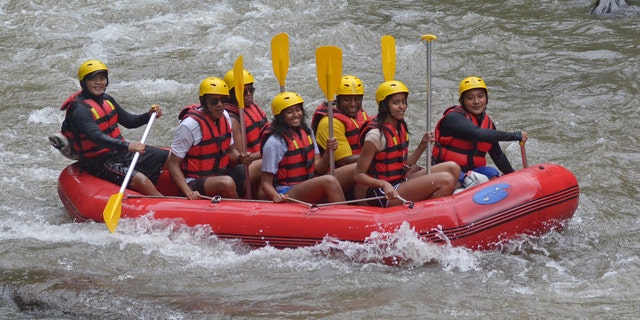 The Democratic base is growing increasingly frustrated with former President Barack Obama's actions after leaving office, including a seemingly endless tour of millionaire and billionaire luxury retreats, according to Democrats and activists contacted by Fox News.
Ex-presidents, understandably and un-controversially, go on vacations immediately after leaving office. But the level of luxury the Obamas enjoy on their vacations is unprecedented for a modern-day president, say travel experts.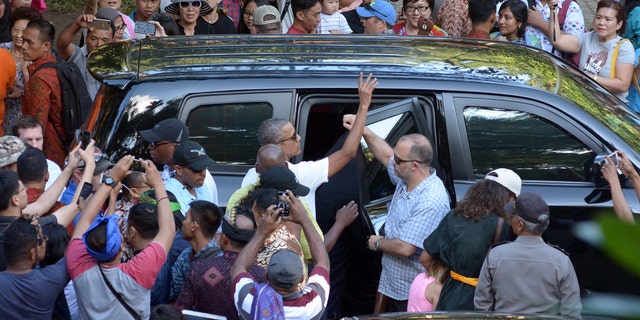 Since leaving office in late January, Obama has visited late actor Marlon Brando's private island; the Four Seasons in Bali -- where rooms cost upward of $2,000 per night; a Palm Springs estate; Sir Richard Branson's Necker Island; the exclusive Mid Pacific Country Club in Oahu; the 13th-century Borgo Finocchieto in Tuscany; and the Rising Sun, Hollywood studio mogul David Geffen's private yacht.
OBAMA BEGINS NOSTALGIC VACATION IN INDONESIA WITH HIS FAMILY
"These are some of the most luxurious travel destinations in the world. Many of our clients spend tens of thousands of dollars or more to stay at these resorts, which cater to the most discriminating and demanding guests," said Kendra Thornton, travel expert and owner of luxury travel agency Royal Travel. "For example, Necker Island has a nightly price tag of $80,000. Anyone who stays at these properties does so because they want the best of the best."
Fox News contacted the Borgo Finocchieto hotel. It's actually not really a hotel, at least of the kind ordinary travelers come to expect. It's a restored medieval hamlet with five villas and 22 bedrooms that can only be rented for a three-day minimum, in its entirety. Obama touched down at a nearby airport in a private jet escorted by six Eurofighter jets from the Italian Air Force. Presumably, the former president scored a deal on the stay since the Borgo Finocchieto is owned by one of his appointees, the former Italy Ambassador John Phillips.
"These trips are like the lifestyles of the rich and famous."
"These trips are like the lifestyles of the rich and famous," said Democratic strategist Pat Caddell. The former adviser to ex-President Jimmy Carter believes that President Obama's vacations are unprecedented, and a far cry from how Carter spent his first few months out of office.
OBAMAS JOIN RICHARD BRANSON FOR PRIVATE ISLAND GETAWAY
"I think the Bernie Sanders wing of the party, when they see President Obama, whom they instinctively want to defend being the corporatist president, I think it makes the base uneasy," said Caddell.
Left-wing activists told Fox News they are troubled by what they see as a trend by Obama to distance himself from the base of the party. It's not just vacations. The president also has enjoyed hefty fees for speeches to prominent Wall Street firms. It's all part of a trend, they say, of Obama trying to join the fabled 1 percent.
"Obama is not as wealthy or as conservative as Trump, George W. Bush, or George H.W. Bush, but he enjoys what used to be called 'the lifestyle of the rich and famous,'" said Dr. David Michael Smith of the Houston Socialist Movement. "I am not surprised by Obama's several recent foreign vacations. As president, he disappointed millions of supporters who hoped he would be a strong advocate for working-class people."
OBAMA SPOKESMAN DEFENDS REPORTED $400,000 WALL STREET-BACKED SPEECH
The left-wing media is also worried about Obama's luxury vacations.
"I'll tell you who should kick back a little less," said HBO host John Oliver in an interview with Seth Meyers on Late Night Monday. "This might be controversial – I'm a little sick of seeing photos of President Obama on vacation with Richard Branson. Just tone it down with the kite-surfing pictures. I'm glad he's having a nice time – America is on fire."
Oliver then pointed out that President Obama was accused of being out of touch with the American people during his presidency.
"I'm not sure he's ever been more out of touch than he is right now," Oliver said.
Those comments were made in February. So Oliver's advice apparently didn't slow down the Obama vacation schedule. He's in Bali this week.
The president's press team didn't want to go on the record since Obama is a private citizen and it doesn't comment on his personal schedule or private outings with his family.
But a former Obama White House official did tell Fox News that the president dedicated his entire career to working to "level the playing field and provide ladders of opportunity for those hardest hit by the economy."
One of the first actions after leaving office was to mentor young men from Chicago's south side who are in a job training program called "CRED," led by former Education Secretary Arne Duncan. The president also donated $2 million recently to help young people in Chicago get apprenticeships and summer jobs. The president is an avid supporter of the My Brother's Keeper initiative that aims to improve life outcomes for young men of color.
The Obama team also told Fox News that the president most recently released a Facebook post about the current debate in Washington around the future of health care.
"The Senate bill, unveiled today, is not a health care bill," Obama wrote. "It's a massive transfer of wealth from middle-class and poor families to the richest people in America."
Caddell, the Democratic strategist for former President Carter, said that's not enough.
"I think every time Obama opens his mouth, the fair question is: Which billionaire's paradise island did he do it from? When is he going to do anything to help people other than enrich himself?" Caddell said. "How can he possibly be doing things? How do you do things from Marlon Brando's island? It's in stark contrast to Carter."
And to former President George W. Bush. Asked how the 43rd president spent his first year after office, a person close to President Bush told Fox News: "He spent the first month in Crawford, Texas, where he started writing 'Decision Points.'"
Then, once their house in Dallas was ready, the Bushes settled there and started fundraising for the Bush Center and setting up policy programs of the Bush Institute. President Bush went on some speaking engagements handled by the Washington Speakers Bureau. And he and Laura vacationed with their family in Kennebunkport, Maine, and at the ranch in Crawford.
"Obama has a right to do whatever he wants," Caddell said. "But these trips really are a little bit rich."