Obama's second inauguration a small affair, though city expects businesses to profit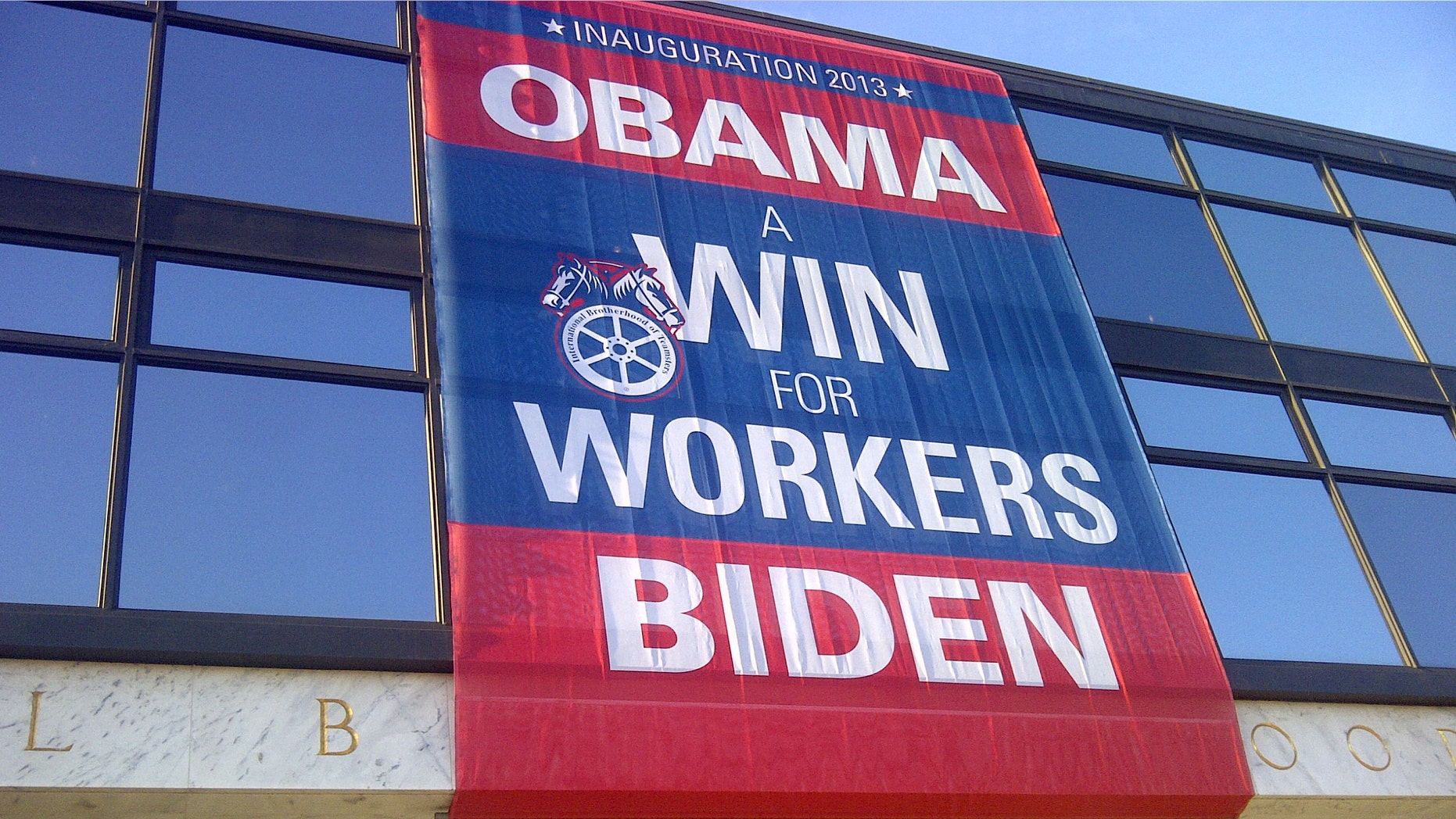 An Obama-Biden inauguration banner draped on the AFL-CIO headquarters is among the few noticeable signs in Washington that the president's second inauguration is just days away.
The enthusiasm of four years ago when Americans swore in their first black president has waned.
Officials project attendance will be less than half of the 1.8 million who packed onto the National Mall for the President Obama's first inauguration, and hotels still have vacancies.
Also this year, there will be just two official balls, down from six in 2009 and the fewest since Dwight Eisenhower was first sworn into office in 1953.
Still, officials and promoters say visitors continue to make hotel reservations at a steady pace and sellouts are likely before the Jan. 21 inauguration date.
"We're now in the booking sweet spot," said Kate Gibbs, a spokeswoman for Destination D.C., the non-profit group that markets District businesses.
Hotel occupancy on inauguration eve 2009 was 98 percent with guests paying more than $600 that night, according to STR, a company that tracks hotel data. However, the slower demand amid a still-struggling economy is expected to force hotels to lower minimum stays and reduced rates as inauguration day approaches.
Despite the enthusiasm gap, many of the city's posh hotels are still offering pricey packages.
At The Willard hotel, about a block from the White House, rooms were still available this week starting at more than $1,100 a night with a four-night minimum.
Gibbs says not everybody coming to Washington during the Martin Luther King Jr. holiday weekend will stay overnight, so advance reservations are not the only measure and restaurants and other businesses also will profit.
"Everybody needs a cup of coffee," she said.
There are options for overnight guests looking to spend less, too, though some wallet-friendly choices have filled quickly.
Rooms at HI-DC, a hostel in downtown Washington, were sold out the day after the Nov. 6 election, with a bed in a dorm room going for $50 a night and private rooms for $150.
Steve Kerrigan, president and chief executive officer of the Presidential Inaugural Committee, said that just because the festivities are going to be smaller does not mean they are going to be any less significant.
"What we've been seeing from the very beginning is a passion and energy for this inaugural because people want to be a part of history," he said.
City officials expecting 600,000 to 800,000 visitors on inauguration day, based on estimates from the Washington Metropolitan Area Transit Authority, which runs the country's second-largest rail system.
The agency broke all ridership records on Inauguration Day 2009 -- 1.54 million rides that included 1.12 million rail trips and 423,000 bus trips.
The larger of the two already-sold-out balls is called the Inaugural Ball and is expected to draw more than 35,000 people at the Washington Convention Center.
The second, the Commander In Chief's Ball, honors U.S. troops. It's being doubled in size from four years ago to about 4,000 participants and also will at the convention hall. Tickets were free to military guests. President George W. Bush started the tradition.
Among the performers scheduled to sing during the galas and a Jan. 19 children's concert are Katy Perry, Smokey Robinson, Usher, Alicia Keys and Brad Paisley.
They will join Beyonce, Kelly Clarkson and James Taylor who are scheduled to perform at Obama's signing ceremony on the west front of the Capitol.
Other signs that Washington is getting ready for the long weekend includes the construction of the Capitol stage and viewing stands along Pennsylvania Avenue for the parade -- from the Capitol to the White House. Street lamps will be removed, then replaced at the day's end.
The Associated Press contributed to this report.