Obama's Endorsements Fail to Lift Democrats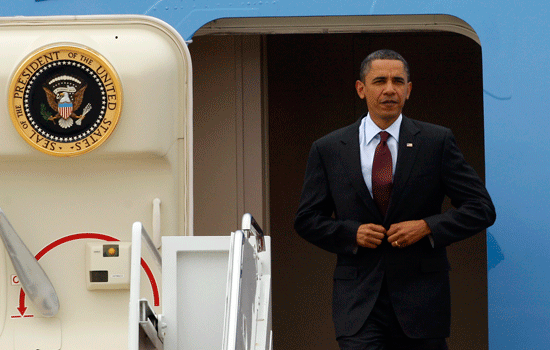 WASHINGTON -- If President Obama represents change you can believe in, Democrats on the campaign trail may want him to keep the change after considering his record as endorser in chief.
Just ask Jon Corzine, Creigh Deeds, or Martha Coakley – Democrats whose bids for office or re-election failed despite the president's endorsements and campaign appearances.
Just ask Arlen Specter, a five-term U.S. senator who switched from Republican to Democrat last year in hopes of keeping his Pennsylvania seat. On Tuesday, he became the fourth Democrat in seven months to lose a high-profile race despite Obama's endorsement and active involvement, raising doubts about the president's ability to help fellow Democrats in November.
"I don't know that he's the kiss of death. But at best, he's sort of like a kiss from your sister," said conservative columnist Jonah Goldberg, a Fox News contributor. "It's really all not that much fun and it invites awkward questions."
"Obama is the establishment right now … and the establishment is deaf, and being embraced by Barack Obama certainly hasn't helped any of these Democrats," Goldberg added. "And we know when he hugs you, as in the case of Charlie Crist, it is the hug of death."
It may appear that Obama has lost his mojo, despite his megawatt smile and vast reservoir of charm. But the truth is ... there's no evidence he ever had it – at least when it comes to getting other Democrats elected.
The first three candidates Obama stumped for  -- Gov. Corzine for re-election in New Jersey, Deeds for governor in Virginia and Coakley for senator in Massachusetts -- all fell to Republicans. But Specter's loss to Rep. Joe Sestak in  on Tuesday cast doubts on Obama's influence and popularity even within his own party -- and in a battleground state, closely divided between Democrats and Republicans, no less.
Campaign strategists said Wednesday that many congressional Democrats seeking re-election this year will probably tap Obama to raise money, record ads for black radio stations and perhaps highlight a key issue or two. But some, and perhaps many, will not seek presidential visits, and they will emphasize their own roles on issues such as job creation.
Obama remains generally popular, especially when compared to Congress or Republican leaders, said Jim Margolis, a Democratic consultant who worked on the president's 2008 campaign. But, he said, "what we've seen in many states is that his popularity doesn't necessarily translate into specific support for a particular candidate."
That's the case for all presidents, Margolis said, especially in midterm elections. "Where you get the pop is when you have someone at the top of the ticket" who can generate excitement and voter turnout for down-ballot candidates, he said.
But it's still a letdown for those who saw Obama as a charismatic president with broad coattails. And Obama's endorsement record thus far could hurt his legislative agenda if Democratic lawmakers decide they need some distance from him as they seek re-election. Conversely, it might embolden Republican lawmakers and candidates who oppose him.
Tea Party favorite Rand Paul, who won Kentucky's Republican primary for U.S. Senate on Tuesday, said he'd love to see the president campaign for Democrat Jack Conway in their battle to replace Sen. Jim Bunning, who is retiring.
"I say bring it on, and please please bring President Obama to Kentucky ….because he's incredibly unpopular here," Rand told Fox News.
Obama's track record also raises the question of whether he may hurt candidates he supports by motivating his foes -- such as Tea Party supporters -- to vote. Though this month's AP-GfK Poll shows Americans split about evenly over how he's handling his job, those strongly disapproving outnumber people who strongly back him, 33 percent to 22 percent -- not an enviable position for Democrats.
Creating another bruise for Obama and the Democratic establishment Tuesday, Sen. Blanche Lincoln was forced into a runoff in Arkansas' Democratic senatorial primary. Obama supports Lincoln's bid for a third term, but he is not as closely associated with her campaign as he was with Specter's -- or with Corzine's, Deeds' and Coakley's.
"I don't think the president has been able to help these candidates, but he's not the reason they lost," Democratic strategist Dan Gerstein told Fox News. "They lost because they were in a tough environment for Democrats and in many respects they were flawed candidates."
Matt Bennett, a Democratic strategist and vice president of the group Third Way, said he doubts that Democratic lawmakers will panic over Obama's inability so far to help Democrats clinch victories.
"Presidents have coattails when their names are on the ballot," Bennett said, and that can't happen for Obama until 2012.
The Associated Press contributed to this report.