Obamas eat at restaurant charging up to $500G for membership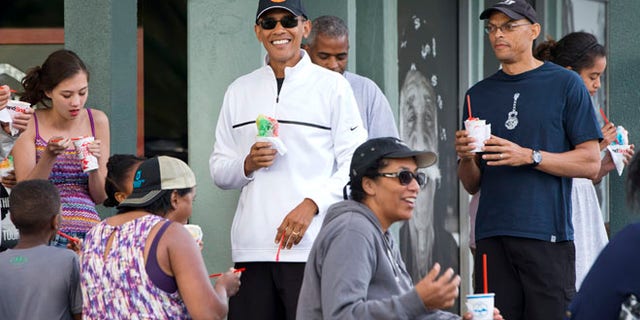 NEWYou can now listen to Fox News articles!
The Obamas are closing out their Hawaii vacation at one of the ritziest joints on Oahu.
President Obama and first lady Michelle Obama dined Thursday night for nearly three hours at Vintage Cave, an exclusive restaurant that charges up to $500,000 for membership.
According to the restaurant's website, guests are whisked into a "cave-like environment" and encouraged to "escape the ordinary." The Waikiki restaurant's interior is composed of granite "quarried in the mountains of India" and custom-crafted furniture in a space that evokes the "underground architecture of ancient Rome."
And the meal? About as fine dining as it gets. According to Honolulu magazine, the bill for two can approach $1,000.
The restaurant offers two tiers of memberships: $500,000 for a "charter member,' and $50,000 for a "special member."
The perks include access to a private wine cellar, discounts and use of the restaurant for private functions. Members can also invite non-members -- though it's unclear whether anybody sponsored the president and first lady as their guests.
The meal capped a Hawaiian-style day for the Obamas that included snorkeling at Hanauma Bay. They spent more than four hours at the site, which was closed to the public. The Obamas visit nearly every year.
Later, the family stopped in nearby Kailua for shave ice. Obama wished his fellow customers a "Happy New Year" before heading back to his rented vacation home and then dinner.
His annual two-week vacation in Hawaii wraps up this weekend.
The Associated Press contributed to this report.