Obama's 'Better Half' Hits Campaign Trail for Endangered Dems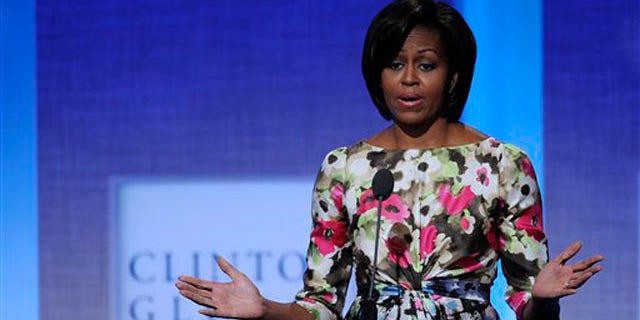 Taking the stage before his wife at a global economic development event in New York Thursday, President Obama said, "I am here to introduce my better half."
His better half soon will be front and center on the campaign trail.
Beginning mid-October, first lady Michelle Obama will be stumping for Democratic candidates across the country, several of them in danger of losing to Republicans in the midterm elections.
The candidates include Wisconsin Sen. Russ Feingold; Alexi Giannoulias, who is running for President Obama's old Senate seat in Illinois; Colorado Sen. Michael Bennet; Washington Sen. Patty Murray; House Speaker Nancy Pelosi; and California Sen. Barbara Boxer.
Political analyst Larry Sabato said several of these races are must-wins for Democrats.
"They know if, for example, Patty Murray or Barbara Boxer go down on election night, they know they've almost certainly lost the Senate," said Sabato. "If they can hold both Murray and Boxer, they're in much better shape."
It's certainly not unusual for first ladies to campaign during midterm elections, and this first lady is no stranger to the election trail. She stirred some controversy in February 2008, while talking about her husband's candidacy for president.
She said then, "For the first time in my adult life, I am proud of my country because it feels like hope is finally making a comeback."
But as first lady, Obama, who in a recent AP poll had a 68 percent favorability rating, has focused on a platform of healthy eating and physical fitness for kids.
A spokeswoman for the first lady, Stephanie Cutter, said she will approach campaigning "as a mom, and that's the lens through which she sees the world and that's her test for every issue -- what it means for her daughters and all of our kids."
Sabato, who expects that Obama will stick to scripted, positive remarks, said, "If the White House does it right, the first lady doesn't do hard-core partisan politics. She says nice things about the candidate she's with, she doesn't attack the other party or the opponent."
Still, a campaign stop by the first lady gives GOP candidates, including California Senate Republican candidate Carly Fiorina, a chance to suggest that their Democratic opponents must need help.
Julie Soderlund, Fiorina's deputy campaign manager, said that Senate race "remains in a dead heat in a state that's as blue as blue can be.
"I think the reality is that Harry Houdini couldn't give the illusion that Barbara Boxer has been a successful senator," she said.
The Boxer campaign has said that it is "thrilled" that Obama will be there to "urge Californians to go to the polls."