Obama to Return to Gulf to Evaluate Effort to Contain Oil Spill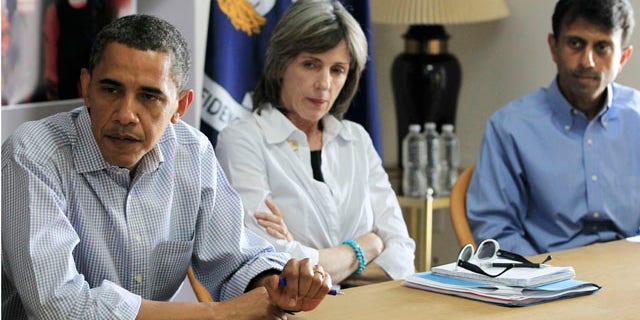 NEWYou can now listen to Fox News articles!
President Obama will return to the Gulf Coast next week for a two-day update on the Gulf oil spill, reacting to Americans' rising frustration with the government's response to the disaster.
On the other end of Pennsylvania Avenue, House Speaker Nancy Pelosi gave fellow Democrats a strict deadline Tuesday to act on oil spill legislation. Joining Obama's moves to go on the offensive, Pelosi told her committee chairmen to produce legislation by July 4 to cope with the spill and prevent future environmental disasters.
The chairman of the House Energy and Commerce Committee, which is investigating the explosion on the Deepwater Horizon rig, asked the U.S. Chemical Safety Board to do the same. In a letter Tuesday from the chairman, Rep. Henry Waxman, D-Calif., and Bart Stupak, D-Mich., chairman of the oversight and investigations subcommittee, the lawmakers asked the board to consider, among other things, the corporate safety culture of BP, which owns the blown-out well; what role, if any, cost-cutting may have been involved in well design and testing; BP's oversight of subcontractors, and whether any parallels could be drawn between the causes of the Deepwater Horizon blast and a 2005 BP Texas City refinery explosion.
Chemical Safety Board Chairman John Bresland said he is committed to having his small but aggressive agency investigate the Deepwater Horizon accident. But first he will check with his two fellow board members to identify the resources needed to do the job.
The safety board investigated the Texas City refinery accident, where 15 workers were killed, and issued a scathing report faulting BP management.
In March, Bresland in a statement commemorating the fifth anniversary of the accident, said, "We found organizational and safety deficiencies at all levels of the BP Corp."
"Our investigation team turned up extensive evidence showing a catastrophe waiting to happen," Bresland said in March. "That cost-cutting had affected safety programs and critical maintenance; production pressures resulted in costly mistakes made by workers likely fatigued by working long hours; internal audits and safety studies brought problems to the attention of BP's board in London, but they were not sufficiently acted upon. Yet the company was proud of its record on personnel safety."
The White House said Obama would spend Monday and Tuesday in Mississippi, Alabama and Florida -- three states whose shores and economies are being affected by the worst environmental disaster in U.S. history.
The trip will be Obama's fourth to the region since the deep-sea leak began April 20 with the explosion of an oil rig leased by BP. All the president's previous trips, the most recent on Friday, have been to Louisiana and none have kept him in the area overnight.
Under Pelosi's schedule, the House would act on the bills before Congress' summer recess, set to begin Aug. 9.
Pelosi and Democratic committee chairmen said legislative reforms could address changes in the Interior Department's Minerals Management Service, which has been too close to the companies it's supposed to regulate, a huge increase in the $75 million federal liability cap for spill damages under federal law, increased protection of oil industry workers and better readiness and response times.
Pelosi and other Democrats support removing the $75 million liability cap entirely, something the White House said Tuesday it supports.
Meanwhile, Senate Democrats on Tuesday proposed a fivefold increase in the tax that oil companies pay into a spill liability fund. The legislation would raise the tax on oil produced offshore from 8 cents to 41 cents per barrel -- 7 cents higher than legislation that passed the House last month.
On a day when Obama said he had met with fishermen and oil spill experts "so I know whose ass to kick," Pelosi sat around a table with the chairmen as they took turns making oil giant BP -- and Republicans -- the enemy. Many Democrats face tough off-year elections at a time many Americans are frustrated with the slow response in containing the spill.
Pelosi said, "Democrats tried to rein in big oil over time" while Republicans "have always protected big oil."
Rep. Edward Markey, D-Mass., said BP officials were either "lying or grossly incompetent" when they initially gave lowball numbers for the gallons of oil leaking into the Gulf.
"They were trying to lower their liability," said Markey, chairman of a special committee on energy independence and global warming. "They get fined per barrel per day. They got lawyered up. They were told not to tell the truth."