Obama Tells Supporters to 'Shake Off' Frustrations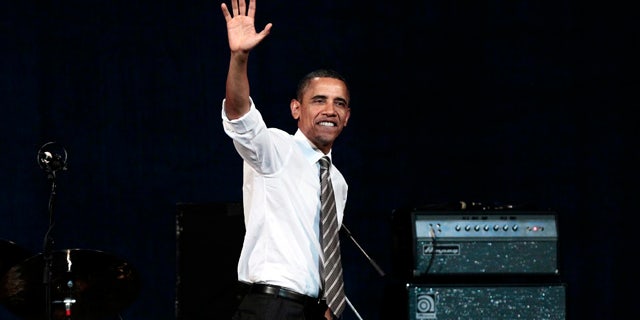 SAN JOSE, Calif. – As he kicked off a three-day swing through the West aimed in part at firing up his liberal base and raking in millions of dollars for his 2012 re-election campaign, President Obama claimed his first term has been a success even as he urged supporters for the second straight day to "shake off" their frustrations in order to help give him a second term in office.
"I need you guys to shake off any doldrums," Obama said Sunday at the second of two fundraisers in Seattle before jetting here to San Jose for two more fundraisers. "I need you to decide right here and right now, talk to your friends and neighbors and co-workers and tell them, 'You know what? We're not finished yet.'"
Obama struck a similar tone in rallying liberal supporters on Saturday night in Washington, DC, when he spoke at the Congressional Black Caucus Foundation's Annual Phoenix Awards dinner before heading out West on Sunday.
"I expect all of you to march with me and press on," Obama said to applause. "Take off your bedroom slippers, put on your marching shoes. Shake it off. Stop complaining, stop grumbling, stop crying. We are going to press on."
In Seattle on Sunday, Obama was just as aggressive in asserting his first term has been successful as he claimed that he has accomplished the vast majority of what he wanted to get done.
"We're just starting off here, we've got 14 months," Obama said about his first term in office, urging supporters to help spread the message that it's not a failure he's only gotten 80 percent of what he wants done so far.
"That's a success," Obama said, adding that it should be an inspiration to get the other 20 percent of his agenda done. He was speaking at a brunch at the home of a former Microsoft executive closed to television cameras that raked in $35,800 per couple.
At the second fundraiser in Seattle, Obama pressed Republicans to help pass his latest economic plan, saying it's a choice between his approach or the nation going back to the "same ideas the other side is peddling -- old, worn-out ideas from last decade" that gave the upper hand to the wealthiest corporations and individuals.
Obama was speaking at the famed Paramount Theatre in Seattle to a packed fundraiser of roughly 1,700 people, including basketball legend Bill Russell. Donors paid a minimum of $100 a ticket for the event but some paid up to $7,500 for special privileges such as getting a photo with the president.
In opening remarks at that fundraiser, Russell asserted that Obama had "inherited a 'Great Recession'" but now "sadly some people want to blame this president for that mess."
Obama's efforts to rally his base this weekend came as The Washington Post reported his re-election campaign is launching an effort known as "Operation Vote" to help rally core liberal supporters who may be less enthusiastic than they were in 2008.
The latest approach also comes just days after White House Communications Director Dan Pfeiffer told the New York Times that the White House that the phase of legislative compromise "is behind us" as the president sells his $447 billion jobs plan across the nation.
"The popular narrative is that we sought compromise in a quixotic quest for independent votes," Pfeiffer said. "We sought out compromise because a failure to get funding of the government last spring and then an extension of the debt ceiling in August would have been very bad for the economy and for the country. We were in a position of legislative compromise by necessity. That phase is behind us."
After two more fundraisers here in San Jose late on Sunday night, the president will hold fundraising events on Monday in San Diego and Los Angeles. In all, Democrats officials are expecting to raise over $8 million over the course of the two days.
Obama is also mixing in a town hall event Monday morning focused on jobs with the professional networking website Linked In. He wraps up the trip Tuesday in Denver with remarks at a high school before returning to Washington.
The mixture of official business with fundraising events allows the cost of the trip to be split between taxpayers and campaign committees, a practice that has long been used by Democratic and Republican presidents.
Ed Henry is Fox News' chief White House correspondent.