Obama Steps Up Pressure On House To Pass Immigration Reform Bill This Year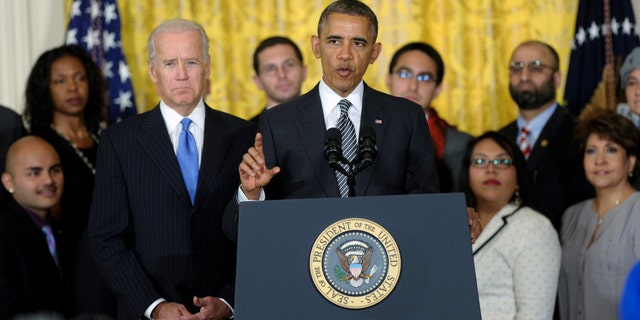 With few legislative days remaining this year, President Barack Obama called on Congress on Thursday to pass a comprehensive immigration reform bill by December.
Obama said the partial government shutdown, which was commanding Congress' attention, was over, and that there was no excuse for delaying action on an issue which has been debated for years.
"This is not just an idea whose time has come; this is an idea whose time has been around for years now," Obama said at a press conference in the White House East Room. "Leaders like all of you have worked together with Republicans and Democrats in this town in good faith for years to try to get this done, and this is the moment when we should be able to finally get the job done."
"It's good for our economy," he added, "It's good for our national security. It's good for our people. And we should do it this year."
Obama, who has had an acrimonious relationship with many congressional Republicans, stressed the importance of the GOP and Democrats working together on the measure.
He held up the Senate, which in June passed a bipartisan immigration reform bill, as an example of how it could, and should, be done.
But many view a bipartisan House effort on comprehensive immigration reform, which would include tightened border security as well as a path to legal status for undocumented immigrants, as a lofty goal that will be difficult to meet given the staunch opposition of many House Republicans.
Many conservative Republicans in the House are opposed to providing any kind of break to people who are living here illegally, saying that it rewards law-breakers and encourages more illegal immigration. Most House Republicans want a piece-by-piece approach.
Obama seemed to address those conservatives by stressing that a path to legal status would have strict criteria.
"It would make sure that everybody plays by the same rules by providing a pathway to earned citizenship for those who are here illegally, one that includes passing a background check, learning English, paying taxes, paying a penalty, getting in line behind everyone who is trying to come here the right way," he said.
While immigration remains one of Obama's top second-term priorities, the issue has been overshadowed for months, most recently by the 16-day partial government shutdown. The president's shift to a greater focus on immigration came as the White House was seeking to shift the conversation away from the deeply problematic rollout of Obama's health care law.
The White House was buoyed by comments this week from House Speaker John Boehner, R-Ohio, who said he was optimistic his chamber could act on immigration by year's end. But Boehner has long had trouble rallying support from the conservative wing of his caucus and it's unclear whether he can get their backing for the comprehensive bill Obama is seeking.
One organization that advocates for a path to legal status said the president could exercise authority to address some problems with the immigration system.
It blamed him for the record number of deportations – almost 2 million – during his tenure.
"By reducing deportations, and by making clear that legalization will no longer be a bargaining chip for nasty, unnecessary enforcement, the president would strengthen the hand of those currently negotiating in Congress," said Pablo Alvarado, executive director of the National Day Laborer Organizing Network, which has organized protests in recent weeks. "The President must lead through actions not just words on immigration."
The Associated Press contributed to this story.