Obama observes Memorial Day at Arlington as VA scandal grows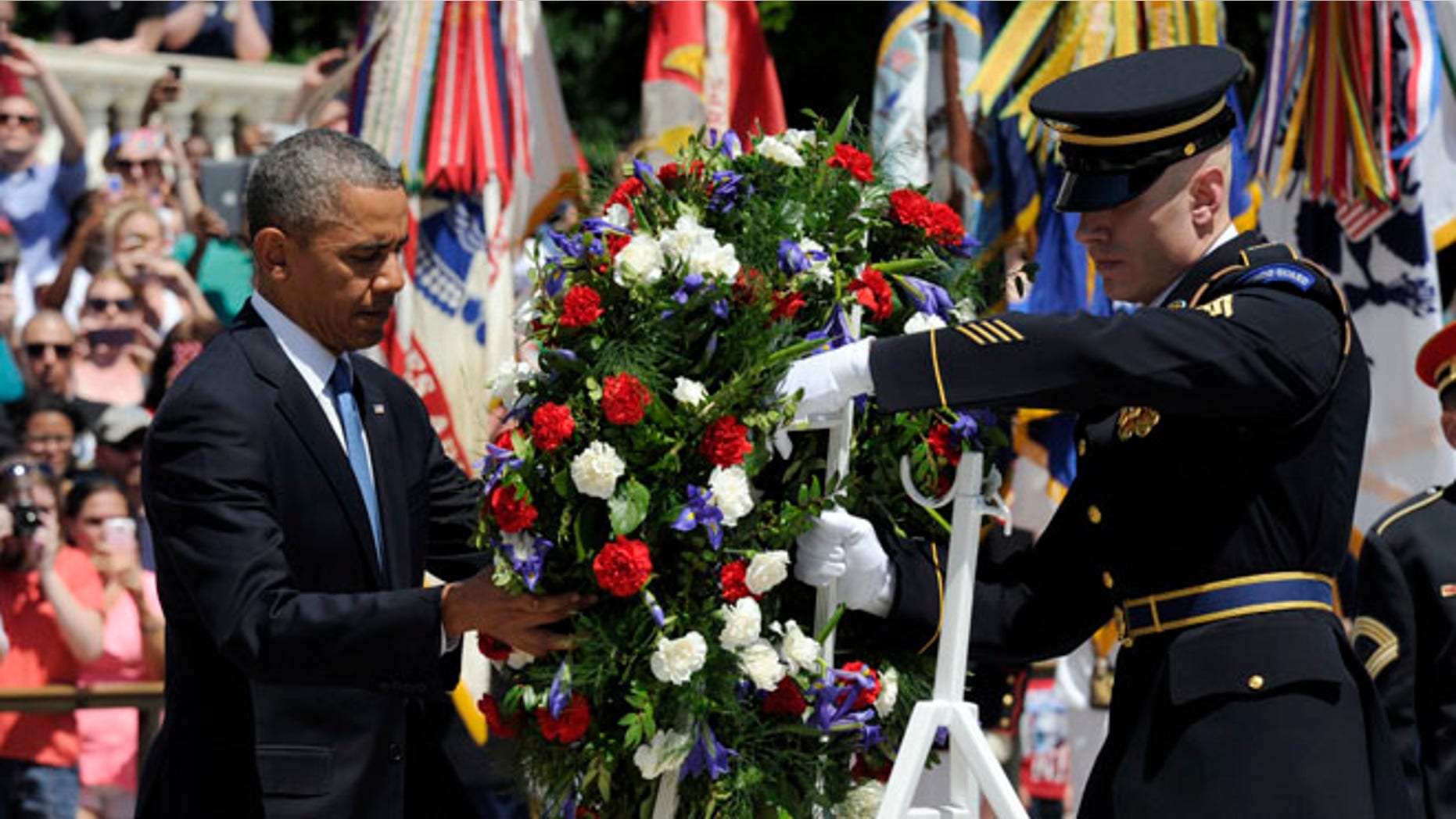 President Obama, back in the nation's capital following a surprise trip to visit U.S. troops stationed in Afghanistan, said Monday the country "needs to do more to ensure veterans and families get the care and benefits they deserve."
Speaking at Arlington National Cemetery, the president praised veterans from all the nation's wars.
"Everything that we hold precious in this country was made possible by Americans who gave their all," he said during his speech.
While the president did not specifically mention the growing scandal at the Department of Veterans Affairs over long wait times and secret record-keeping, he did say the country needed to do more for veterans.
He added, "These Americans have done their duty."
But others, like the American Legion, say the growing scandal at the VA has tarnished this year's memorial services.
Verna Jones, director of veteran's affairs and rehabilitation at the American Legion National Headquarters, says the VA scandal "is leaving a black eye every day for veterans."
"Veterans are losing faith in the system," Jones said.
According to various media reports at VA hospitals and clinics across the country, more than three dozen veterans have died while waiting for care.
The president was joined by first lady Michelle Obama and Vice President Joe Biden and his wife, Jill, at the solemn ceremony across the Potomac River from the White House on the hallowed grounds of Arlington National Cemetery in Virginia.
The remembrance was for the war heroes of yesteryear as well as servicemen and women stationed around the world. It was carried out in idyllic weather under cloudless skies and a brilliant sunshine. The national observance was to be matched by parades, picnics and speeches across the country.
Before his remarks, the president laid a wreath at the Tomb of the Unknown Soldier at Arlington National Cemetery.
More than 220,000 flags have been placed in front of the graves at Arlington – a tradition that dates back to 1868 to honor those killed during the Civil War. After WWI, "Decoration Day" as it was called expanded to honor men and women killed in the U.S. armed services in all conflicts.
Preceding Obama to the microphone, Defense Secretary Chuck Hagel, himself a military veteran, noted this year's remembrance came with the approaching 70th anniversary of America's D-Day landing in Normandy, France. And Gen. Martin Dempsey, chairman of the Joint Chiefs of Staff, said "America's sons and daughters are still out there today on the frontiers of our common defense."
Earlier this weekend, the president paid a surprise visit to service members in Kabul, Afghanistan, promising troops that the war in Afghanistan will come to a close by the end of the year. He also told the troops that the war is at a pivotal moment with Afghan forces on schedule to take over primary responsibility for the security of the country.
The Associated Press contributed to this report.