Obama Nominates Elena Kagan for Supreme Court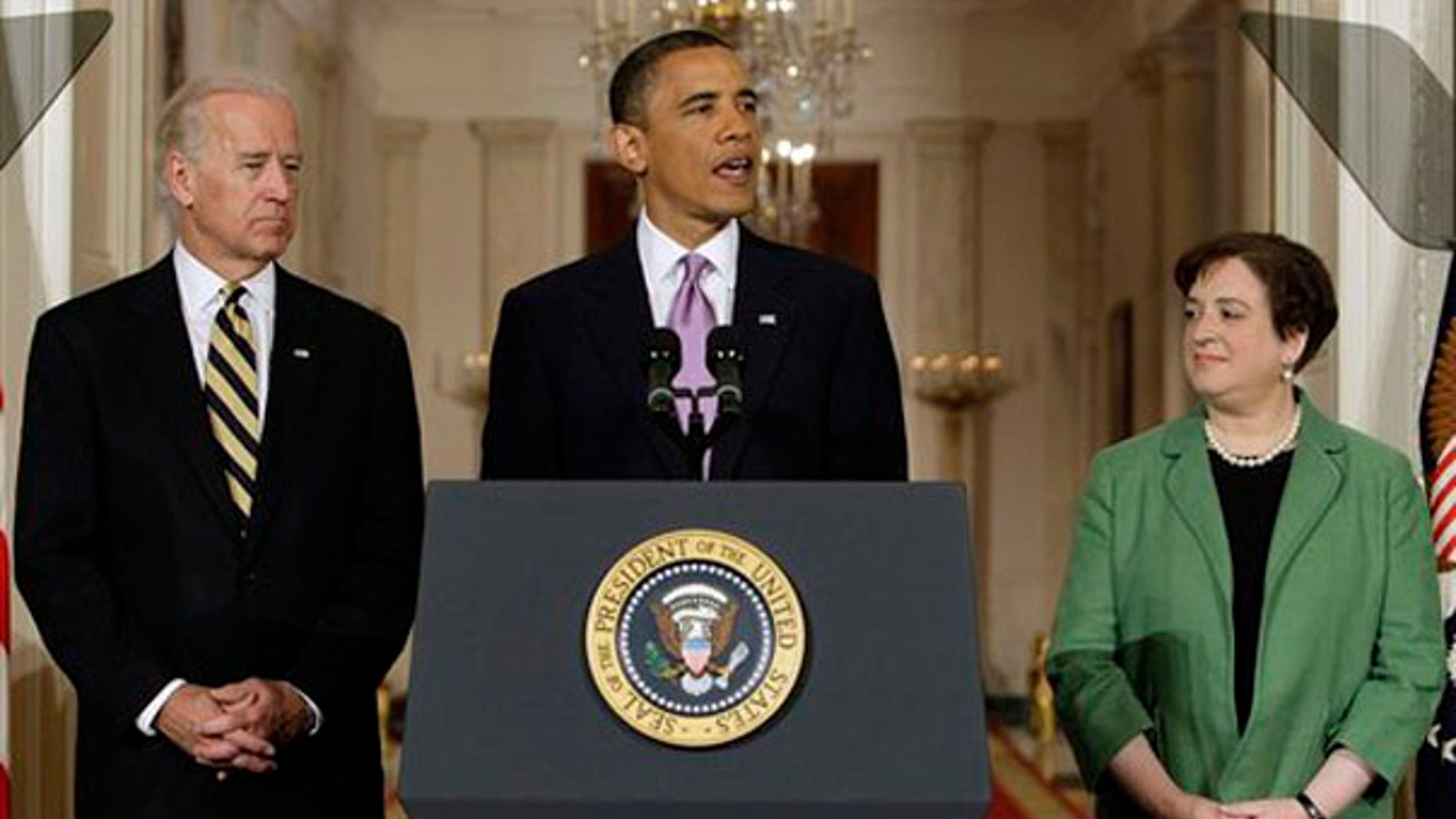 Let the examination begin.
Senators pledged to scrutinize Solicitor General Elena Kagan in the weeks ahead after President Obama on Monday nominated her to the Supreme Court, choosing a candidate with no judicial experience but a reputation as a consensus-builder to succeed retiring Justice John Paul Stevens.
Calling Kagan a "trailblazing leader," the president praised her as a "superb" solicitor general and a "beloved" former dean of Harvard Law School. He acknowledged her background in academia but said her experience and passion for the law are not confined to campus.
"Elena is widely regarded as one of the nation's foremost legal minds," Obama said, calling for the Senate to act in a swift and bipartisan fashion.
The selection of Kagan reflects the president's desire to nominate someone who has already been vetted and confirmed by the current Senate. Kagan earned modest Republican support when she was confirmed by a vote of 61-31 last year for solicitor general.
Kagan, calling it a "special honor" to be nominated to fill Stevens' seat, said Monday that she looked forward to working with the Senate in the weeks ahead. She described her term as solicitor general as "the most thrilling and the most humbling task a lawyer can perform."
She is known as sharp and politically savvy. At 50 years old, Kagan would be the youngest justice on the high court, giving her an opportunity to extend Obama's legacy beyond his administration.
Though her nomination signals that Obama is looking to avoid a protracted fight with the Senate over her confirmation, some groups and lawmakers have raised concerns about Kagan's history.
One trouble spot will likely be her lack of a paper trail -- Kagan has never judged a case in her life. This could shorten the amount of time the Senate Judiciary Committee takes to review her record in advance, but lead to heavy questioning at the hearing.
"Given that Ms. Kagan does not have a judicial record, it will be especially important for senators to inquire as to her views on the Constitution and the role of the court," Sen. John Thune, R-S.D., said in a written statement.
Still, some lawmakers since last year have called for Obama to choose a nominee from outside the appeals court system, and her background could give her valuable outsider status. She received widespread praise from Senate Democrats on Monday, and Majority Leader Harry Reid called her a "worthy nominee."
The last high court nominee with this profile was David Souter, who had a strong history in New Hampshire state law but no record to speak of on federal law. The last two without any judicial experience were William H. Rehnquist and Lewis F. Powell Jr., both of whom joined the court in 1972.
The focus of much early criticism will be Kagan's attempt at Harvard to keep military recruiters off campus because of objections over the Pentagon's "Don't Ask, Don't Tell" policy barring gays from serving openly in the military. Kagan signed a friend-of-the-court brief to the Supreme Court arguing against a Clinton-era law mandating that college campuses that accept federal funding also allow military recruiters. The Supreme Court ruled unanimously against Kagan's position and in favor of the law.
Despite her lack of a judicial record, Kagan has an impressive resume.
She clerked for Justice Thurgood Marshall, worked for President Clinton and earned a stellar reputation as a student, teacher and manager of the elite academic world. Her standing has risen in Obama's eyes as his government's lawyer before the high court over the last year.
She was the first female dean of Harvard Law School and first woman to serve as the top Supreme Court lawyer for any administration.
The three finalists she beat out for the nomination are all federal appeals court judges; all nine of the current justices served on the federal bench before being elevated.
Kagan's fate will be up to a Senate dominated by Democrats, who with 59 votes have more than enough to confirm her, even though they are one shy of being able to halt a Republican stalling effort.
For the second straight summer, the nation can expected an intense Supreme Court confirmation debate; but barring a surprise, Kagan is likely to emerge as a justice.
Republicans have shown no signs in advance that they would try to prevent a vote on Kagan, but they are certain to grill her in confirmation hearings over her experience, her thin record of legal writings and her objections to the military's policy about gays.
When she was confirmed as solicitor general in 2009, only seven Republicans backed her.
Democrats went 15 years without a Supreme Court appointment until Obama chose federal appellate judge Sonia Sotomayor last year to succeed Souter. Just 16 months in office, Obama has a second opportunity with Kagan, under different circumstances.
Obama's decision last year centered much on the compelling narrative of Sotomayor, the first Hispanic Supreme Court justice, who grew up in a housing project and overcame hardship.
Kagan, who is unmarried, was born in New York City. She holds a bachelor's degree from Princeton, a master's degree from Oxford and a law degree from Harvard.
She and Obama both taught at the University of Chicago Law School in the early 1990s.
In her current job, Kagan represents the U.S. government and defends acts of Congress before the Supreme Court and decides when to appeal lower court rulings.
Kagan would be the fourth woman to serve on the Supreme Court, following current Justices Ruth Bader Ginsburg and Sotomayor and retired Justice Sandra Day O'Connor. If Kagan is confirmed, it will be the first time there are three women on the court.
She also would be the third Jewish justice, along with six Catholics. With Stevens' retirement, the court for the first time will have no Protestants, the most prevalent denomination in the United States.
Fox News' Lee Ross and The Associated Press contributed to this report.