Obama Nominates Clinton-Era Budget Director Lew to Replace Orszag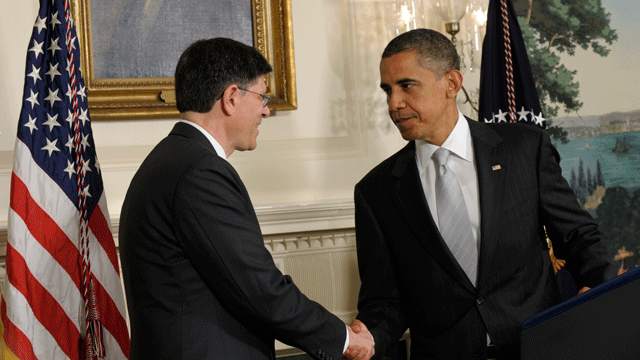 WASHINGTON -- President Obama on Tuesday nominated Jacob Lew to serve as director of the Office of Management and Budget, saying Lew's experience as budget director in the Clinton administration would have earned him a place in the hall of fame for budget directors if one existed.
"When Jack left that post at the end of the Clinton administration, he handed the next administration a record $236 billion budget surplus," Obama said at the White House Tuesday in announcing Lew's nomination, adding that Lew is "somebody who has proven himself already equal to this extraordinary task."
Current projections show unsustainably large deficits predicted for the coming decade, but the administration has not devised a plan to wrestle them under control, instead pinning its hopes on a bipartisan fiscal commission that many believe is doomed to election-year gridlock.
"Jack's challenge over the next few years is to use his extraordinary skill and experience to cut down that deficit and put our nation back on a fiscally responsible path and I have the utmost faith in his ability to achieve this goal as a central member of our economic team," the president said.
Lew currently serves as the Deputy Secretary of State for Management and Resources.
If confirmed, Lew would replace current OMB director Peter Orszag, who is stepping down this month. Obama paid tribute to Orszag for his role in helping pass the administration's massive economic stimulus package and the controversial health care legislation.
Orszag issued a statement praising Lew, whom he says he has known for more than a decade.
"With his experience, mastery of the budget process and passion for public service, Jack Lew is an individual especially qualified to serve the president and the American people during these challenging economic times," he said. "I congratulate Jack on his selection, and will do what I can to support him, the economic team and the president as they work to put our country on a sustainable fiscal path."
The Associated Press contributed to this report.